Peter T. Jones
Senior Lecturer and Accompanist in Dance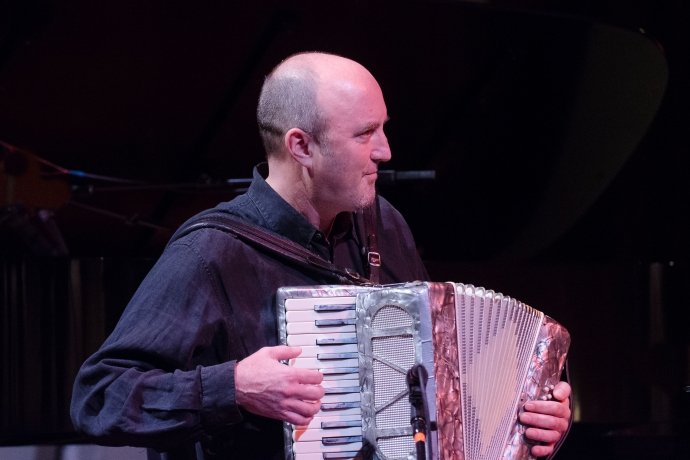 Peter Jones is a composer, multi-instrumentalist and improviser with a wide stylistic range. He has been an active musician in the dance field for over thirty years as composer, performer, educator and accompanist of many dance idioms. He brings a wide palette of sounds to every technique class he plays. Jones has been a consistent contributor to both student and faculty dance performances and his passion for dance music can be seen in his course offerings.
Jones regularly teaches an intermediate –level Analysis of Rhythm, which studies rhythm from a dancer's perspective and a senior level, Analysis of Rhythm II, which puts theory into practice by having the students create and perform a 25 minute music and dance suite. He also co-teaches Composition II, Music and Choreography with fellow faculty member Jim Coleman.
Jones has also advised students on independent projects in ethnomusicology, drum technique, and the history of the blues. He has given workshops in music for dance at numerous schools and festivals including The Bates Dance Festival, Jacobs' Pillow, Connecticut College, Pro Danza Italia, Central Michigan University, University Washington Seattle, the University Of North Texas and many others.
He has released nine CDs of diverse rhythmic music on his own recording label, Joneschord Music. ( Joneschord.com.) His recording series Gradual Motion for modern dance teaching has been used in dance studios internationally since 1989. His scores Viscous Beauties for Kevin Wynn, 21st Century Stride for Danny Buraczeski's Jazzdance and The Metal Garden for Sean Curran all premiered at the Joyce Theater in New York.
As a performer, Mr. Jones has worked with a wide range of artists in both music and dance. He has collaborated with Houston-based soprano Anna Trevino Godfrey, master singer Bankim Sethi from North India and Boston-based violinist Rob Flax. With vocalist Philip Hamilton he has worked as pianist/arranger with performances at Aaron Davis Hall in Harlem, Central Park Summer Stage, The Joyce Theater and St. Marks Church.
For the past twenty years he has also collaborated with master percussionist Tigger Benford on many diverse projects, including The Metal Garden for prepared piano and percussion and Persephone, for choreographer Jane Comfort which toured the country for three years. He currently leads and performs with his own jazz/rock trio.
Education
B.A., University of Massachusetts