Achieving a life-long goal at the pole.
Achieving a life-long goal at the pole.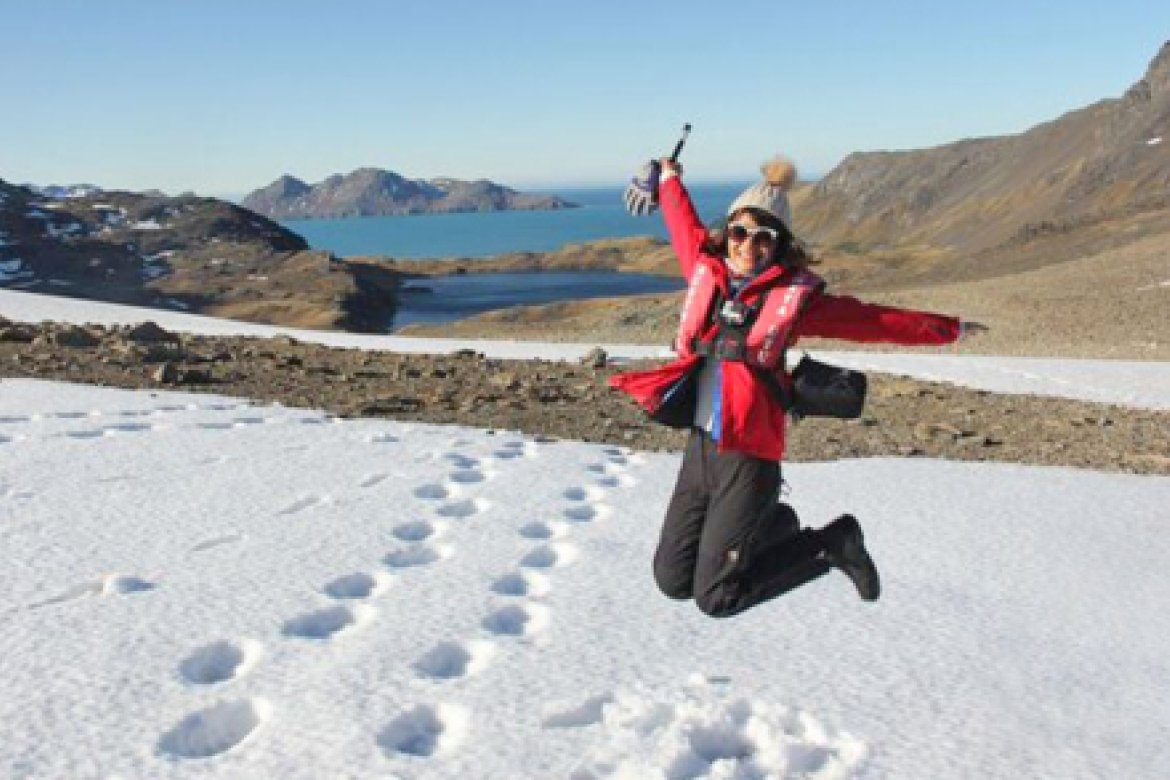 Mount Holyoke alum and environmental activist Songqiao Yao '11 realized her childhood dream of visiting Antarctica—and now works to save it.
By Matthew Crowley
Songqiao Yao '11 went to one of Earth's most remote places to examine human interconnectivity's long threads—and to realize a childhood ambition.
Growing up in China, the 27-year-old Mount Holyoke alum always had a fascination with the earth. As a girl, she received a packet of Antarctica photographs—shots of glaciers, seals, and penguins. She treasured the photos and dreamed of seeing everything in person someday.
"It was something so far away," Yao said. "And I never really thought about what a real penguin looks like. The closest I could get to Antarctica was these print photos. I think the story the pictures tell is how you can nourish, how you can help a child achieve a dream rather than shut it down, which is often what happens."
Although years of life and studies intervened, Yao, who now is pursuing her MBA, realized her Antarctica dream in December 2015. A Kickstarter crowdfunding campaign she called "From Paris to Pole: Inspire Children of 2048 for Antarctica" gave her the money she needed to travel and see those penguins up close. Fifty-seven backers gave her about $7,500 in less than a month. One hundred more backers contributed about $12,700 in her Chinese crowdfunding campaign.
A passion born
The trip fit Yao's lifelong interest in social causes and environmental protection. She started a student volunteer group while in high school and campaigned for social equality, women's rights, and climate change while at Mount Holyoke. In 2009, she studied in Bonn, Germany. She was a researcher and youth delegate at the United Nations climate change conference in 2011 in Durban, South Africa.
This environmental work, she said, harked back to her childhood fascination with the earth.
"I didn't have a solution when I was a child," Yao said. "I really didn't know what to do with this interest. And my dreams were not supported. So I had to get on with my life. I had to go through school, pass exams, get scholarships, study abroad."
Visiting Antarctica once seemed too difficult to achieve, she said. It's one of the hardest places to get to, one of the harshest climates. When she spoke in Paris during the UN climate change conference in 2015, she heard about the chance to make the trip. She thought it was a good to time to go. She wanted to see and learn about what was happening with the wildlife and environment. And she thought she could help others see it up close through her eyes.
Her friends from the Antarctic Ocean Alliance, a consortium of environmental groups, encouraged her.
"A lot of people who go on their own say, 'Human beings should just stop going because the more we go to some place, the more we ruin it,'" Yao said. "But I don't think you can experience something yourself and not let other people experience it. I tried through my experience to let other people experience it."
People have a big effect on the polar regions even if they're far removed, Yao said. Someone thousands of miles from Antarctica could be operating a coal-fired power plant and produce greenhouse gas emissions that accelerate glacier melting. That melting affects how the oceans regulate temperature and currents. Those changes alter wetlands and ecosystems around the world.
"It's so interconnected," she said. "Even though you've never been there, you really have an impact on Antarctica and I don't think a lot of people realize that."
Telling the stories of Antarctica
In 15 days in Antarctica, Yao saw wildlife, heard stories of early explorers, and met scientists studying the region. Despite years of scientific scrutiny, Antarctica retains its mystery and nature retains its power, she said. The seals, penguins, and whales are in their element there, but never the people.
To reward her Kickstarter donors, Yao is creating postcards with pictures, information, and recollections from her visit. She's also editing video of her trip to share. She plans to write a children's book and visit classrooms to drive home the powerful effects of invisible processes.
Yao said she'd like to set up summer camps in her native China where children can, for example, visit areas affected by glaciers to answer their environmental questions and imagine ways to pursue their passions.
She hopes that if she and other Antarctica visitors share their stories, more people will work toward protecting the continent in 2048, the year the Protocol to the Antarctic Treaty on Environmental Protection comes up for review.
The Madrid Protocol, signed in 1991, set aside the Antarctic continent as a natural reserve. It prohibits mineral mining on the continent and requires environmental assessment for all activities including research and tourism.
"This work is hard. If it were easy it would have been done before," Yao said of the battle against climate change. "I think you can choose to be hopeful, which means even if you're in a dark day you still choose creativity, you still choose optimism. You can choose to look at the glass as half full rather than to look at what is missing."
Yao believes there is enough resources, money, and people to address the problem, but these resources need to be allocated and mobilized effectively.
Mount Holyoke inspires
Yao, who received the Gates Cambridge and Skoll scholarships to attend the Said Business School for a master's in business administration at Oxford University, graduated summa cum laude from Mount Holyoke. She calls her experience at MHC, where she majored in critical social thought with a minor in German studies, the most important of her academic career.
Mount Holyoke, Yao said, was the first to answer her emails seeking information about US colleges. She said a Shanghai meeting with Jale Okay '84, the former director of international experiential learning at the McCulloch Center for Global Initiatives, spurred her to apply early decision.
Okay, now a leadership gifts officer in the Office of Advancement, remembers Yao with admiration.
"I remember her speaking about a project she did as a high school student in an underserved rural community in China, and I was struck by her commitment, her passion, and her empathy," Okay said. "It was her very real sense of respect for the community with which she was working that made such an impression on me. She did not do that project to build her résumé but out of a deep sense of wanting to improve the lives of others."
Joan Cocks, a Mount Holyoke politics professor, also remembers Yao as intellectually curious, socially committed, and brilliant.
"I saw her as strong and determined both to ask critical questions and to seek her own answers to them," Cocks said. "In her academic work, and even more so in her social justice and environmental justice work after she graduated, she was never afraid to take real risks on behalf of dispossessed groups and ecological causes."
Explore your passion. Learn more.