Acumen, imagination, success
Acumen, imagination, success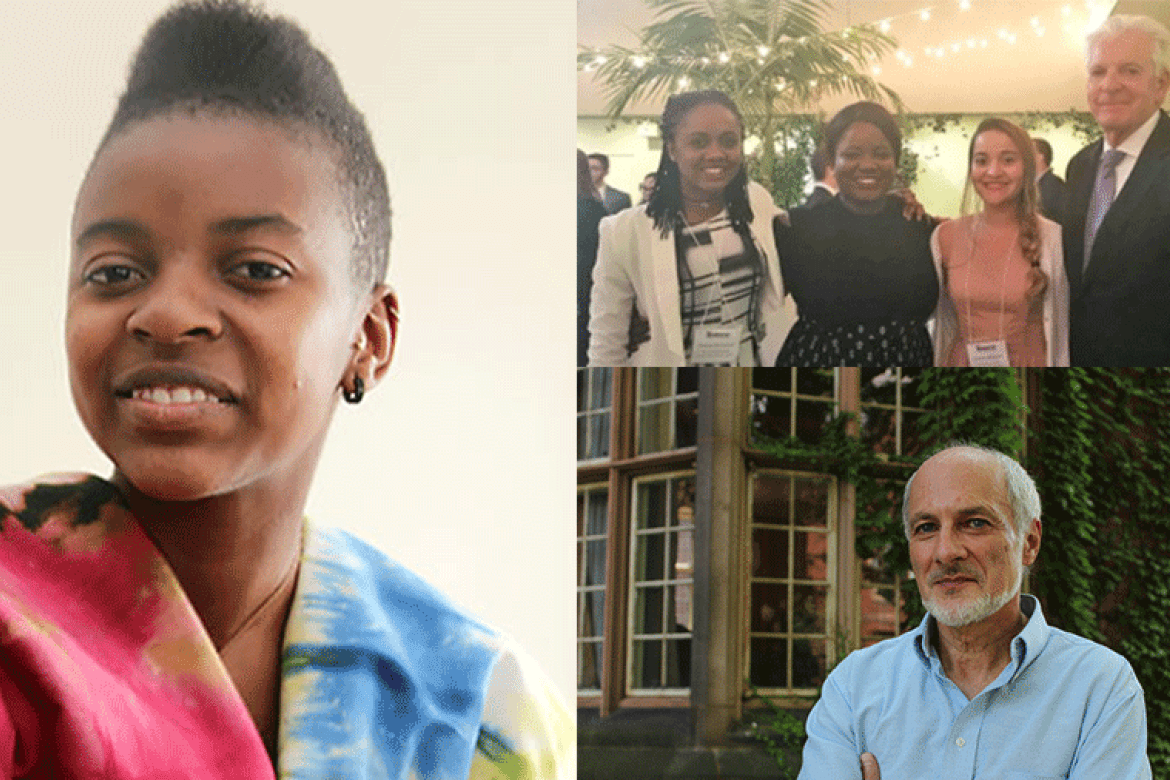 With the help of programs like the new entrepreneurship minor, Mount Holyoke students bring home prizes and wins from entrepreneurial competitions.
By Keely Savoie 
Less than a year after its official implementation, Mount Holyoke College's new minor in entrepreneurship, organizations and society has some bragging to do, as many students have won prizes and awards on local, national and even global stages for their ideas. 
One standout, recent graduate Nkori Edem '17, who took first place at Mount Holyoke's pitch competition, went on to win the Harold Grinspoon Foundation's Entrepreneurship Initiative with her Ko-Aqua Kit, a completely waterproof and airtight swim cap designed specifically for women of color. This year, the pitch competition was supported by the Ellen S. Boer '63 Prize, which is located within the Weissman Center for Leadership.
Mount Holyoke students took first and second place in the Conway Center Five Colleges Prize category at the national Draper Competition for Collegiate Women Entrepreneurs competition, hosted by Smith College in Northampton, Massachusetts. 
Ellen Chilemba '17 placed first for Tiwale, her social entrepreneurship organization benefitting young women in her native Malawi that has won her numerous accolades. And Carly Forcade '17 and Rebecca Onyango '17 shared second place. Forcade's Travel Unicorn connects LGBT travellers to real-time information about destinations around the world to help them plan for safe fun and adventures. Onyango won for her project, Meji H2O. 
Another Mount Holyoke team swept the three categories they entered in the International Business Ethics Case Competition, the first time a team from Mount Holyoke competed. 
All this is in part thanks to the EOS minor, which challenges students to take their ideas to the next level: Don't stop at imagining what the world needs — make it happen. 
The interdisciplinary minor in EOS offers students a knowledge framework and practical competencies to make a positive contribution to communities, locally and globally. The minor is administered by faculty members from departments including economics, environmental studies, music, psychology and sociology. 
Eva Paus, a professor of economics and chair of the EOS committee, explained that the multidisciplinary focus arises from the need to understand and address issues on a number of different levels. 
"Advancing solutions to the challenges we face in the world, whether they take place in our community, our city or are global in scope, demands creative thinking, resilience and risk-taking," Paus said. "In EOS, students learn to develop these skills through engagement in four subject areas and through connections with practitioners in the field." 
Local entrepreneur Rick Feldman, a visiting lecturer in economics and the College's entrepreneurship coordinator, teaches the key courses in the entrepreneurship area. His resume includes four successful businesses that he conceived, developed and sold, along with nonprofits and mentor work, which he engaged in as part of his ethos that business, to be successful, must be strongly connected to their communities in a positive fashion. 
Feldman's lectureship is now a three-year renewable position, reflecting Mount Holyoke's long-term commitment to student success in the field. 
"I offered two courses in fall and spring and saw almost immediately how much appetite our students have for this," Feldman said. We've gone from having 14 enrolled students in entrepreneurship courses when we first started, to now 70." 
Pedal to the Metal 
This summer, three of those Mount Holyoke entrepreneurship students will attend a business accelerator program in Springfield. Accelerator programs are designed to help students hone their business ideas into concrete plans ready to be shopped to venture capitalists. 
"They attend workshops to help them create their plans and then they meet with experts who will tear their ideas apart and put them back together," said Feldman. "The goal is that by the end of eight weeks each of those start-ups is ready to launch." 
Forcade will be attending the program to help her take the Travel Unicorn to the next level. 
The Travel Unicorn boasts 17,000 (and growing!) followers on its Instagram account, and Forcade wants to piece together a plan to transform the public appetite for LGBT travel information into concrete steps toward a full-service website that can organize, disseminate and rate information about travel destinations. 
The initial idea was something of a fly-by-night thought, said Forcade. 
"My girlfriend and I were planning a trip to Spain. It was a 3 a.m. idea that spun out of control," she said. But with the help of the entrepreneurship program and her involvement with the pressure cooker that is pitch competitions, she feels ready to develop a full business plan. 
"This summer I want to trademark the name, get on the right legal track and move forward with the website," Forcade said. 
Faculty members are also busy. In March, Feldman, Paus and Eleanor Townsley, a professor of sociology and director of Mount Holyoke's curriculum-to-career Nexus program, participated in a conference on "Re-imaging the Conversations between the Liberal Arts and Business," which was co-sponsored by Franklin & Marshall College and the Aspen Institute's Business and Society Program. The conference looked at emerging best practices in entrepreneurship, business and the liberal arts. 
This July, sociology associate professor Patricia Banks and music assistant professor Tian Hui Ng, also EOS committee members, will participate in a three-day workshop at the Copenhagen Business School to develop segments for courses in the organizations and power section of the minor. Banks will be working on her course the Business of Culture and Ng on a possible course in arts management. 
Into the future 
The EOS minor is developing a formal mentorship structure and working across the campus to allow students to capitalize on current opportunities to drive their projects forward. 
"We are looking at ways to involve alumnae in the process," said Feldman. "I could work with many more students if I had mentors who could support and supplement the work that I do with them." 
In addition, the College's Makerspace provides a resource for students developing objects such as a travel-safe make-up kit, designed by Regina Ye '18. Students can make 3-D printed prototypes of the objects they envision one day taking to market. 
Next spring, the McCulloch Center for Global Initiatives will join forces with the EOS minor to host its biennial global challenges course and conference. The theme: "Global-local Inequalities: Social Action and Entrepreneurship for Positive Change." 
"The course and conference will provide a great venue for  students from across the disciplines to understand the societal context and structures in which change occurs and to learn how they can bring about change at different levels," said Paus, the Carol Hoffmann Collins Director of the McCulloch Center. 
Mount Holyoke is the perfect place for all of this to take flight. 
"I see liberal arts education as the best possible foundation for entrepreneurship and new enterprise development," Feldman said. "From a business standpoint, I think that if you want good managers you go to business schools. But if you want good leaders, you go to liberal arts schools." 
Furthermore, women play a key role in the success of businesses, Feldman said. In his experience, organizations that lack women in leadership positions are "bound to fail." 
"What I love about Mount Holyoke is that it embodies the diversity that is absolutely essential to succeed in the new world of entrepreneurship," he said. 
Take it to the next level. Learn More.