Ahlaam Abbasi '22 on Remote Learning: Everyone is in This Together
Ahlaam Abbasi '22 on Remote Learning: Everyone is in This Together
Sophomore Ahlaam Abbasi is a computer science major from Islamabad, Pakistan. Coming to Mount Holyoke was an easy decision — her three sisters are recent Mount Holyoke graduates. She spoke with Sasha Nyary on April 1, 2020.
On choosing to stay on campus
I knew from the start that I wasn't going to go back home. There aren't direct flights and there would be long layovers. Our parents are older and I didn't want to risk infecting them. Also, my mom's a doctor. She's a hospital administrator, but she still has to deal with patients. At home she's isolated in her room so she doesn't infect my dad. Going back was just too risky — and I wouldn't have a family life there, anyway.
On being on campus
It's very quiet. Mount Holyoke looks beautiful right now and the weather is really nice. I wish I could just sit on the green with my friends. I've always complained so much about Blanch being jam-packed all the time. And all of a sudden everything's empty and quiet. But I got used to it pretty quickly. It's not that bad. I'm able to walk around campus. And they have shuttles to CVS and the Big Y if we need something.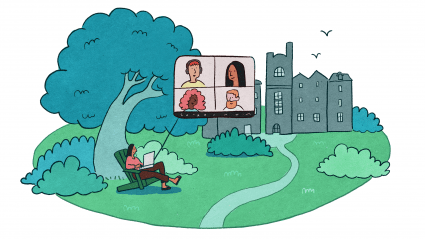 I feel like people have accepted that this has happened, and that that's a really big step. Many of us are not as stressed about the situation here because we're in our community, we're enclosed and we're comparatively secure. I know international students especially are worried about what's happening back home, but I think they've settled in.
On remote classes
I have assignments that I submit and we have Moodle forums where we comment about the readings and about our peers' comments. So it's interactive and we are still on track. My Introduction to Islam class with Amina Steinfels in the religion department is one of the classes that I really enjoyed being in and I'm really glad that the discussion is still manageable and still interesting. We're going to have Zoom lectures for my sociology class, Race in America, with Patricia Banks. I'm also taking Data Structures with Heather Pon-Barry in computer science, and in the weekly labs we can choose partners to work with. So if you know someone's in the same time zone, you can collaborate with them and do the lab with them.
My professors also have office hours, open Zoom sessions where we can join in and just say hi or ask questions. Keeping in mind the fact that this whole thing just came together in two weeks, I think it's going pretty well.
It's helpful to know that everyone's going through the same thing. Maybe we will have a lot of pass-fail on our transcripts — we know that going forward. This is a global issue. Everyone will know what happened here. Everyone is in this together.
On friends and family
Everyone's getting really connected. I've started communicating with people I lost contact with months ago because all of them are in a place where they know what to do. They're bored and they don't have anything to do, so we connect.
My sisters are all alumnae. One of them is in Pennsylvania, one is in San Diego and the oldest is in Australia. My twin sisters are not used to being apart for so long but it's just too risky to try to get together. I think everyone is just adjusting to it.