Barbara M. Baumann '77 to step down
Barbara M. Baumann '77 to step down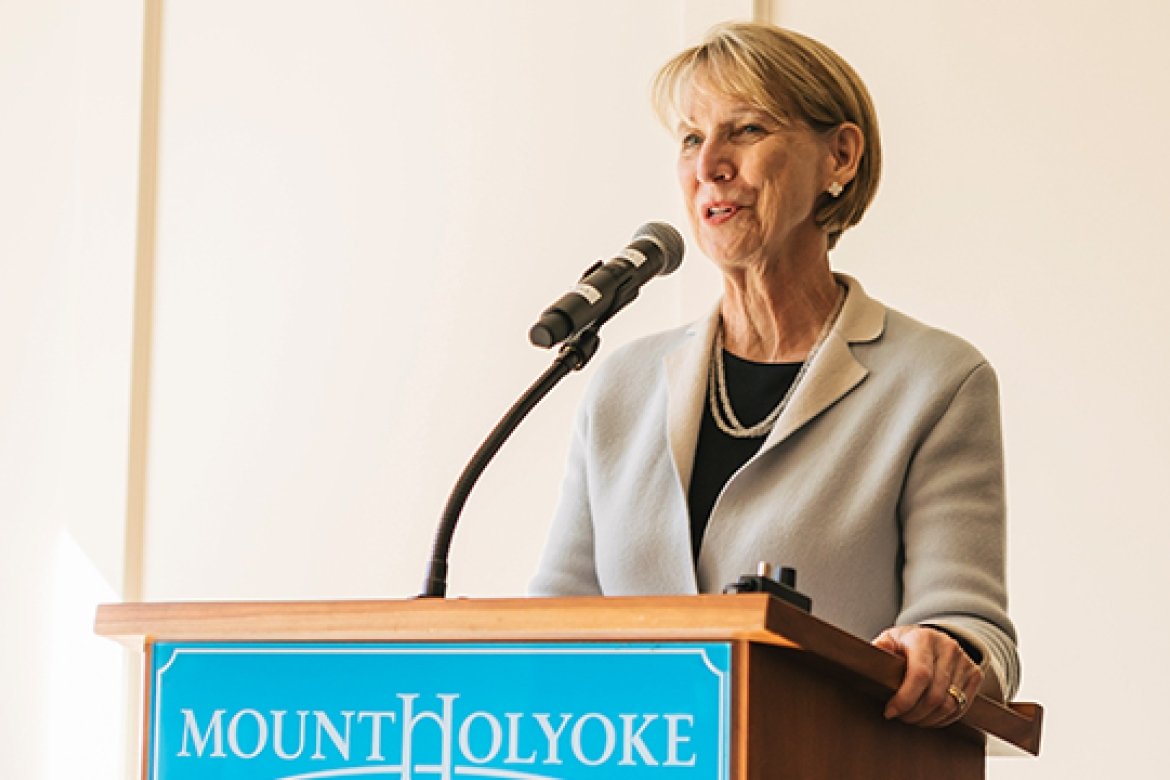 The title of chair of the Board of Trustees is passing from Barbara M. Baumann '77 to Mindy McWilliams Lewis '75, P'05.
Since graduating from Mount Holyoke College, Barbara M. Baumann '77 has found a multitude of ways to share her gifts with the College. She has chaired campaigns, worked on committees and served as a trustee.
She has held her latest role — that of chair of the Board of Trustees — since 2015.
Now Baumann is stepping down. Mindy McWilliams Lewis '75, P'05 has been elected by the Board to be the new chair, effective July 1, 2019.
"Barb has been an outstanding partner in the work of the College," said President Sonya Stephens. "She has led the Board with vision and energy, and with a deep and abiding respect for the liberal arts and academic excellence. She leaves Mount Holyoke stronger than she found it, and we shall all miss her invaluable insights, her good counsel and the enormous generosity she brings to all that she does. It has been a great privilege to work so closely with her in the service of the College and this community."
Among Baumann's most visible accomplishments is the Community Center project. "I love what it has done to the vibrancy and culture of the College," she said.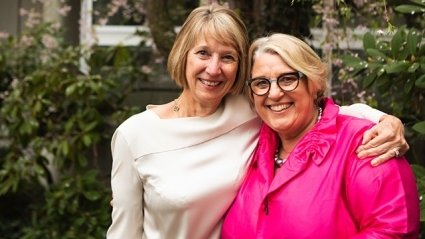 Under Baumann's leadership, Sonya Stephens became first acting president and then president of the College. "Sonya and her team are bottled lightning," Baumann said.
With Baumann at the helm, Mount Holyoke is flourishing. The College just admitted one of the most competitive classes in its history. Fundraising efforts have allowed the College to strengthen financial aid and faculty support, as well as student internships — a central goal of the College's Lynk initiative is to ensure that every Mount Holyoke student has an opportunity to do an internship or a research project.
Devoting her time to the College has been an easy choice, said Baumann, who described her experience as a Mount Holyoke student as "a transformative experience — perhaps THE transformative experience."
"This is where I learned to think deeply, where I first was completely surrounded by unabashedly smart people, where expectations of me in every course were sky high," she said. "Even today, many of my closest friends and many of those I admire most have a connection to Mount Holyoke."
Baumann has worked in the energy field for her 40-year career. After graduating magna cum laude with a degree in American studies from Mount Holyoke, she earned an MBA from the Wharton School at the University of Pennsylvania. Today she is the owner and president of Cross Creek Energy Corporation in Denver, Colorado.
She served as a trustee from 2003 to 2013, during which time she co-chaired the College's $300 million capital campaign. She has won two of the College's most prestigious awards, the Mary Lyon Award in 1992 and the Alumnae Medal of Honor in 1997.
The Alumnae Medal citation described her "sustained effort on behalf of Mount Holyoke," and read in part, "It is rare to find a penetrating analytical mind, with widely acknowledged gifts in finance, strategic planning and corporate management, residing in harmony with the heart and sensibilities of a historian, but you are that rare combination. You revere what should be preserved, you ask questions that cut to the core of the here and now, and with tact and gentle humor, you lead others to see the future as an opportunity for improvement."
Baumann is delighted with the new chair of the Board of Trustees.
In addition to serving two terms as a trustee, Lewis was the Board's vice chair in 2016 and 2017. She served with Baumann on the same campaign, sitting on the steering committee as co-chair of its Legacy of Diversity effort. She has also worked on multiple committees of the Alumnae Association. And she too is the recipient of both the Mary Lyon Award and the Alumnae Medal of Honor.
"Mindy Lewis is a brilliant problem solver. And she has a wonderful laugh," Baumann said. "She truly respects this institution and its people, in part because she's both an alum and the parent of an alum."