A beloved professor is a veritable institution.
A beloved professor is a veritable institution.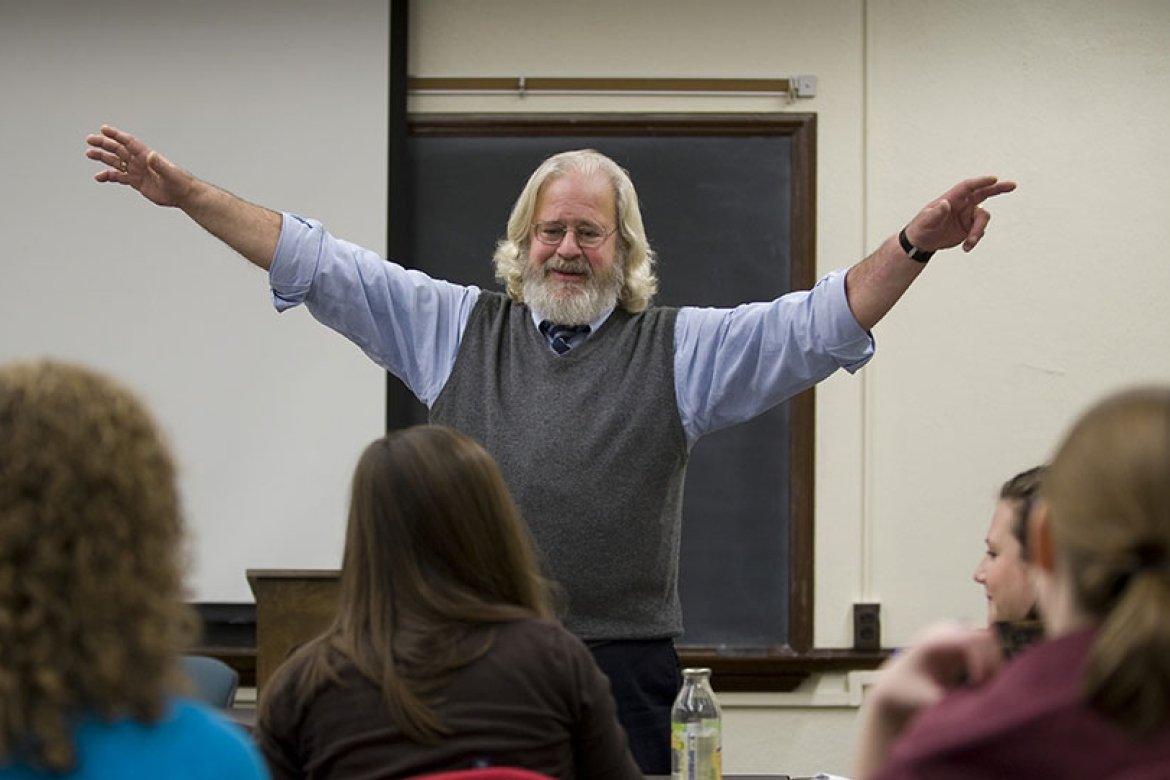 Professor Vinnie Ferraro, founder of the international relations department, was celebrated by friends and colleagues for his 40 years at Mount Holyoke.
By Keely Savoie
Students, colleagues, and mentors, and friends broke into loud cheers as Professor Vincent "Vinnie" Ferraro entered Gamble Auditorium on April 11. They were there to mark his retirement after 40 years as a beloved faculty member at Mount Holyoke College.
Ferraro, the Ruth Lawson Professor of Politics is an institution unto himself at the College. In addition to founding the international relations Department and teaching countless classes, Ferraro advised thousands of students.
A panel of speakers arranged in Ferraro's honor comprised eminent political minds: Former dean of faculty Joseph Ellis, who is the Ford Foundation professor emeritus of history; Anthony Lake, former Five College professor of international relations and now executive director of UNICEF; and Professor of Economics Eva Paus, director of the McCulloch Center for Global Initiatives.
In 1981, Ferraro and Lake pitched the idea of establishing the nation's first undergraduate major in International relations to then dean of faculty Ellis.
Ellis cut the meeting short, ushering Ferraro and Lake out the door. Not because he had dismissed the idea, he said, but rather he had been sold on it and was so impressed by the young faculty members' vision that he wanted them to return to their work as quickly as possible.
Ultimately, the field of study became its own interdisciplinary department, where colleagues from politics, history, economics, and other fields contributed their own expertise in service of better understanding international relations.
Ellis and Ferraro cotaught a class on post-Cold War American foreign policy for more than two decades. Affectionately known as the "Vinnie and Joe Show," the class asked a simple question: what are the guiding principles of American foreign policy after the Cold War?
"We argued and debated that for 21 years, and I am sad to tell you that no one still has an answer to that question," said Ellis at the event. "There may be other classes on foreign policy where students leave with a cleaner set of notes. But I don't think there was any course in American foreign policy in this country that would engage a student in the arguments and seminal controversies of American foreign policy more actively."
Lake, who described Ferraro as "one of the worst fantasy baseball players ever," said Ferraro also served as a role model and a guide. "Vinnie taught me how to teach. He was a model faculty member," he said. "He was not only my mentor, he was my hero. And he was my friend."
Ferraro also received the student-choice "Love Your Lyon" award for best storyteller on campus.
"This man knows how to tell a good story," said Courtney Brunson '16, as she presented the award to Ferraro along with with a large bouquet of flowers. "He has made the lives of men and women from the past come alive for all of us."
Ferraro himself took the stage to thank his colleagues, friends, students, and his wife for their contributions to his career.
"I am very sad to leave the company of my colleagues and the exhilaration of the classroom," he said. "It is time, however, to move on and to let the curriculum be invigorated by new faculty.  Change is a necessary constant for the health of both individuals and institutions."
He received a raucous standing ovation.
Explore your world. Start here.