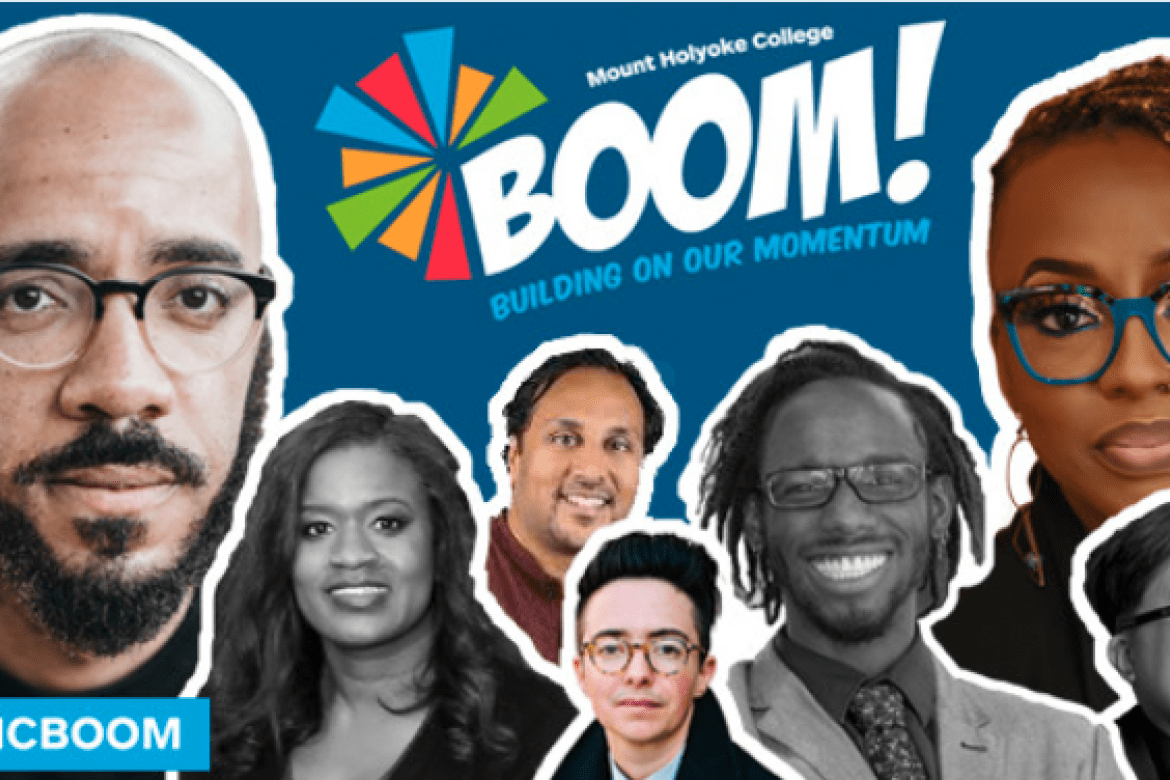 BOOM, Mount Holyoke's 2021 diversity, equity and inclusion learning symposium featured an unprecedented roster of events and panels dedicated to justice.
The fifth annual BOOM!, Mount Holyoke College's annual community day of learning, featured an unprecedented lineup of authors, artists and activists who came to present, perform and engage in dialogue about the work of diversity, equity and inclusion on Mount Holyoke's campus and beyond.
The event opened with a virtual vigil for the victims or racially-based violence, including the six women of Asian descent killed in Atlanta just the previous week.
"My heart is sore for the victims, for their family and loved ones, and the community," said Jerrine Tan, visiting lecturer in English, as the community tuned in from around the world.
The year since BOOM! 2020 had been full of difficulty: From the COVID-19 pandemic to the killing of George Floyd, the reignition of the Black Lives Matter movement, a violent attack on the Capitol and the endless murder of people whose identities are marginalized, it opened many wounds. Mount Holyoke confronted its own issues and challenges in overcoming racism as members of the community took to social media to detail their experiences.
"We thought a lot this year in particular about what we wanted to put out into the world, about those intentions and words," said Kijua Sanders-McMurtry, chief diversity officer and vice president for equity and inclusion at the College. "We thought about what the anti-racism action plan has meant, and how to communicate, support and bolster equity and inclusion at the College.
"We thought a lot about what it has been like for this pandemic to be going on over a year, and the isolation, the Zoom depletion. We wanted to develop a program that could still be a community-building experience, but where people could engage to their own comfort and with respect for their limits."
With more than 20 live virtual events and 18 recorded events, along with a series of lunchtime films, the day was packed with content that could be contemplated quietly, perused privately or engaged with actively. Sessions offered everything from a prayer and healing vigil, to educational workshops and creative inspiration. Panel discussions and presentations addressed issues from pushing back on the Christian hegemony to creating anti-racist practices in one's own life. 
President Sonya Stephens reflected on the challenge that the work requires. "We need to come to the conversation and leave our unquestioned sense of power and equality in these conversations, our arguments and defenses at the door," she said. "We need to come to the conversations and listen intently to the experiences and perspectives of marginalized individuals and to do so with enormous humility. … For me, being anti-racist means bringing that humility and desire to listen and to interrogate the generations of bias, privilege and opportunity so that we finally can intervene as bystanders and individually and collectively address the profound inequalities wherever we see them." 
For the second year running, the COVID-19 pandemic required BOOM! organizers to provide the day in a virtual format. But that also made it possible to draw from a broader array of speakers. 
One speaker was Thema Bryant-Davis of Pepperdine University, an expert on race-based trauma, who led a workshop focused on teaching participants how to be better allies to people experiencing racism, whether it is a microaggression or an overtly racist policy. Activist Nick Daily led workshops for how those who witness acts of racial bias can turn those moments into powerful educational opportunities. 
As a Black person, Sanders-McMurtry knows the power of effective allyship. She recounted a time at a long-ago job when a senior leader had made a racist remark to her in a professional setting.
"I was flummoxed, I didn't know what to do," she said. That's when her junior colleague stepped in and spoke out. "They spoke up and I remember thinking, 'That is how you do it. That is how you show up as a bystander,'" Sanders-McMurtry said. 
Another presentation, sponsored by the Miller Worley Center for the Environment, focused on the intersectionality of climate and justice. Kaiwipunikauikawēkiu "Punihei" Lipe and Matthew Kamakani Lynch from the University of Hawai'i discussed restoration of indigenous knowledge and sustainability practices in order to heal Hawaii's ecology. 
Mount Holyoke's Teaching and Learning Initiative sponsored several workshops, one of which focused on decolonizing the curriculum, a popular notion that can mean many things depending on who says it and who hears it. Representatives of the faculty across disciplines discussed what it means for them and how to make further progress in understanding white supremacy in curricula. The moment was "an opportunity to reflect," said Karen Remmler, Mary Lyon Professor of Humanities and chair of German studies. 
Lydia X. Z. Brown, a nonbinary disability-rights advocate, attorney and activist who works at the intersection of race, class, gender, sexuality, faith, language and nation, led a community-building session where they emphasized the radical act of inhabiting one's whole personhood. 
"Disability justice reminds that all of our body-minds have needs that deserve to be met," they said.
MoZone, Mount Holyoke's social justice peer education program, led two trainings aimed at breaking down the finer points of racism and imparting skills and strategies to help participants recognize, understand and confront it in their own lives. 
In a panel session based on Dean Spade's book, Mutual Aid: Building Solidarity in Times of Crisis, Prentis Hemphill '04, founder of The Embodiment Institute, discussed the idea that individuals, groups and organizations can and must support one another in challenging oppression and trauma stemming from racialized power structures.
"The question that I have been sitting with is, 'If our political domain is not about how we organize care with the resources that we have in the places where we are, what is it about?'," they asked. "It is important for us to face the questions that sit at the center of how we do things now."
Amer Ahmed spoke about the biases faced by non-Christian individuals, and the importance of solidarity and intersectionality among different factions united in a cause — doing otherwise is itself a form of perpetuating racism, he said, noting that "The entire construction of racism is about divide and conquer."
"Within the context of Christian hegemony, Jews and Muslims have strategically been pitted against each other," Ahmed said. "The work of social justice is about solidarity, the sense that we have to come together across these different experiences and not perpetuate the pitting of communities against one another." 
Clint Smith, staff writer for the Atlantic and prolifically published poet, essayist and scholar, delivered the keynote address. In it, he discussed his forthcoming book, "How the Word is Passed: A Reckoning with the History of Slavery Across America," which explores the United States and its history through sites across the country. Smith spoke with Lucas Wilson, professor of Africana studies and the chair of economics, on how the history of slavery has shaped the contemporary American landscape of inequality. 
"It is in everyday acts, and everyday practice that we can combat injustice and iniquities," Smith said.
As BOOM! closed out its fifth year — with much of the material available online until March 30 — Sanders-McMurtry reflected on the value and necessity of pursuing the sometimes painfully slow progress of social justice. 
"My North Star has really been to think about, 'How do we make sure that no other generation experiences this type of harm and violence?'" she said. "How do we ensure that those of us who are helping to develop, cultivate and support this generation in higher education right now, and those that they may one day parent ... how do we ensure that they never have this kind of experience again?"