BOOM! 2023: Focus on belonging
BOOM! 2023: Focus on belonging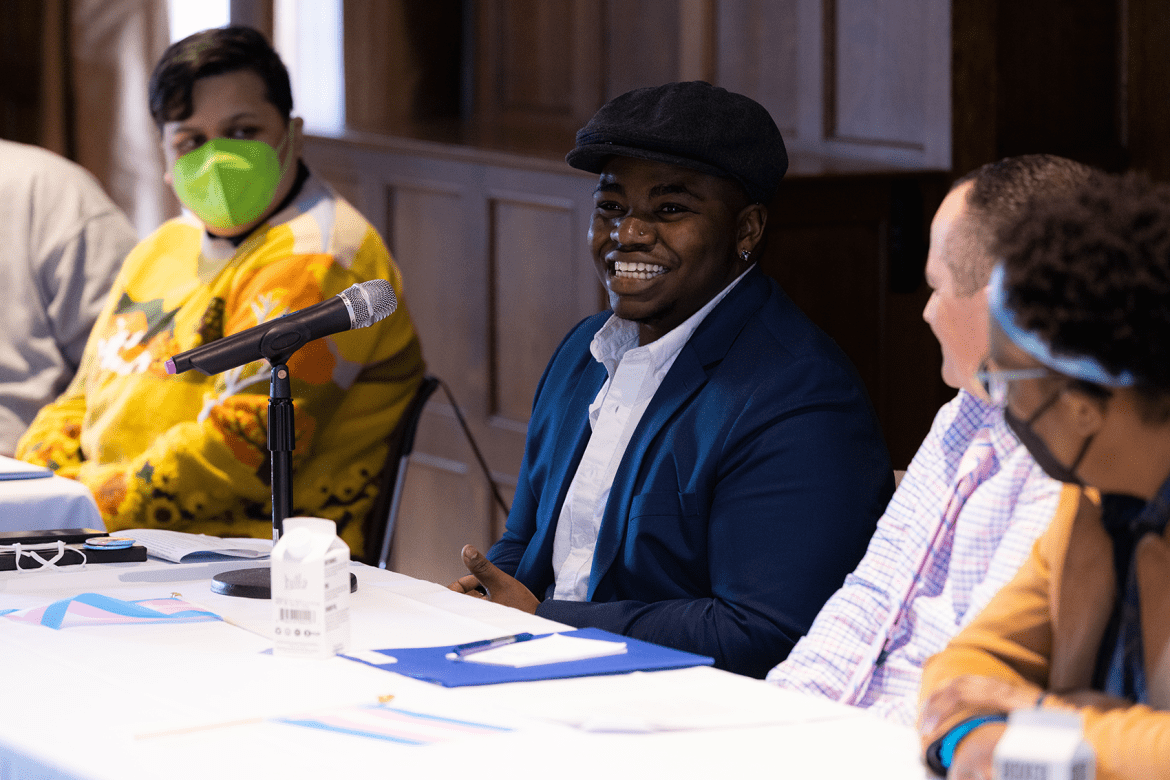 Mount Holyoke College held its seventh annual Building On Our Momentum (BOOM!) day-long learning conference with more than 45 sessions that included both in-person and recorded content.
Mount Holyoke College held its seventh annual Building On Our Momentum (BOOM!) day-long learning conference on Tuesday, March 28.
Kijua Sanders-McMurtry, vice president of equity and inclusion, kicked off the conference in the Chapin Auditorium, saying that the purpose of the day was to "focus on belonging where we can and to learn from each other."
This year's event had more than 45 sessions, both plenary sessions and recorded content. Topics included intergroup dialogue, examining ableism, working in diverse groups, building Black-Jewish solidarity, confronting Islamophobia, fighting anti-Asian hate, multiracial identity, restorative justice and more.
At the first plenary session, Interim President Beverly Daniel Tatum and Dr. Geoff Cohen discussed the science of creating connections. In his book "Belonging," Cohen used his research in psychology to explain how individuals can overcome differences and forge lasting connections. Tatum praised the book and Cohen's work, lauding his "research-based solutions."
Author, spoken word artist, conflict transformation facilitator and healer Kai Cheng Thom was a keynote speaker and discussed the connection between healing ourselves and healing the world.
She read from her upcoming work, "Falling Back in Love with Being Human," a collection of letters she wrote at the beginning of the COVID-19 pandemic. Afterward, she discussed the tenets of revolutionary love.
"Love, real love, is not just a nice feeling or a fancy filler word in revolutionary spoken word poetry, but rather an embodied way of being — a practice that challenges us to step outside of ourselves," she said.
Revolutionary love takes compassionate curiosity, equanimity and integrity, she continued. "Revolutionary love is resilient; it is antifragile," she said to shouts of agreement from the audience. "I do still dream of a world built on the concept of revolutionary love, a world where every trans woman of color knows what it means to be loved in public for all that she is."
A third plenary session was the inaugural lecture of the new critical race and political theory department. Gaye Theresa Johnson gave a talk titled "The Politics of Where You Are." Additionally, Madeline Peters, Mount Holyoke College's new director of accessible education and 504 coordinator, led a discussion titled "Ableism 101." The session included discussions on the history of injustices perpetrated against the disability community, along with the perpetuated stereotypes and biases that can prevent people with disabilities from being truly accepted.
Other highlights included an alum panel titled "Go Where the Love Is: Shaping Your TGNC Life after MHC," featuring Addison Beaux '99, Zohar Berman '20, Malakai Chuckas '20, Chelvanaya Gabriel '97 and Misha Ali Orr '17, as well as "Reflections on Building a Practice of Artmaking for Connection and Liberation" with Candy Alexandra '14.
Recordings of keynote sessions and other recorded content can be found on the Mount Holyoke College events calendar.