Earth Week can be every week
Earth Week can be every week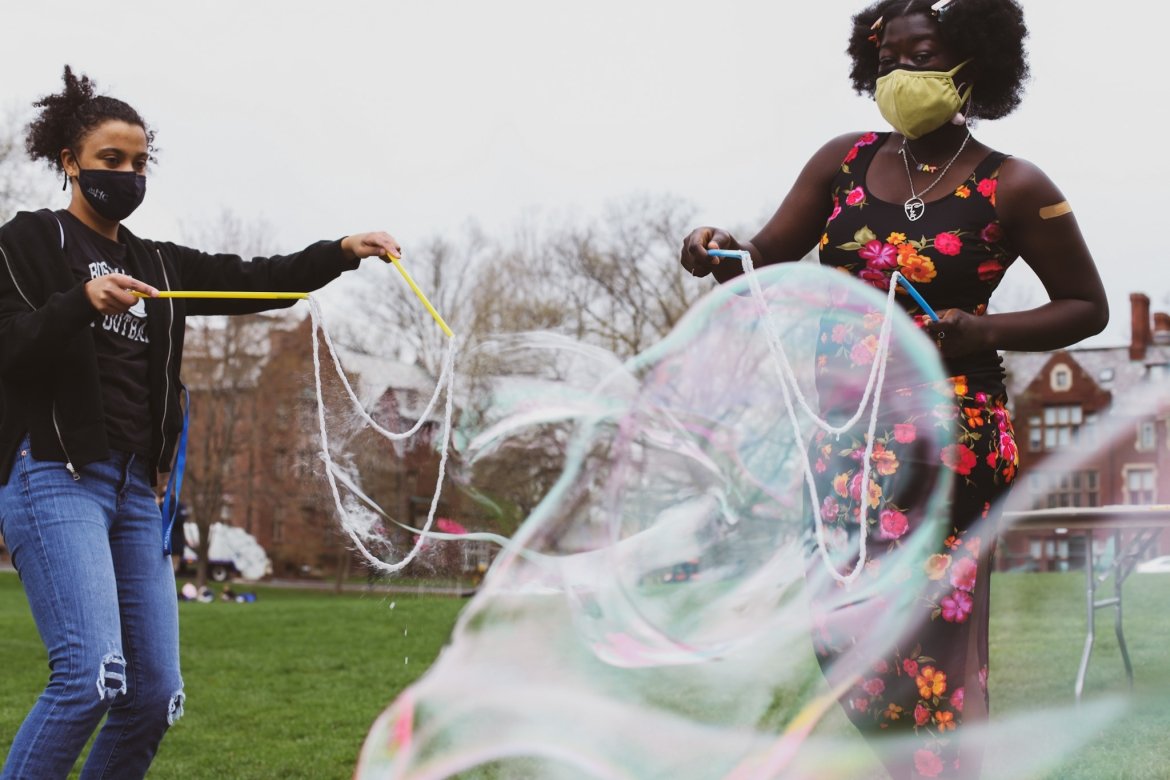 To celebrate Earth Week 2021, the Miller Worley Center for the Environment at Mount Holyoke held events to remind people that every day can be Earth Day.
By Afrika Brown 
Each year, Earth Week calls attention to topics surrounding climate change. But the Miller Worley Center for the Environment wants people to remember that Earth Day should be every day.  
For the week of April 19–23, 2021, the Miller Worley Center held physically distanced, safe in-person gatherings that allowed residential students to interact more with each other. The center also had virtual events. 
"We did a lot of the same virtual programming we did last year," said Olivia Aguilar, director of the Miller Worley Center. "But we figured out a way to also allow students on campus to have a unique experience."
The week kicked off with a literal call of action to "Get Outside and Play," which involved a scavenger hunt. 
"Students were asked to find a certain species of plant on campus. If they were off campus, we asked them to do something in their own neighborhood or backyard," Aguilar said. 
Other successful virtual events included an all-vegan cooking demonstration that was co-sponsored by Growing Vines, a student-run collective and intentional living community for Black and Indigenous people and people of color that focuses on food justice issues.
The subject of food justice was also at the center of a film screening of "Gather," co-sponsored by the Office of Diversity, Equity and Inclusion."Gather" is a collection of stories of Native Americans who are at the forefront of a movement to reconnect with spiritual and cultural identities that were decimated from genocide. Each story illustrates how Native Americans are reclaiming and recovering ancient food ways as a way to restore health and vitality to their people.
The film was chosen by the students who work at the Miller Worley Center, who Aguilar credits for being an integral component in creating the event.
"I know some of them are really interested in issues around Indigenous knowledge, Indigenous rights and food justice," Aguilar said. "And so, this movie attended to both of those issues." 
Following the film was a discussion exploring the interconnection between climate change, food paths and oppressive systems that inhibits equity for marginalized communities. 
"I tell people that justice isn't just one thing, it's many things. If you're attending to justice, you should be attending to justice across the board," Aguilar said. "If we put justice at the heart of the center's mission and the heart of what we're trying to accomplish, then it encapsulates food and climate change."
When it comes to issues of justice surrounding climate change and sustainability, one way to become involved is through civic engagement. 
"Government policy is huge. We can't just rely on individual changes, we must have big structural changes, and we can't make those structural changes without government support," Aguilar said. "So, a big push for the Miller Worley Center is to make sure that people know about policies and get out and vote."
This year marked the second Earth Week under Aguilar's leadership as the director of the Miller Worley Center and the second during a global pandemic. She credits Jordan Lassonde '16, the center's assistant director, for facilitating Aguilar's vision by making sure every detail is attended to. 
"She has a great working relationship with the students, and she really cares deeply about their success, professional development and growth," Aguilar said.
The Miller Worley Center for the Environment is ensuring that every day is Earth Day by launching a podcast. With four episodes currently available, the podcast explores topics that explain what the center does, as well as other components that students might not realize is a part of the center's mission.
Another way the Miller Worley Center will continue to connect with students on and off campus is through the Campus Living Laboratory webcam, where they can check out the exploits of Jorge the goose and other wildlife that live on campus. The webcam has also been used by other departments, including the Office of Religious and Spiritual Life, which used it to conduct a candlelight vigil to spell the word "love" and bring a sense of unity. 
"I feel like there's so many things we could use it for," Aguilar said. "The hope is once everybody gets back on campus, we will have time to create collaboratively."