Ending one journey and beginning anew
Ending one journey and beginning anew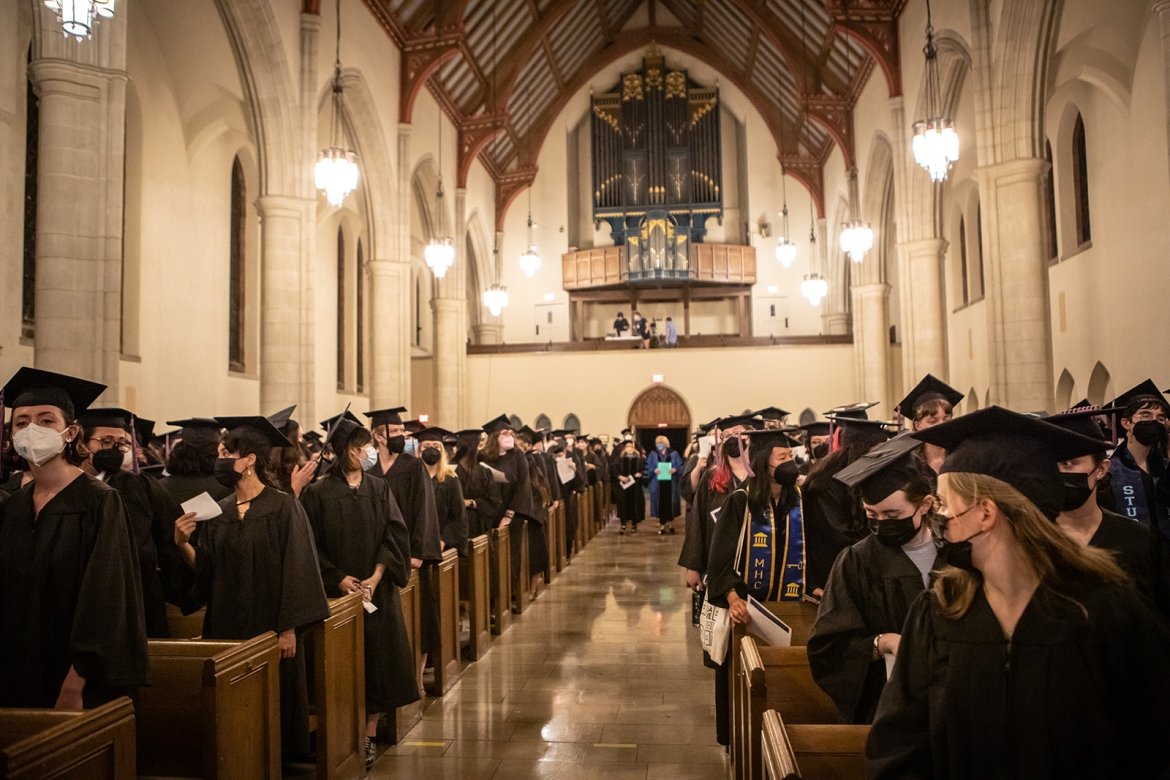 Mount Holyoke College celebrated its Baccalaureate ceremony for the class of 2022.
Scattered chatter filled Abbey Memorial Chapel as attendees and speakers took their seats at the 2022 Baccalaureate ceremony on Saturday, May 21. For only the second time in the school's history, the event was live streamed due to the ongoing COVID-19 pandemic. Students dressed in full graduation attire, some with decorated mortar boards, filed into the pews, masked but able to sit closer together than they were the previous year.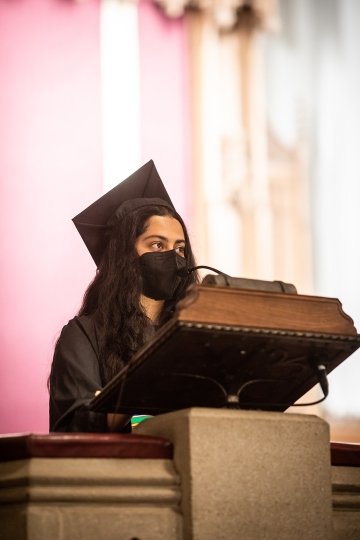 Imaan Moin, president of the class of 2022, spoke first. Thunderous cheers and applause filled the chapel as she took to the podium. As is now customary before Mount Holyoke events, there was an acknowledgment of the Indigenous land on which Mount Holyoke resides before President Sonya Stephens was introduced. 
"This is a moment just for you," Stephens said, reminding the class of 2022 of how precious the ceremony is. "You have really done a lot together; you've spent long nights in your rooms, labs and studios. You spent hours in training with teammates or in rehearsals, advocating for causes. You've amassed knowledge and books and files and folders and memories and, most of all, friends."
Much of Stephens' introduction focused on the unexplainable, small moments that will, one day, mentally transport this graduating class back to Mount Holyoke as they recount memories from their college days, which are now mostly behind them. She encouraged the audience to look back but also to look forward with pride, knowing that they are leaving a legacy at the College. She also reminded the class that they will be able to take their community with them and stay connected via quick check-in texts and social media posts.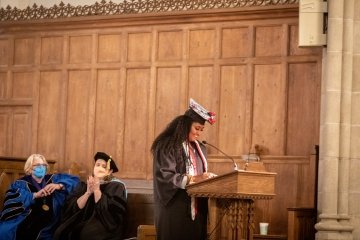 Poet and senior Zena Alhaj read her poem "What I Left Behind," a piece of work that weaved between reflections of her family and home growing up and memories of her time at the College. She shared her thoughts on graduating from Mount Holyoke: "Yes, we are physically moving forward … but goodbyes are only for those who love with their eyes because for those who love with their heart and soul, there is no such thing as separation. The sun sets, the moon sets, but we will always be MoHome." 
Her words sent a message that carried on throughout the night: Mount Holyoke will always be home.
The class of 2022, in particular, has experienced an unlikely series of events during their four years at the College. When they began their collegiate careers in 2018, all seemed normal. They managed to find their classes, forge friendships and get involved on campus. Then, suddenly, in 2020, a worldwide pandemic sent them all home. Unsure of what the second half of their college experience would hold, they returned to Mount Holyoke for their senior year excited, and perhaps a bit nervous, about how their last year would differ from the previous ones on campus. 
Moin spoke of this mix of feelings in her speech to the graduating class. In it she quoted Taylor Swift's song "22," sharing that graduating left her feeling "happy, free, confused and lonely at the same time." Despite the myriad of difficult experiences throughout the last four years, Moin ended her speech with gratitude for her classmates who were able to find moments of positivity through everything.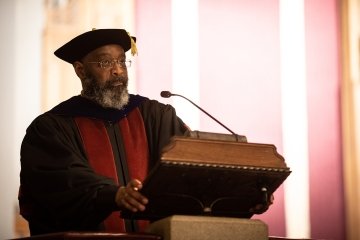 "Even if there have been so many incredibly difficult, challenging, emotionally devastating events that have been thrown our way during our time at Mount Holyoke, we have found a way to have small [moments] of happiness [amid] the turbulence," she said.  
Acknowledging the current historic moment, the two professors who spoke, Lucas Wilson, professor of Africana studies and chair of economics, and Adriana Pitetta, assistant professor of spanish, shared words of encouragement about what lies ahead while also calling on the class both to build communities of compassion and care and to dismantle oppressive systems.  
"So if there is one lesson of the pandemic, please let that lesson be that community is the beginning. It's the first thing we need to rebuild," Wilson said. 
Pitetta's comments echoed Wilson's as she shared that she's learned building genuine community happens through moments of vulnerability.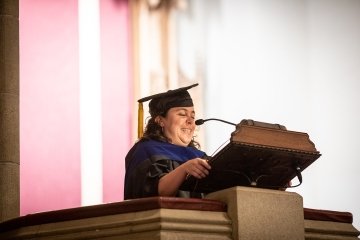 "If you have doubts [during] your journey, if you feel angry, if you feel sad, please share them," she said. "Don't be paralyzed by these feelings; embrace them. They will help you navigate a society where they are needed to build community. Change is possible."
As the ceremony came to an end, Vice President of Student Life and Dean of Students Marcella Runell Hall shared a poem titled "One Sad Goodbye," written by her young daughters. Much like the speeches prior, the poem was the perfect summation of the theme for the night — community. Hall left the class of 2022 with this final message reminding them that no matter where life may take them, they can always come back to their MoHome.
"Hello world, goodbye MHC, but just for now because MHC, Mount Holyoke forever shall be."
Written By

Brittany King
Published