Flexible classroom furniture supports teaching innovation.
Flexible classroom furniture supports teaching innovation.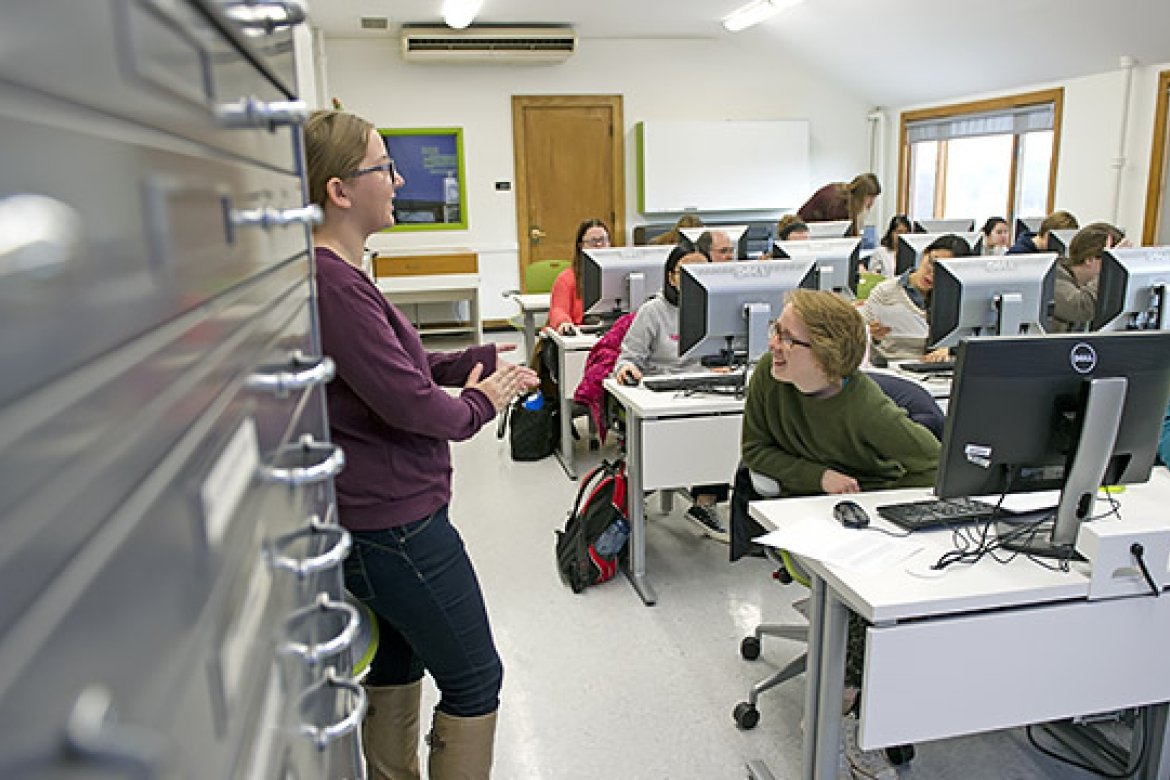 Mount Holyoke faculty can switch between varied teaching methods easily in newly redesigned classrooms.
By Emily Harrison Weir
Three Mount Holyoke College classrooms received makeovers this summer, but the changes are more than just aesthetic. They will allow more flexibility in the way professors teach, and students learn.
Innovations include furniture that's easily rearranged into a variety of configurations, small "hoverboards" on which students can write, and chairs with attached surfaces sized to fit laptop and tablet computers.
"The changes are about supporting faculty innovation, interactive learning, peer learning, and students' different learning styles," said Sonya Stephens, vice president for academic affairs and dean of faculty. "Changing up the pedagogy" makes it easier for students to work collaboratively and creatively, she said.
Renovations to Clapp Hall 410, Skinner Hall 202, and Ciruti Hall 109 are complete, and changes to Reese Hall 316 will finish this round of classroom renovations.
Creating flexible classroom spaces.
New Steelcase furniture—chair/desk combos, smaller tables, and chairs on wheels—allows professors to alter a room's layout quickly from a traditional lecture format to "huddles" for small-group work or a semicircle for seminar discussions, for example.
Other innovations include a movable teaching podium, enhanced lighting, and "hoverboards." These are small whiteboards that can be distributed around the room or clustered, used singly or in groups, and that can either display work on desks or divide space between students for private work.
Steven Schmeiser, assistant professor of economics and complex organizations, is among those using the Skinner classroom this semester. "I was skeptical when I first looked at the room … but it has been great," Schmeiser said.
He recently had students rearrange their desks and work in teams to solve problems. Students wrote answers on the hoverboards, then displayed and explained their results to the entire class.
"It was much more engaging than having me do it, or having them do it individually or paired up in traditional seating," Schmeiser said.
Stephens said the goal is to create a range of classroom spaces.
More flexible teaching spaces also make room scheduling easier, said Registrar Elizabeth Pyle, who worked with a faculty group to identify "active-learning needs," and was the liaison between the faculty and the furniture vendors.
"Now the same room can meet the teaching needs of a seminar class of 19 and a lecture class of 45," she said.
Clapp 410 was selected for renovation partly because of the growing popularity of the geographic information systems (GIS) classes that meet there. The new space is not only more flexible, but also accommodates more students interested in learning these skills. Eleanor Townsley, associate dean of faculty, said GIS savvy is highly prized by employers.
Ciruti 109 now features "node chairs," which are individual seats on wheels. Each seat has an attached writing surface big enough to accommodate a student's laptop computer or tablet.
According to Esther Castro, senior lecturer in Spanish, more than half of her Composition and Culture students bring computers to class, and the chairs make that manageable.
"Our faculty are already innovative," noted Townsley. "The new spaces just unleash them to experiment with different teaching methods."
Make yourself comfortable at MHC. Apply now.