Historic Deerfield fellowship links past, present.
Historic Deerfield fellowship links past, present.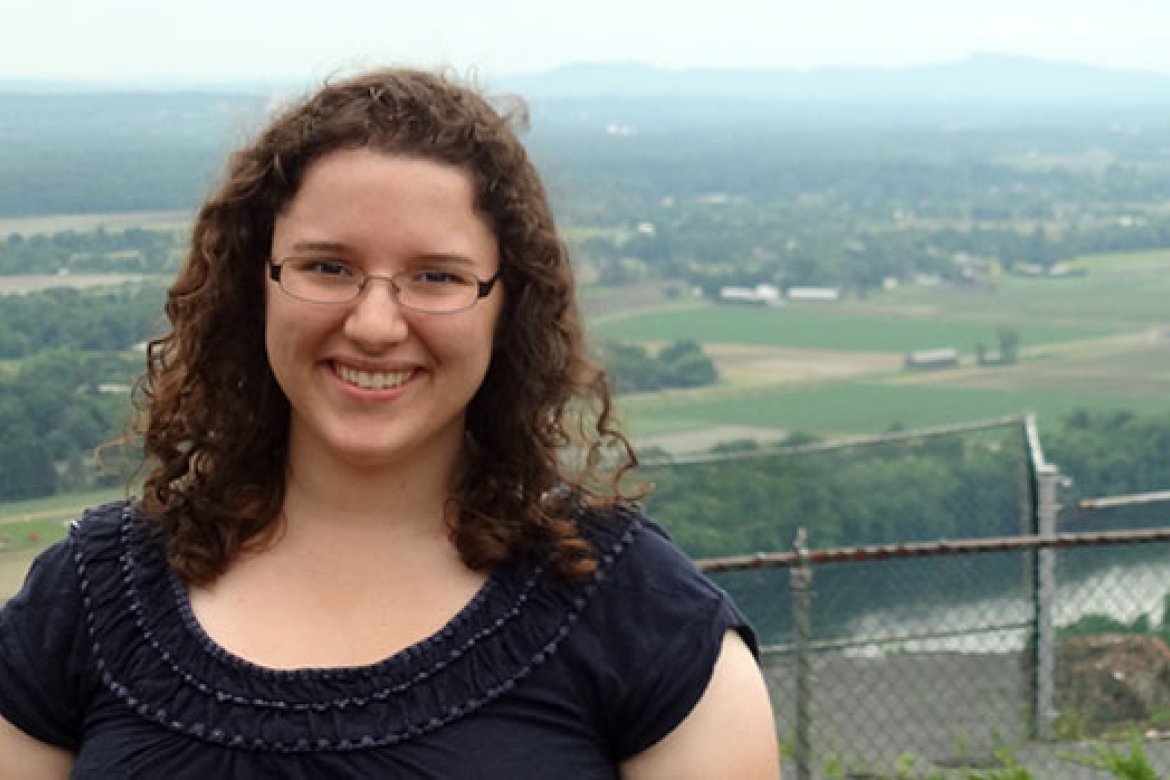 Mount Holyoke history major Emily Wells '15 opens "treasure chest" of knowledge about life and death in eighteenth and nineteenth century New England.
By Ann Kenda
History major Emily Wells '15 felt like she opened a treasure chest during a nine-week residential Historic Deerfield Summer Fellowship, she said.
One of just six fellows selected in 2014 for the prestigious work experience at the Western Massachusetts museum, Wells encountered clothing from the eighteenth and nineteenth centuries, silver from Paul Revere's era, and early American objects of every kind, from embroidery to paintings to glasswork to collections of pewter.
She also developed a belief in the importance of learning about the past to understand the present, which she said is the foundation for bringing about change in the world.
"When you're holding an object that someone held 200 years ago, it feels like a direct connection to someone in the past," Wells said. "You can imagine what that person's life was like."
Historic Deerfield offers scholars, researchers, and history buffs an up-close look at the physical objects of the past, including important examples of material culture from three and four centuries ago. Listed on the National Register of Historic Landmarks since 1962, the museum comprises twelve antiques houses built between 1730 and 1850 along the town's Old Main Street. The museum focuses on the history and culture of the Connecticut River Valley and early New England, offering guided and self-guided tours.
"Museums are a wonderful way to teach history outside of the classroom," said Wells, whose fellowship was supported with the help of a stipend from Mount Holyoke College's Lynk experience.
Christine DeLucia, assistant professor of history at Mount Holyoke, noted that the fellowship program at Historic Deerfield is a "distinguished, selective program with a national reputation, especially in the field of early American material culture studies."
It also is just the kind of classroom-to-career connection the College is facilitating with its new Nexus track in Public History, Archives, and Museums, which Wells is pursuing.
"Participants gain first-hand exposure to a superb collection of physical artifacts as well as documentary records, and develop their own independent research projects," DeLucia said of the Deerfield experience.  "As an active public history site, Deerfield also teaches skills for interpreting the past for popular audiences. Emily has done outstanding coursework in history and material culture at Mount Holyoke and through the Five College Consortium.  This summer fellowship is an exciting—and intense—way to connect these classroom experiences to a 'real-world' setting, and to get a taste of potential careers in preservation, curation, and public history."
During the fellowship, Wells and five other student fellows lived in apartments in the historic town and delved into the history of the residents who preceded them. In addition to researching and cataloging the museum's new acquisitions, Wells used her time at Historic Deerfield to prepare a research paper on the history and iconography of a Civil War soldiers' monument erected in the town in 1867, and to uncover the story of a local family who had lost a son in the war.
"The paper is about how the memorial gave the family a sense of closure when they couldn't visit their son's actual grave," said Wells, who titled her work "Fallen Soldiers, Lamented Sons: Death, Mourning, and the Soldiers' Monument in Deerfield." The piece focused on the ways that local monuments became part of community and personal mourning after the Civil War.
Other fellows wrote about subjects such as the business models of two local printing businesses of the early 1800s and the life of a Deerfield resident who was the first woman committed to a psychiatric hospital in Worcester in 1833.
More than 400 fellows have completed the program since 1956, and many have pursued advanced degrees in history or gone on to work in the field, said Barbara Mathews, a public historian at Historic Deerfield who directs the summer program.
Wells and the other Fellows are part of a rich history of their own, Mathews said, noting that the program admitted only men when it started in 1956, reflecting the dominance of men in the history profession at the time. The admission policy changed in the early 1970s, and female fellows have tended to outnumber men in more recent years.
One of the best aspects of the fellowship, Wells said, was working with professional historians and learning about their career paths.
"We have to be connected to our past to know where our society has come from," said Wells, who hopes to study public-history education in graduate school. "We can use past examples to see where we would like to go in the future. It's just inherently interesting to see how people lived and conducted themselves in the past."
Find your inspiration. Apply now.