A historic year for scholarship support
A historic year for scholarship support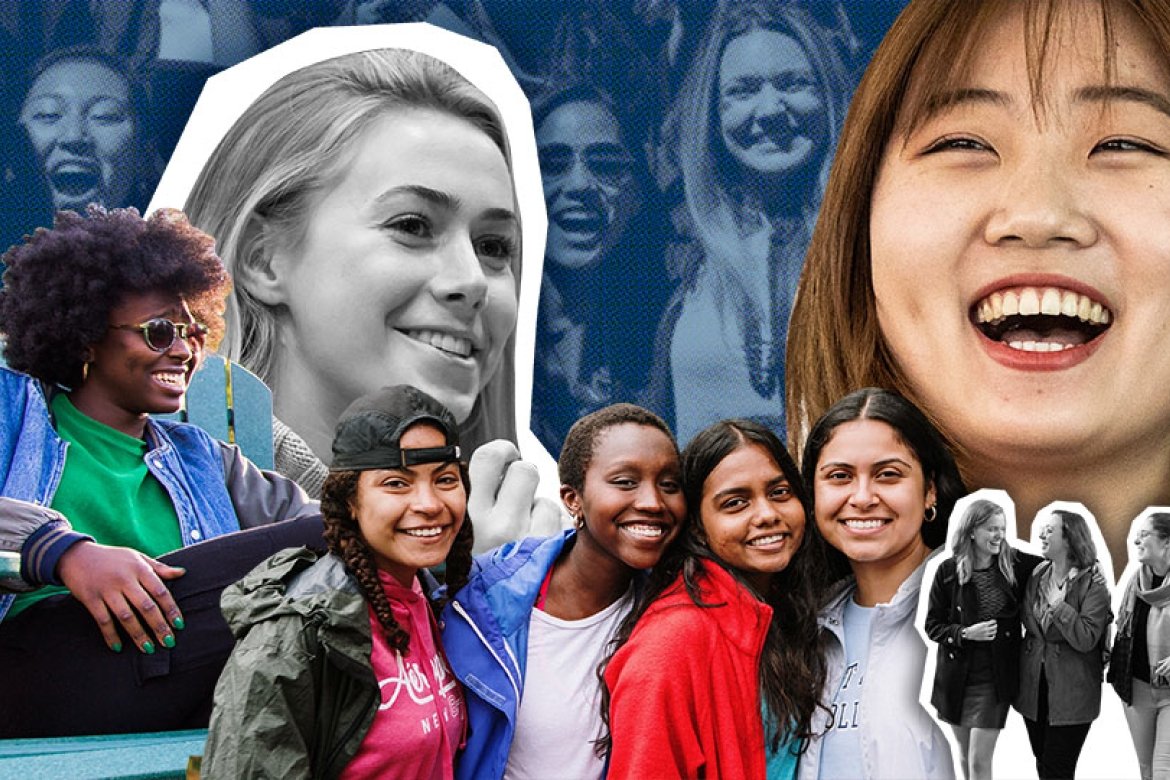 Generous gifts to the Meet the Moment scholarship initiative mean a Mount Holyoke education will be accessible to a wide range of students.
"Can I afford it?" That's the first question most students ask when reviewing their college acceptances. 
Scholarship aid is almost always a key factor when a prospective student is deciding where to go to college. 
This is especially important at Mount Holyoke, where the wealth of student perspectives and lived experiences contribute as much to a student's growth and evolution as the classes they take. Mount Holyoke's dynamic community is one of our biggest points of pride. So making sure that this transformative education is accessible to all talented students is a priority for us.  
That's why we launched the Meet the Moment scholarship initiative, a multi-pronged fundraising endeavor designed to help our community support this crucial area through endowed funds and unrestricted gifts. 
How does a large endowment help us? 
The first of these initiatives is designed to bolster the endowment. 
Mount Holyoke admits the highest percentage of low- and middle-income students among the Seven Sisters colleges. But while our endowment is healthy, it remains one of the smallest among our peers. Looking ahead, scholarship aid will continue to be critically important to our students — and in our ability to grow and evolve to meet the moment. 
A robust endowment is a crucial indicator of our financial health and long-term success. A larger endowment helps to offset educational costs and allows us to give access to more talented students. And welcoming new donors adds to the pool of individuals whose support allows us to thrive. 
So we were delighted to announce our largest gift ever in support of scholarship aid in early January. Trustee Liz Cochary Gross '79 and Philip Gross gave $10 million in order to support the diversity and accessibility of a Mount Holyoke education.
"With this gift, my husband, Phill, and I hope to inspire others to invest," Liz said. "We need to ensure students with diverse backgrounds and from a wide variety of economic circumstances have the opportunity to join the Mount Holyoke community and thrive as student scholars and change agents."
Thanks to the generosity of Liz and Phill, and also Nancy Nordhoff '54, our $11 million Meet the Moment Scholarship Challenge has had an incredible impact: It is fueling the best year of giving to the endowment in our history. 
Over just a few months, this ambitious match has inspired 48 donors to rise to the challenge — and over 70% made their first gift to an endowed scholarship. These generous endowed gifts — along with those to the Student Safety Net — ensure access and opportunities to deserving students in perpetuity. 
Beyond the endowment: The Mount Holyoke Fund Scholars Program
In addition to a robust endowment, Mount Holyoke also needs unrestricted gifts that we can apply when and where we have the most need. 
To that end, also in January, trustee Bess Weatherman '82 issued a generous $250,000 challenge to match gifts to The Mount Holyoke Fund Scholars Program. In just one month, 34 donors rose to the challenge. They raised $250,000 in new gifts and pledges for this program. 
Inspired by this tremendous success, trustee Monica Landry '90 has issued another $250,000 challenge. This one will once again match, dollar for dollar, all new gifts between $5,000 and $25,000 made to The Mount Holyoke Fund Scholars Program. 
A record-breaking March
Next, our community came together for a record-breaking March4MHC Challenge. In all, 4,843 members of our Mount Holyoke community participated, surpassing our ambitious goal of 4,000 donors. Their gifts ranged from $5 to $50,000. The collaborative effort, driven by Mount Holyoke's dedicated volunteers, raised $1.3 million for The Mount Holyoke Fund. 
Thanks to a generous challenge from a group of anonymous donors, this tremendous outpouring of support earned an additional $450,000 for the College. This resulted in more than $1.77 million in support of Mount Holyoke's highest priorities. We are so appreciative of the hard work of our devoted volunteers and the generosity of our community. 
A legacy of giving
Philanthropy has been the cornerstone of Mount Holyoke's story since its founding in 1837. Mary Lyon traveled all over Massachusetts to raise funds to provide women access to a rigorous education. 
Over the next 183 years, our community has faced myriad challenges — pandemics, wars, fires. Through it all, the strength of our community has ensured that, come what may, "Mount Holyoke forever shall be." 
This year is one example. In an uncertain time that has required an unprecedented level of flexibility, nimbleness and grace, the tremendous generosity from our Mount Holyoke community ensures that we are prepared for whatever challenges or opportunities await in our next chapter.