Hollings scholarship honors marine scientist.
Hollings scholarship honors marine scientist.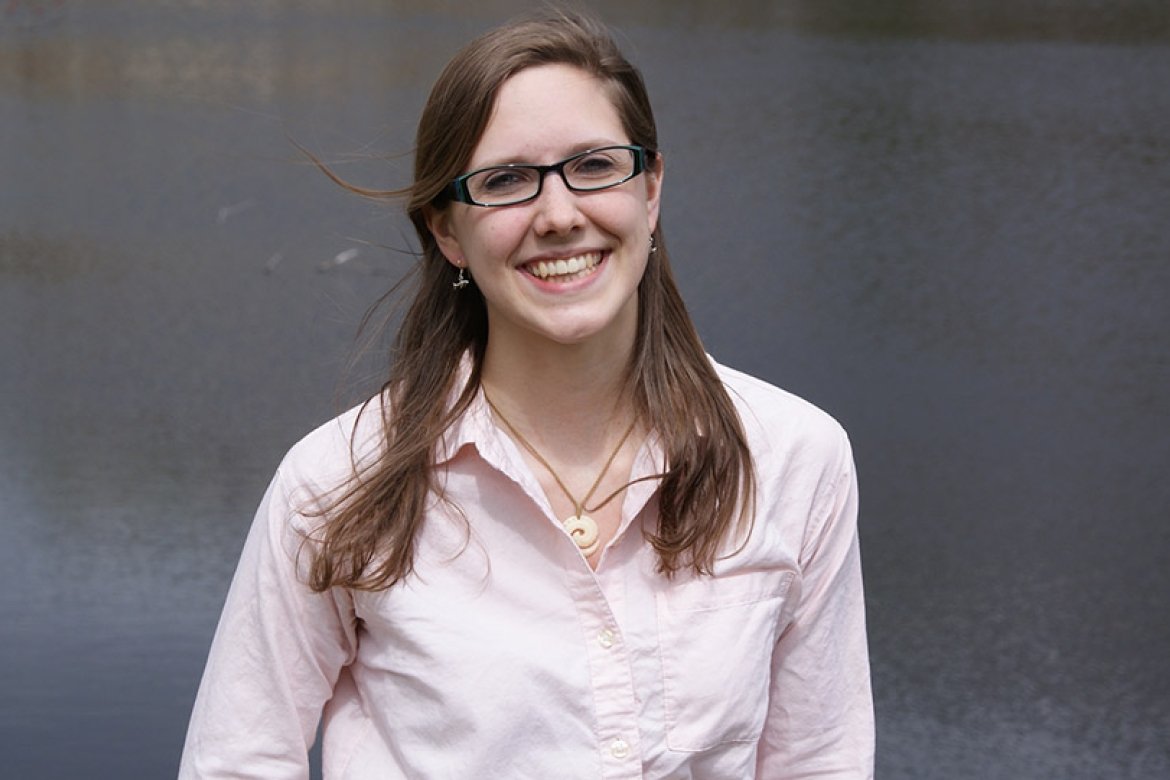 The Hollings award will help Erin Jones '17 develop her deep love of oceanography by providing academic funding, contacts, and a paid research internship.
Erin Jones '17 grew up on Washington State's Bainbridge Island, where ocean-related lessons were often part of school and she was never more than a 15-minute walk from the seashore. Over the years, this proximity and Jones's natural curiosity developed into a deep interest in marine sciences.
The Mount Holyoke College sophomore has just been awarded a Hollings scholarship that brings with it academic funding, mentoring, and a paid summer internship at an organization affiliated with the National Oceanic and Atmospheric Administration (NOAA). 
"I want to explore the open ocean, uncover molecular reasons for reactions within an organism, conduct research in the field, and perform thorough analysis in the lab," she said. "I expect the Hollings scholarship to build my skills profoundly and open many new pathways for me. I'm very excited."
Studying marine science at an inland college.
Perhaps naturally, Jones considered attending a college near the ocean and focusing intensely on marine sciences. But she was drawn to Mount Holyoke because of the breadth of experiences it offered. 
"I realized I wanted a strong foundation in biology and a breadth of knowledge in other fields," she said. "I didn't want to focus right away and close my mind to other fields that can tie easily into marine sciences. And once I toured the campus and sat in on classes, I fell in love with Mount Holyoke. It was the right choice."
As a biological sciences major and marine sciences minor, Jones leans toward courses such as biology, chemistry, and geology. But she's also branched out into fields including English, Latin, and anthropology.
"What's great about the liberal arts in general and Mount Holyoke in particular is that you're able to dive into many different disciplines and come out with ideas that connect with your main focus," she said. "Previously, I just thought about things 'the science way.' Now, I'm able to bring alternative ways of thinking about a topic. Even for someone as focused as I am, that's incredibly important."
Wave after wave of opportunities.
While still in high school, Jones volunteered at a local aquarium, where she explained octopus behavior and anatomy to visitors. Mount Holyoke has brought her more opportunities.
She discovered a kindred spirit in biological sciences professor Rachel Fink, who became Jones's advisor.
"Her developmental biology course is my favorite so far, and when we met during office hours, we made an instant connection," Jones said. "We have similar research interests and she's become a significant mentor."
Last summer, Jones interned on a research team tracking the effects on sea birds of plastic trash washed up along the Washington shoreline. That work boosted her skills in data collection, analysis, and interpretation.
This summer, she'll research algae toxicity in Puget Sound through an internship with NOAA's Northwest Fisheries Science Center in Seattle.
Jones will spend the fall semester studying oceanography and conducting independent research through the Sea Education Association. The program starts on Cape Cod and includes six weeks aboard a research ship in the South Pacific.
After Mount Holyoke, Jones plans to pursue a doctorate and then decide how to "protect and preserve what I love most: the world's oceans."
Find and follow your passion. Start here.