Rachel Fink
Ida and Marion Van Natta Professor of Biological Sciences
on leave fall 2022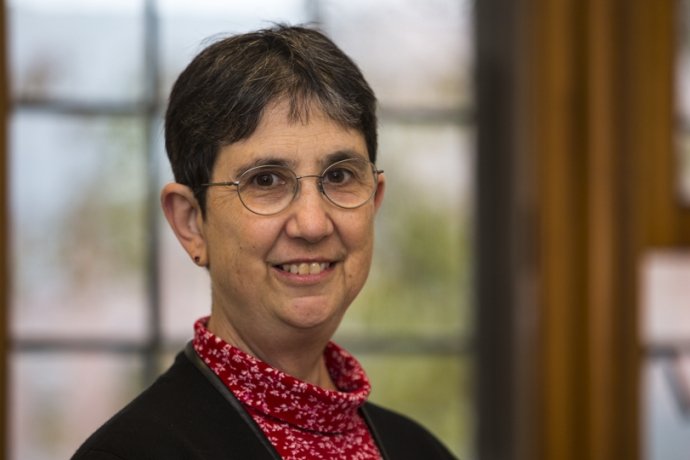 Rachel Fink's current research deals with the cytoskeletal dynamics in living fish embryos, with a focus on how microfilament and microtubule behavior relate to cell arrangements during embryogenesis. 
In addition to her work on fish embryos, Fink also develops research video footage available for teaching and has published two compilations of movies: A Dozen Eggs: Time-Lapse Microscopy of Normal Development (Society for Developmental Biology and Sinauer Associates) and CELLebration (American Society for Cell Biology and Sinauer Associates).
Fink is known for her interactive courses, using everything from colorful chalk to research videos and student presentations to engage students in the material. Of her video footage, Fink notes, "As an embryo develops from a fertilized egg, cells are constantly dividing, migrating, differentiating, and rearranging. Time-lapse video microscopy reveals these movements and allows analysis of the cellular mechanisms driving these transformations." 
Fink's courses include a First-Year Seminar titled Celebrated Science: Fluorescent Jellyfish, River Blindness, and Stem Cells; How Organisms Develop; Cellular and Molecular Aspects of Development; Teaching Children Science; and Regenerative Medicine: Biology and Bioethics.  Her students consistently praise her for her challenging, enthusiastic, supportive, and creative approach to teaching science. One student notes, "Professor Fink will teach you to love science!" Another student wrote, "She helps to bring science 'out of the lab and into your life' so that students do not leave their scientific knowledge at the classroom door, but keep it with them as lenses through which they see certain issues and phenomena in the 'real' world."  She has taken classes to Washington, DC to attend Presidential Council on Bioethics meetings, and runs the Science Buddy program at the local elementary school, where MHC science students work with second-, third- and fourth-grade students.  
In 2014 Fink became the faculty mentor to Mount Holyoke College Posse 5, and since then has been working with 11 extraordinary students from Miami through the Posse program.  
Areas of Expertise
Time-lapse video microscopy of cell rearrangements in fish embryos; embryonic cell migration—in vivo and in vitro (especially in sea urchins); the role of extracellular matrix in embryonic cell movements
Education
Ph.D., Duke University
B.A., Cornell University