Inside the M&Cs shift
Inside the M&Cs shift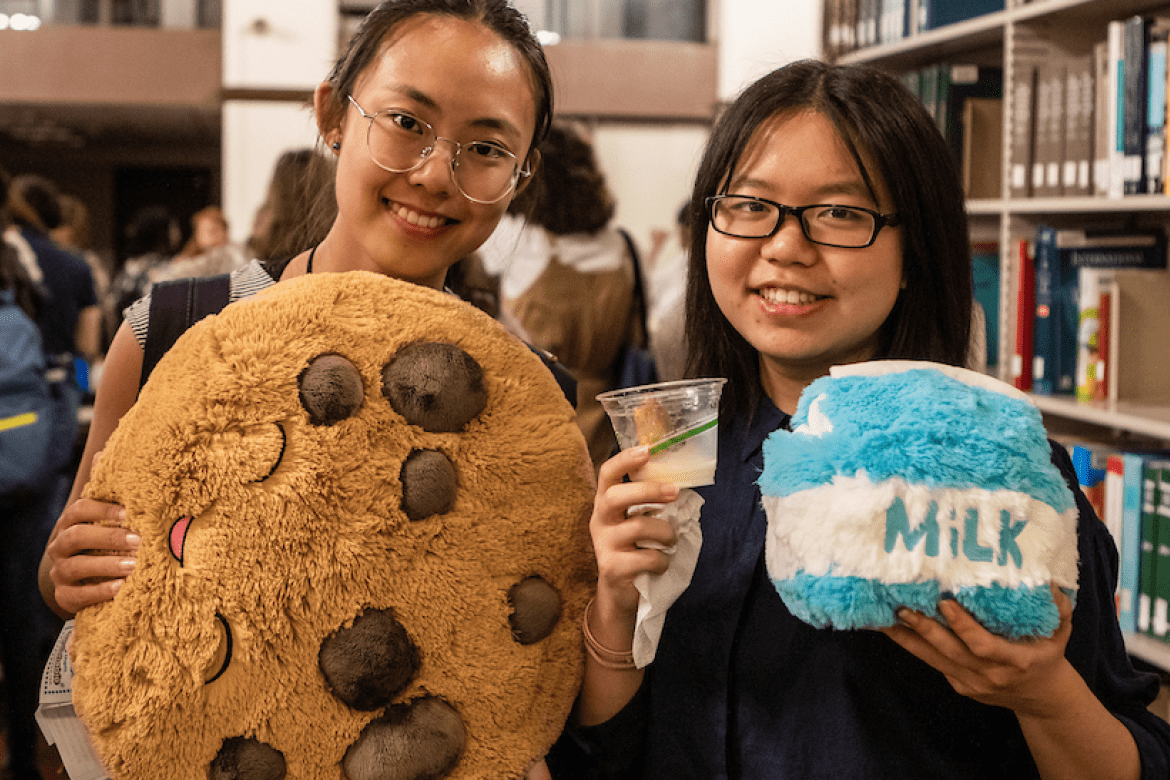 "M&Cs binds us together as a community as we discuss matters related to media, pop culture, economics, politics, current affairs and global issues on the rise. Or even just the weather in Massachusetts!"
"If you want to get paid to sit and eat cookies while monitoring more cookies, sign up for the M&Cs shift!"
This was the first time I heard about M&Cs, or milk and cookies. I was a first-year international student, attending a work-study meeting where we were to select shifts to work for Dining Services. A senior came up to the people in my row and quietly whispered this sage advice, which I took.
Now in my second year of working this Dining Services shift, I can confirm that the thing Mount Holyoke students look forward to most on the weekdays — after a never-ending day of classes, work and commitments — is M&Cs.
What exactly constitutes M&Cs, you may ask?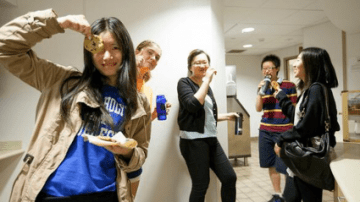 Most of the details are self-explanatory. But it's more than just an hour of free milk and cookies, which are served on campus each school night. M&Cs is also one of Mount Holyoke's oldest traditions. It binds us together as a community as we discuss matters related to media, pop culture, economics, politics, current affairs and global issues on the rise. Or even just the weather in Massachusetts!
The tradition of M&Cs remains strong thanks to the delicious efforts of Dining Services. Every Monday through Thursday, Dining Services supplies each residence hall on campus with a well-stocked tray of scrumptious cookies as well as milk and juice cartons — just what you need after a long day of, well, just being alive.
Each day brings a new selection of cookies, too, and flavors are only repeated once every two weeks. Available cookie flavors include chocolate coffee espresso, rainbow, M&Ms, chocolate chip, white chocolate and oatmeal, as well as various gluten-free options. My favorite is definitely the chocolate espresso coffee, as it contains the perfect ratio of sweet to bitter.
Two student workers, four shifts, a steady crowd
To help serve up this tasty tradition, Dining Services assigns two student workers to each residence hall, and those students divide the four shifts per week among themselves. The goods are transported each weekday into the residence halls by a member of Dining Services.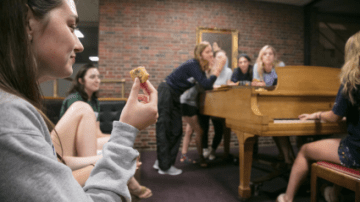 In the residence halls, M&Cs are typically served in a cozy common room. On Sunday nights from 9 to 10 pm, community M&Cs take place in the Dining Commons and draw students from across campus.
M&Cs shifts usually run a smooth course. I arrive at Prospect's kitchenette by 9:30 pm and unlock the fridge and cabinet where the juice, milk and cookies are stored, then I set out the treats for the residents of the hall. At the magic hour, students descend from their rooms and through the entrance of the building and gather at the spread of cookies and drinks. There's usually a steady crowd, and cookie ambassadors sometimes collect deliveries for roommates or friends on their floor.
Each residence hall has a fridge to store milk and juice, too. The fridge is kept locked since 24-hour access to free milk and juice is not really part of the tradition!
On the evenings that I'm not working my M&Cs shift, you can catch me in the common room of Prospect Hall, catching up with my friends at the end of our day over some tasty treats from Dining Services. Long live M&Cs!