Interning with Sen. Elizabeth Warren
Interning with Sen. Elizabeth Warren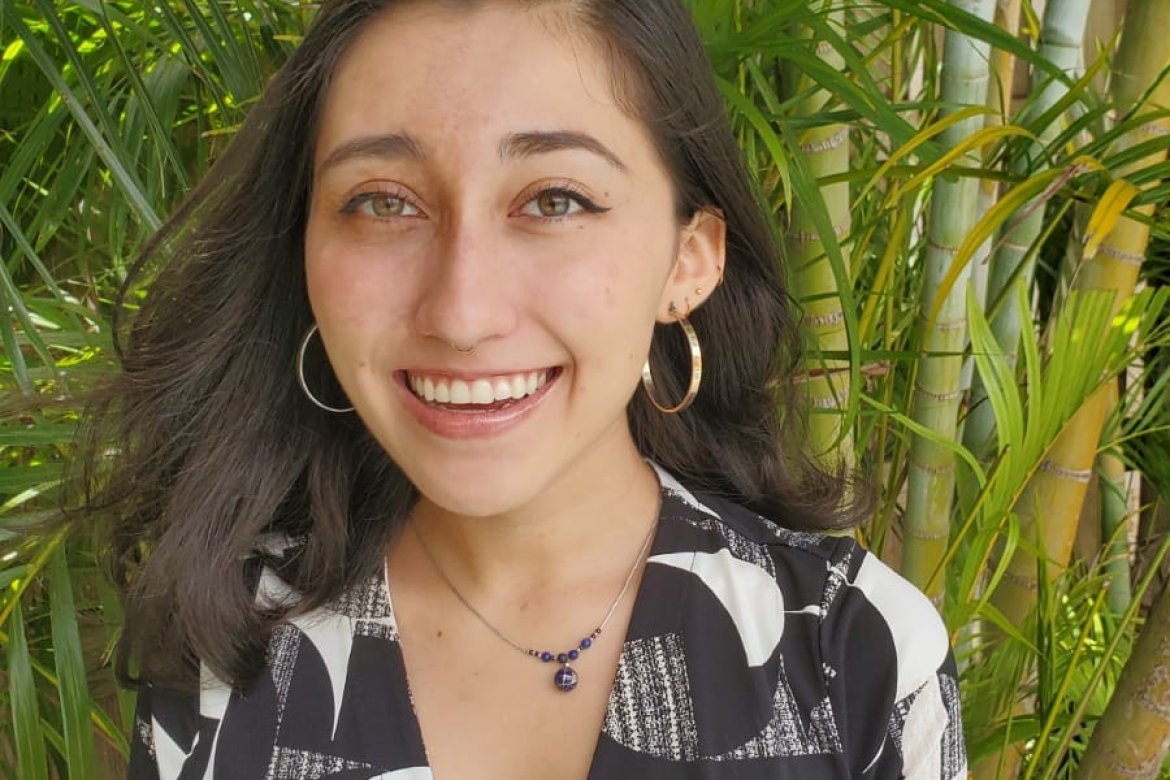 Mount Holyoke senior Sara Sarmiento channeled her service experience and love of politics in a virtual internship with Sen. Elizabeth Warren.
Sara Sarmiento '21 entered Mount Holyoke College a year after two politically impactful events for her.
It was 2017. Just a year before, her native country of Colombia's government had reached a historic peace deal with the Revolutionary Armed Forces of Colombia, known by its Spanish acronym as FARC, after half a century of fighting that left 260,000 dead. While a ballot referendum narrowly failed, a second attempt to push it through the country's congress passed.
And in the United States, President Donald Trump was almost a full year into his term.
While celebrating her country's historic peace deal, Sarmiento was also watching how Trump was changing the United States and its relationship with the rest of the world. She was also worried about the deep political polarization in the two countries.
"My identity is reflected by my environment, of living between Colombia and the United States," Sarmiento said. She was born in and lived in Bogotá until she was two years old. Her family then migrated to Miami and began a 15-year naturalization process.
Sarmiento has long been politically and socially active, volunteering in hospitals, with youth programs and with social justice-oriented theater groups. By the time she graduated from high school, she had logged 1,000 hours of community service.
"I'd been doing community service, but everything I cared about socially centered on politics," Sarmiento said. "That's when I thought I would study international relations." Wherever she wound up after high school, she figured the field would help her understand global affairs and how governments function.
But first she had to find a college, and one that would provide aid. That's when she discovered the Posse Foundation, a national organization that identifies and recruits diverse students with academic and leadership potential who risk being overlooked. From her high school Posse mentor, she learned about the value of women's colleges that are gender diverse, as well as liberal arts colleges, which are not common in Florida. She was fascinated by the concept and open to the challenge of living in rural Massachusetts, a very different place from Bogotá and Miami.
But at Mount Holyoke, as she dove into her major's required classes, she became "that student."
When professors talked about global institutions like the United Nations or the International Monetary Fund, she questioned their contribution to neoliberalism, imperialism and gender inequities.
But, she realized, "those classes weren't the place to dive into those questions."
What she was looking for was gender and Latino/a studies interdisciplinary fields that challenge ideas of power, identity and privilege. As she was taking them, she found the College offered a cross-disciplinary major in critical social thought, which combined these fields. She added the major to her degree plan, graduating in December 2020 with a double major that included international relations.
Guided by her professors and her Mount Holyoke Posse mentor, Sarmiento's interests evolved from global affairs to politics. She sought opportunities for internships and extracurricular activities in the legal field to prepare her for life after college and possibly, law school.
That led her to being a virtual intern at the Springfield district office of U.S. Sen. Elizabeth Warren, arranged by the Weissman Center for Leadership, last fall. District offices are the first line of defense for constituents. The work is not partisan, nor does it involve policymaking, unlike the Washington, D.C., offices. District offices help constituents if they are having problems with federal agencies and programs, such as Social Security and Veterans Affairs.
Sarmiento's responsibilities included constituent services, such as casework and correspondence. The internship was digital, as the College was remote during the fall semester, due to COVID-19.
While working from her bedroom in Miami, she would sign in and collect voicemails, follow up and log casework. Her supervisor would give Sarmiento and other interns a "callback" regarding a case or in response to a letter.
"Working remotely actually made collaboration easier. We had all the interns together, coordinated by the office. Every day brought a variety of tasks," Sarmiento said. For instance, she would research sources for mutual aid and homeless centers from across the state.
She learned a lot about the unseen work performed in district offices and got to learn about her adopted state, too.
"I didn't live there but I can learn all about what's going on there," she said.
The most rewarding part of her internship, however, bridged her dual identities. The native Spanish speaker was put in charge of working with Spanish-speaking constituents. "Those calls were extremely gratifying. I could interact with them in their native language," she said.
The latter part of 2020 felt too familiar, harkening back to 2016 and her fears about the Colombian peace deal. Now those memories collided with the mental toll from the pandemic and the U.S. presidential campaign.
"It was an emotional period during the election," Sarmiento said. "You just felt everything was unravelling."
But she prided herself on being able to give back to the community in some way during the difficult period, just as she had in Miami.