Learning to lead with distinction
Learning to lead with distinction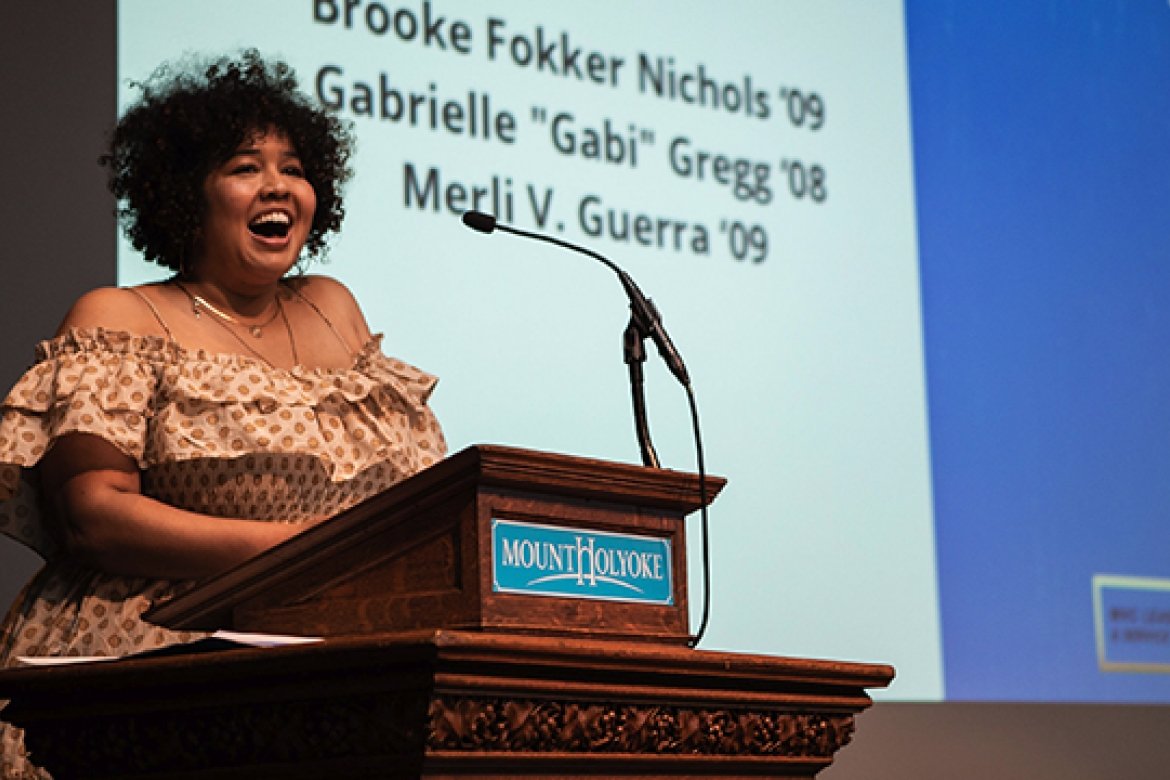 The 2019 Student Leadership and Service Awards celebrate an integral part of Mount Holyoke's mission.
At Mount Holyoke, leadership isn't limited to a single role or title or idea. The power to coalesce, inspire and empower others — in other words, to lead — can take so many forms: Advisors and catalysts. Role models and planners. Creative voices and selfless partners.
The annual Student Leadership and Service Awards ceremony is a chance to publicly recognize Mount Holyoke's varied and impressive cohort of student leaders. Their ongoing contributions exemplify the College's integral commitment to leading with distinction.
"This is a moment for the College to acknowledge all that our students give to the community, both on campus and off," said Marcella Runell Hall, dean of students and vice president for student life. "We use this as an opportunity to look at what constitutes leadership and success, and all the many ways they can manifest. Nominations for these awards are sent from faculty, staff and other students from across campus and it's always hard to choose the winners."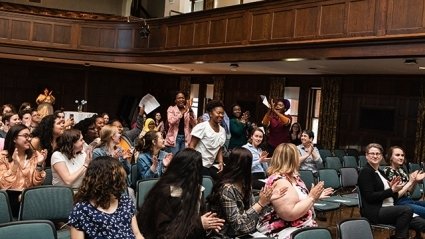 The Complete List of Honorees
Sarah Williston Prize
Given to the students with the highest grades in their class who ranked as Sarah Williston Scholars their sophomore or junior year.
Clare A. Collins '19
Yian Ding '20
Stella B. Grill-Dubois '19
Eveline-Adele Halpert '19
Savannah C. Harriman-Pote '19
Eleanor L. Harris '20
Amelia J. Johnson '20
Gabrielle E. Kerbel '20
Hannah J. LeBlanc '20
Yewon Lee '20
Madison E. Leighty '19
Leyi Li '19
Wafa Z. Malik '19
Talia J. Michaud '20
Madeleine R. Olson '20
Jaemarie Y. Solyst '19
Mackenzie R. Stratton '19
Keting Yang '19
Ye Zhang '20
Anna C. Edwards Prize for Excellence in Debate
Honors students who have demonstrated a commitment to promoting debate on campus.
Qianzhen Fu '19
Community Advisor of the Year Award
Presented to the Community Advisor who best fulfilled the spirit as well as the letter of their position over the previous academic year. They have demonstrated excellence in programming, role-modeling care for others and building up their staff, building and campus community.
Sara Sarmiento '21
Distinguished Student Organization Award
Honors recognizes student organizations and their distinguished level of contribution to the Mount Holyoke community through planned events and programs on campus.
Kuch Karo: Pakistani Students For Change
Emerging Leader Award
Honors students in their first or second year at the College who show leadership promise through their contributions to student life and community building.
Juniper L. Glass-Klaiber '21
Tai Masuda '21
Jacquline A. Rich '21
Casey Roepke '21
Excellence in Programming Award
Recognizes a student organization or committee for its exceptional creativity, planning and execution of a campus-wide program.
Frances Harriet Williams Class of 1919 Award
Established in 1981 by the family of Frances H. Williams, class of 1919, this award is presented to a student who passionately pursues their goal of academic excellence, social justice or service to others.
Miesha Moss '19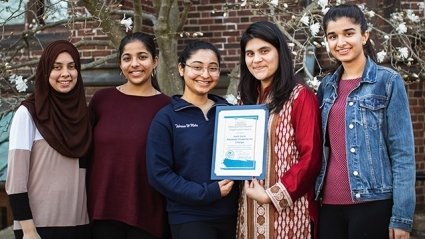 Golden Lyon Award
Given in recognition of students who have positively influenced a program or organization from behind the scenes with a positive attitude, a willingness to help in whatever capacity necessary and a commitment to excellence.
Gabrielle S. Raymond '20
Linda D. Zhang '20
Helen Warren Smith Class of 1908 Award
Established in 1979 by Helen Warren Smith, class of 1908, this award honors a student whose interest, involvement and service to the Mount Holyoke College community have been outstanding.
Valerie A. Montesino '19
H. Elizabeth Braun Catalyst for Change Award
Established by the Office of the Dean of Students in 2010 to recognize leaders who have done extraordinary work creating a diverse and inclusive community.
Ren N. Dinh '19
Monique A. Roberts '19
Irma Rabbino Award, in fond memory of Rose and Murray Rabbino
Established in 1978 by Irma L. Rabbino, class of 1953, to honor her father by recognizing a student who has made a significant contribution to the life of Mount Holyoke College.
Destiny S. Williams '19
Karen Snyder Sullivan Memorial Travel Award
Provides assistance for a student who has not previously traveled abroad to plan a trip that satisfies their curiosity and heightens their awareness of other cultures.
Savannah C. Harriman-Pote '19
Kelly Sottile Class of 2008 Community Service Award
Honors a student who demonstrates a high level of personal commitment to the community beyond the campus.
Bárbara Cristina de Souza Pinto '19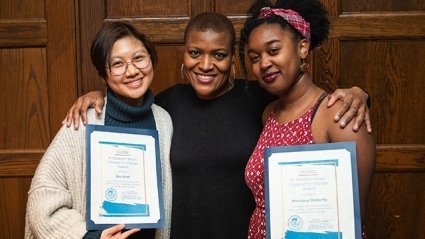 Leadership in the Living-Learning Community
Given in recognition of a student for their service and commitment to living-learning communities at the College.
Julia J. Cole '19
Mary Lyon Award
Given to young alumnae who have been out of the College for 15 years or less who demonstrate promise or sustained achievement in their lives, profession or community that is consistent with the humane values that Mary Lyon exemplified in her life and inspired in others.
Gabrielle "Gabi" Gregg '08
Merli V. Guerra '09
Brooke Fokker Nichols '09
McCulloch Center Global Engagement Award
Given in recognition of students who have demonstrated outstanding commitment to raising awareness on campus of critical global issues, awarded by the McCulloch Center for Global Initiatives.
Eleanor L. Stewart '19
MoZone Community Builders Award
Recognizes the student organization that has done extraordinary work to create a diverse and inclusive community.
Mi Gente Living-Learning Community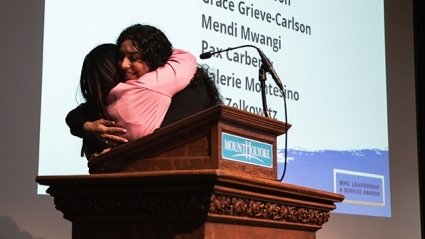 Outstanding Service Award
Given in recognition of a student for their service and commitment to the Office of Residential Life throughout their time at the College.
Fiona J. Morris '19
Sally Montgomery Award
Given each year to a student or students whose community involvement exhibits a true union of student learning and community needs. Honored with these students are the community partners with whom they collaborated.
Crystal Roman '19, with Maria Cartagena of Holyoke Bound
Silva W. Warren '19, with Deb Vanderpoel of Mosier Elementary School, South Hadley
Senior Community Advisor of the Year Award
Presented to the Senior Community Advisor who has excelled in all areas of their position over the previous academic year. Their supervision skills, ability to handle difficult situations, and the relationships they have built among their staff and building have made them a role model to the Mount Holyoke community.
Eliana Ramirez '19
Student Leadership and Service Award
Honors students who have consistently given their time, energy and talents to promote positive change and growth in the Mount Holyoke community, and in so doing have motivated others to do the same.
Theo G. Claire-McKown '20
Erin Carberry '19
Caitlin Lynch '20
Alessandra R. Massa '19
Relyn G. Myrthil '19
Haley L. Rivers '19
Mendi K. Thuita '19
Rachel E. Yousman '19
Zoe L. Zeligman '19
Weissman Center for Leadership Award for Excellence
Honors students who have demonstrated leadership across campus, with a particular commitment to Weissman Center for Leadership activities and events.
Anran Wang '19
Dhishana Kidambi '19
Edith A. Amoafoa-Smart '19
Be a leader. Schedule a tour.