Mead Hall reopened after lightning strike
Mead Hall reopened after lightning strike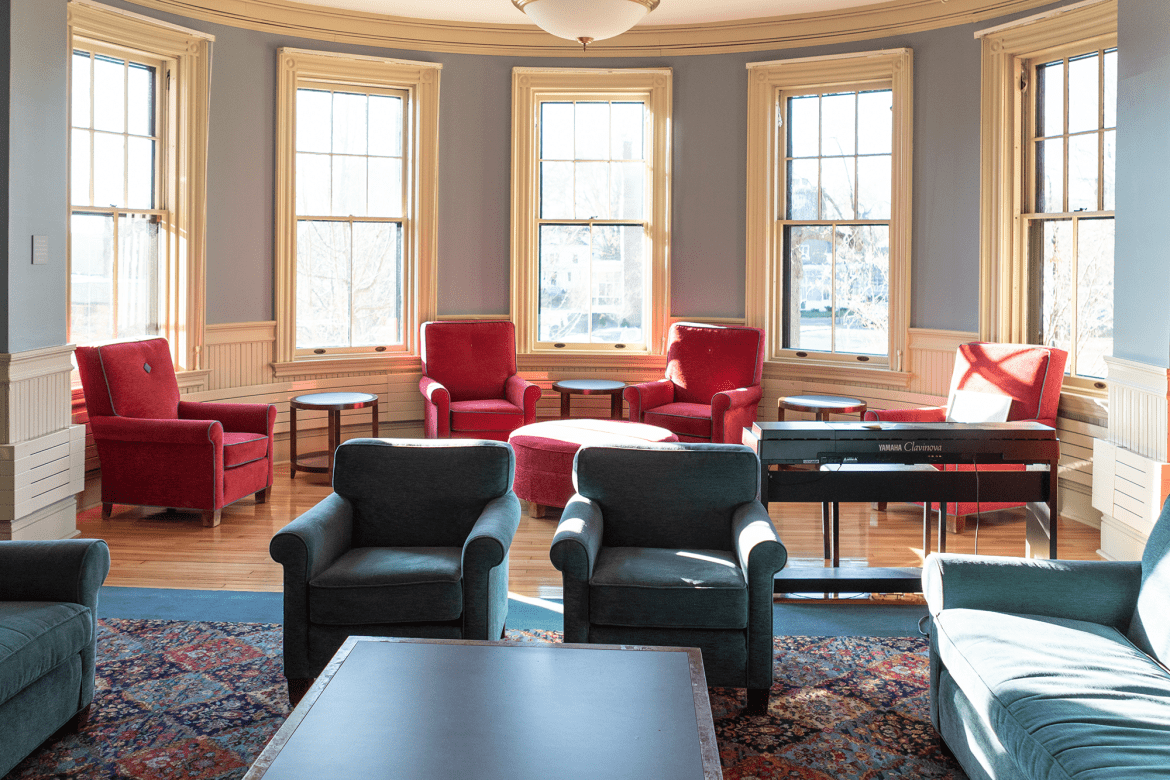 Now restored to its former glory, Mead is poised to become a place for students to build community with each other again.
Students have moved back into the Mead residence hall after a lightning strike over the summer damaged the building and rendered it uninhabitable. 
All 144 students who had anticipated spending the fall semester in the historic building located in the heart of south campus were relocated, many of them finding a home at Hampshire College, which hosted the displaced students in extra dorm space while Mead underwent repair and renovations.
Ashley Igie '24, who was admitted in the spring of 2021, had been looking forward to her first "normal" semester at Mount Holyoke, with the campus fully repopulated after COVID-19 restrictions had limited campus living the previous year. 
While she was disappointed to learn that she would be spending the semester off campus, she said that the Hampshire community was gracious and welcoming. They gave displaced Mount Holyoke students bouquets of their own farm-grown flowers in Mason jars to welcome them.
"It was kind of like they were hugging us the whole time," said Igie.
A place for community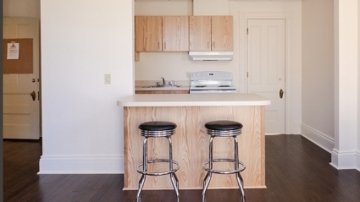 Mead has long been a center of Mount Holyoke's community-building Living-Learning Communities. Once, it housed language floors where native speakers and language learners lived together in an intentionally immersive experience, but as demand for new language floors expanded, Mead could no longer contain them all. This year Mead is home to the Mosaic and Mary Woolley communities, each headed by their own residential advisors. 
Now restored to its former glory, Mead is poised to become a place for students to build community with each other again. 
"The heart of campus was hit when Mead got struck by lightning," said Rachel Alldis, associate dean of students and director of residential life. "To bring it back like this has felt incredible, and so I'm very pleased that we were able to get all of the students back on campus."
Igie is the residential advisor for the Mosaic community, which is a dedicated floor for students who self-identify as people of color and express a commitment to creating an inclusive and socially just community. She is looking forward to developing the community in Mead. 
"I'm really excited to build this space for the people who live here," she said. "It's a different experience, especially as a Black woman, versus [living in a] mainly white space. I feel more comfortable, and I really want to build a strong community on my floor."
Maya Sopory, the residential fellow who oversees the entire building, noted that simply being in the building itself is a part of how they experience community with their residents. They spent the fall in Geneva, where they said they often felt alone in their residence.
"It's really nice, it's nice to feel connected," Sopory said. "You don't 'just happen' to live in the same place, doing the same thing. People are here because they chose it. It's very intentional. Having the two Living-Learning Communities means that we need a higher level of intentionality and care, more thinking and discussion around events and what the floors want to be like and how we interact with each other."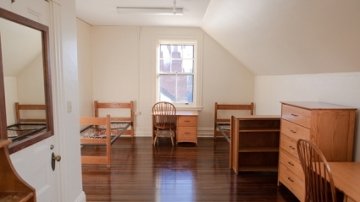 Kyla Core is the residential advisor for the Mary Wooley Living-Learning Community, a floor for students who are committed to exploring and expressing their whole selves, including their gender identities and sexualities in a safer and affirming environment. They are thrilled to be back on campus with their community and already have plans for movie nights and game nights. 
The building itself, they said, exceeded their expectations. 
"I love the oak floors, the closets, and I really appreciate having accessible nongender bathrooms," Core said. "To be gifted with these renovations is really amazing."
A "retro-vation" built to last
Renovations were made with the intention to honor the classical architecture of the building, including a sweeping spiral staircase and an entry arch.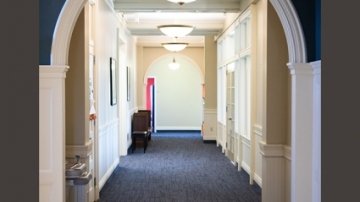 "There was a lot of care and a lot of dedication from the incredible facilities and construction teams that worked in the space ," said Alldis, who helped make design choices. "They were very thoughtful about trying to keep all of its historic character intact. When I walked through, I was incredibly appreciative."
Less noticeable updates included sustainability upgrades that will reduce the energy consumed by the building in keeping with Mount Holyoke's carbon neutrality goal. 
Raghu Raghavan, director of sustainability, noted that some of the most impactful changes included the installation of high-efficiency LED lights, improved insulation and high-efficiency double-pane windows, steam pipe insulation upgrades and enhanced energy controls.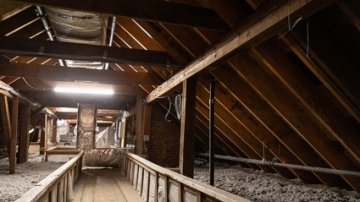 Now fully restored, Mead is expected to be at the heart of residential life for decades of students to come. 
"It's preserved in a way that it will last well into the next century," said Alldis.