Meet the students of the MHC Semester in D.C.
Meet the students of the MHC Semester in D.C.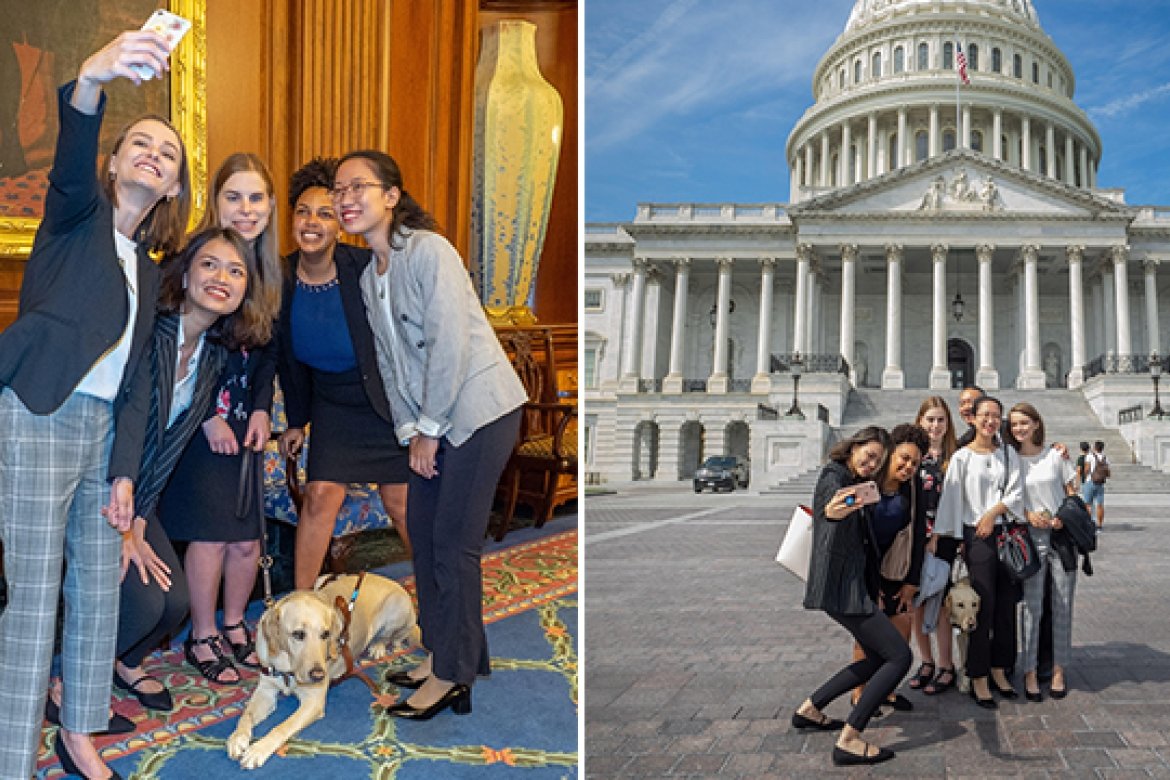 Five students build careers in public policy as they work, study and live in the nation's capital, as part of Mount Holyoke's new program.
What's better than spending a semester in Washington, D.C.? Spending it meeting and working with the country's leading policymakers, politicians and advocates. This opportunity has become even more exciting, given the record number of women winning midterm elections.
"It's more than I could've hoped for," said Melissa Carney '19. "One week I met House Minority Leader Nancy Pelosi and the next I was having breakfast with Sen. Marco Rubio. It's incredible. I get to speak and write about the issues, and talk to members of Congress and their staff. It's a leadership role."
Carney is one of five students participating in Mount Holyoke College's new MHC Semester in D.C. program this fall. They live in downtown Washington, work at internships and take classes in government and public policy. At the same time, they are learning to lead and making professional connections. The pilot program is administered through the College's Weissman Center for Leadership.
A destination school for student leaders
Washington is a natural networking location for the program, noted Amy E. Martin, director of the Weissman Center, given the College's long history of promoting women as leaders. They include Frances Perkins, class of 1902, the first woman to serve in the Cabinet. Ella Grasso '40 was the first woman elected governor of a state without having been the spouse of an incumbent. Rep. Nita Lowey '59 has served in Congress since 1989.
"Today, Mount Holyoke alumnae continue to make a difference both for the country and for the College," Martin said, pointing to alumnae like Mona Sutphen '89, who served as deputy chief of staff during the Obama administration.
Sutphen is a member of the MHC in D.C. Alumnae Advisory Group. Each of the five students is assigned an alumna mentor. The mentor works one-on-one with their student, giving advice, sharing experience and introducing them to others working in public service.
"This program takes Mount Holyoke's long commitment to women in public service to another level," said Martin, who is also Professor of English on the Emma B. Kennedy Foundation. "The beauty of this program is that each student is able to tailor their individual path into leadership and public service. They are given careful, individual guidance from alumnae and from the program director, Calvin Chen. These opportunities make the MHC Semester in D.C. unique. They are why Mount Holyoke is a destination school for student leaders who plan to devote their lives to public service."
"It's exciting to watch the five students grow as individuals and as leaders," said Chen, who is an associate professor of politics. He travels to Washington every three weeks to teach a seminar and to encourage and help the students as they explore the city and develop careers in public service.
"Their world views are undergoing an extraordinary transformation," he said. "Through the program, the students are not only refining and enhancing their already formidable research skills. Equally important, they are integrating those skills with their deep, personal understandings of policymaking to spark fresh and novel solutions to problems facing the nation — and indeed, the world." 
How do the students like it? 
The current students were chosen late last winter through a competitive application process:
Angelica Mercado '19, an anthropology major, is interning in the office of Rep. Jim McGovern. Her duties include greeting constituents and answering phones — something she did in McGovern's district office in Northampton, Massachusetts — as well as giving tours of the Capitol and drafting correspondence.
"I was in D.C. for the summer and I thought I knew everything," Mercado said. "But now, in the workplace, I am challenged in a way that is helping me grow to be a better advocate for communities of color."
A resident of Queens, New York, Mercado plans to work in international relations after she graduates.
Beth Wagoner '19, from Rockville, Indiana, is an English and politics double major. She is interning at the U.S. Department of Labor with the director of the Civil Rights Center, Naomi Barry-Perez '96. Wagoner's responsibilities include writing briefs, taking notes at agency meetings and drafting guidelines for internal investigations.
"There is so much thinking and collaboration here," she said. "I work in the Frances Perkins Building. I walk out of my apartment and see the Brookings Institution and the Human Rights Campaign headquarters. There are endless opportunities to explore."
After college Wagoner plans to teach and eventually pursue advanced degrees in law and foreign affairs.
Jiayu Wang '19 is an economics and politics major from Beijing, China, who intends to attend law school. Wang is currently working at the Leadership Conference on Civil and Human Rights, a nationwide coalition of more than 200 members. She works on two projects. In one, she tracks news incidents of hate crimes. In the other, she works with the organization's voting rights team to collect data that can be used to analyze changes in the number of polling places in certain states following the Supreme Court's 2013 decision to strike down provisions of the Voting Rights Act.
One of Wang's favorite aspects of the program so far has been the connections she has made with the College's deeply loyal alumnae.
"I especially appreciate the networking opportunities in D.C.," she said. "I've talked with several alumnae who are still in school or recent graduates from law school. It helps to hear their advice and tips. Also, I can build my connections with alumnae in middle and senior levels, who provide thoughtful and generous help for us."
Linh Nguyen '19 is a sociology major interning at the Wilson Center's Global Women's Leadership Initiative. Her work includes event planning around political leadership.
"It is my first time exposing myself to politics after a long time trying to distance myself from it," said Nguyen, a native of Hanoi, Vietnam, who hopes to continue doing advocacy work after she graduates. "I am out of my comfort zone, but also learning a lot every day because of that. And I love living in D.C."
Melissa Carney '19 is an English and psychology major from Deep River, Connecticut. Carney is interning at the National Council on Independent Living, a grassroots organization for people with disabilities. There she attends briefings, writes articles and advocates about disability issues — such as eliminating institutional bias in health care, subminimum wages and discriminatory housing policies — to members of Congress and their staff.
Her Washington semester has inspired her in a different direction — originally she had been planning to pursue a doctorate in clinical psychology. Now she is leaning toward law school and a career in advocacy.
Her double major had kept her busy on campus, Carney said, but her focus changed in January 2018 when she attended a lobbying event in Washington that was presented by the National Federation of the Blind.
"I was able to speak to members of Congress and their staff, which strengthened my leadership skills and taught me how to be a much more effective advocate," she said.
After that, Carney was eager to return — and the MHC Semester in D.C. was just starting. It's been everything she had hoped for, and more.
"It's a perfect time to be here," she said."I feel like I'm out in the real world."
Introducing the spring semester cohort
The students will resume their usual college routines at the end of the semester, while five new students will take their place in Washington for the 2019 spring semester. Their names have just been announced: Sarah Bloomgarden '20, Izabella Czejdo '20, Maya Hoffman '20, Olivia Vejcik '20, and Brigit Wolf '20.
The tradition continues.