Mount Holyoke to hold 2020 Commencement
Mount Holyoke to hold 2020 Commencement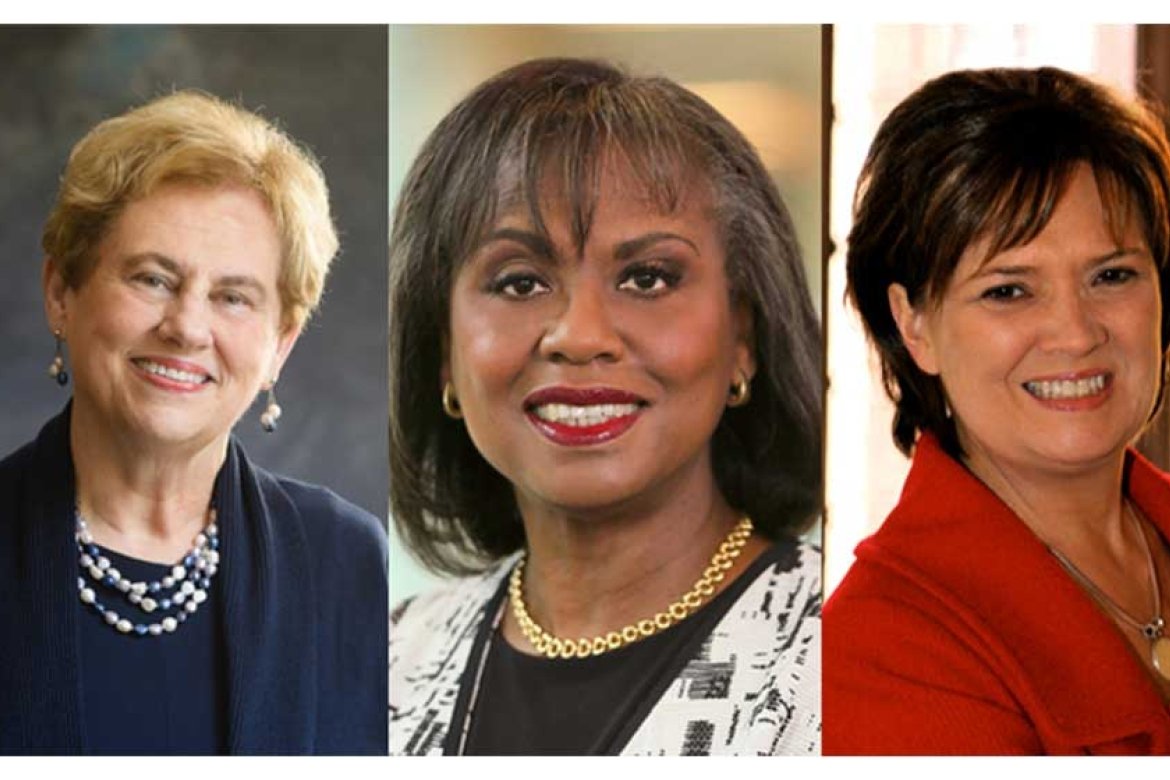 Helen Drinan '69, Anita F. Hill and Lynn Pasquerella '80 are three vanguards who challenge restrictive social norms around gender. They will be the speakers at the 2020 Commencement.
Mount Holyoke College has announced the speakers and honorary degree recipients who will address the class of 2020 at its one hundred and eighty third Commencement, which will be held in person on May 29, 2022 at 11:00 am at the Field House in the College's Kendall Sports & Dance Complex. 
Helen Drinan '69, Anita F. Hill and Lynn Pasquerella '80 will speak to the class of 2020. They are three vanguards who challenge restrictive social norms around gender. Collectively their work has brought to the forefront issues that have blighted the advancement and growth of women and people across the gender-diversity spectrum. They have shattered barriers to access and led influential movements towards greater equity, inclusion and justice. 
Mount Holyoke College will also confer honorary doctorates of humane letters on all three speakers. 
Helen Drinan '69 is the eighth president of Simmons University, a women-focused undergraduate university and private co-educational graduate school in Boston. Her professional career has included experience in consulting, financial services and healthcare.  She has been recognized for her expertise in human resource leadership, particularly in the areas of executive compensation, work-life strategy, employee-customer engagement and diversity and inclusion. 
During her tenure at Simmons, Drinan has committed herself to advocacy on behalf of women's and girls' education and empowerment. For this work she has been honored by the Girl Scouts of Eastern Massachusetts; Strong Women, Strong Girls; Women's Lunch Place; and with the Greater Boston Chamber of Commerce's Pinnacle Award.
Anita F. Hill is a world-renowned legal scholar, known for her global activism around women's rights, and University Professor of Social Policy, Law, and Women's, Gender and Sexuality Studies at Brandeis University. 
The youngest of 13 children from a farm in Oklahoma, Hill received her J.D. from Yale Law School in 1980. In 1989, Hill became the first African American to be tenured at the University of Oklahoma, College of Law. In December of 2017, Hill became the chair of the Hollywood Commission to Eliminate Sexual Harassment and Advance Equality in the Workplace.  
In addition, Hill is engaging prominent academics and business professionals all over the country to spearhead The Gender/Race Imperative, a project to revive awareness of the broad capacity of Title IX, the crucial law mandating equal education opportunities for women. 
The Gender/Race Imperative will kick-start inquiry as well as legal and policy reforms that empower girls and women of all races and economic backgrounds for success in schools and workplaces.
Hill's most recent book is "Reimagining Equality: Stories of Gender, Race, and Finding Home," an analysis of the housing market collapse in 2008 and its impact on gender and racial equality. 
In addition, Hill has authored numerous other publications, including books and articles on subjects ranging from bankruptcy to equal educational opportunity. Time, Newsweek, The New York Times, The Boston Globe and Ms. magazine have published Hill's commentary, and she has made many appearances on national television programs. She is the recipient of numerous awards, grants and honorary degrees. 
Lynn Pasquerella '80, immediate past president of Mount Holyoke, was appointed president of the Association of American Colleges and Universities in 2016. She has held positions as provost at the University of Hartford and vice provost for academic affairs and dean of the Graduate School at the University of Rhode Island. 
A philosopher whose work has combined teaching and scholarship with local and global engagement, Pasquerella has written extensively on medical ethics, metaphysics, public policy and the philosophy of law. 
She is president of the Phi Beta Kappa Society and the host of Northeast Public Radio's "The Academic Minute." A recipient of Mary Baldwin University's Sullivan award for outstanding service to humanity, Pasquerella serves as a member of the advisory board of the Newman's Own Foundation and sits on the boards of the Lingnan Foundation and the National Humanities Alliance, as well as George Washington University Hospital's ethics committee. 
Named by Diverse: Issues in Higher Education as one of higher education's top 35 leaders, Pasquerella holds degrees from Quinebaug Valley Community College and Brown University in addition to her Mount Holyoke degree. Pasquerella has also received honorary doctorates from Elizabethtown College, Bishop's University, the University of South Florida, the University of Hartford, the University of Rhode Island and Concordia College.