Opening the gates to the spring semester
Opening the gates to the spring semester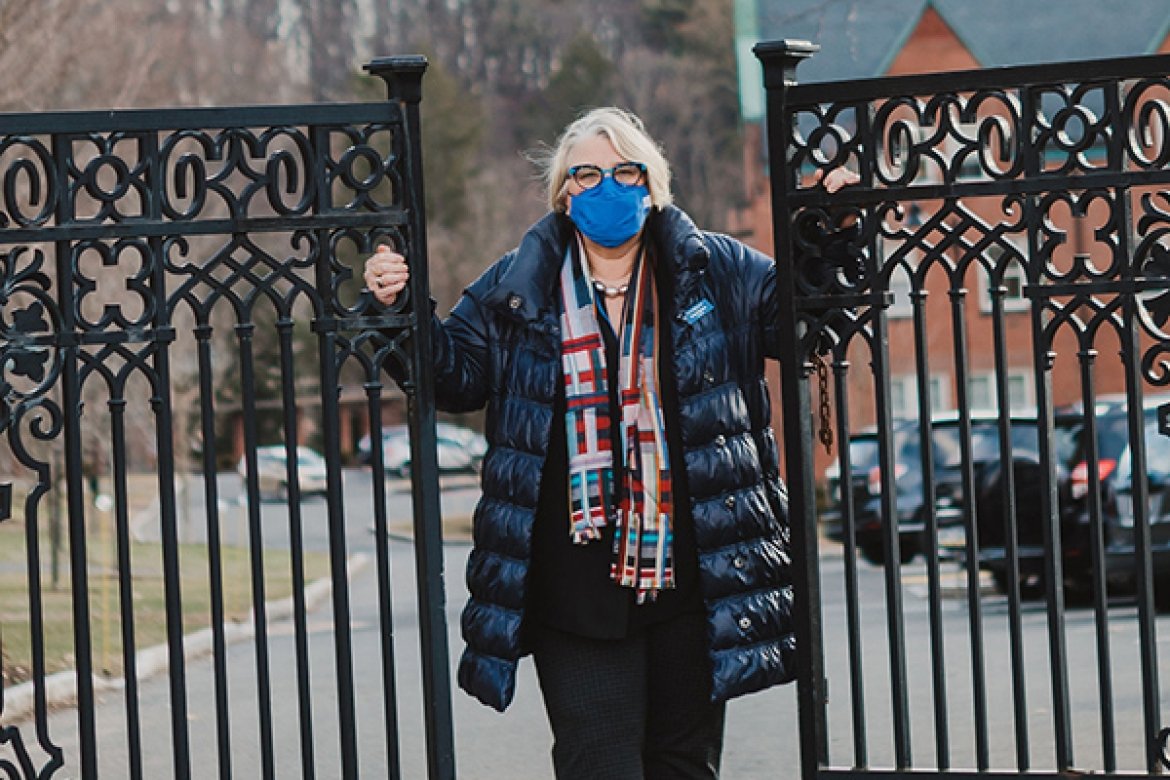 Mount Holyoke College held its first residential move-in since March 2020, when students were sent home due to the COVID-19 pandemic.
By Christian Feuerstein and Keely Savoie Sexton 
In many ways, January 18, 2021, seemed like previous Move-in Days at Mount Holyoke College: students pushed blue carts loaded with luggage and decor across campus, parents and families urged their students to take one more photo by the residence halls, and students and families alike studied campus maps, looking for the next building to visit. 
However, a closer look showed that this wasn't a typical Move-in Day. Everyone — students, faculty and staff — were wearing masks. Only students were allowed in the residence halls. People stayed at least six feet apart. 
This was Mount Holyoke College's first Move-in Day since March 2020, when students were sent home due to the COVID-19 pandemic. About 800 students are on campus this semester, ready to engage in the College's Flexible Immersive Teaching model and joining remote students for two seven-and-a-half week sessions. In addition to the usual logistics of moving in — collecting keys, finding residence halls, getting things from storage — the first stop for students was to get tested for COVID-19 at Mount Holyoke's testing center.
President Sonya Stephens was on hand to welcome students and their families on Move-in Day. She had advice for students on creating community while waiting for negative test results in their rooms. 
"Connect with people on your floor via social media, stay in touch with your family and your friends via social media, stay active on your screens," she said. "And know it's not going to last very long! Tests are coming back really quickly. Normally within 18 hours." 
First-year Autumn Lee, from Memphis, Tennessee, drove with her father for 17 hours to get to Mount Holyoke and her first on-campus semester. She was unfazed by the safety precautions, including mandatory COVID-19 tests, signing the Community Compact, and quarantining in her room until she receives a negative test result. 
"I think it's a smart plan," she said of the measures. "With everything that's happening, it's just a good idea to take these steps." 
Director of Residence Life Rachel Alldis noted that the largest group of students arriving on campus are first-year students. 
"We didn't turn away anyone who wanted to live on campus, so everybody who said they were interested is here," she said. "I think the first-year students are just so excited to have any kind of college experience. We're really excited to have them on campus and to have them together."
Once students get their initial negative COVID-19 test results, they then embark on a 14-day quarantine on campus. After that period, they will be able to access the campus buildings and resources — but those too will have pandemic precautions in place. 
"I am excited about the resources that students will be able to have access to this semester. For instance, Williston Memorial Library will be open," said Alldis. "However, access will be limited — people will have to reserve space. There are different study spaces and rooms that are going to be open around campus for students to spend time in. We will have students in common rooms so they can hang out with a couple of their friends in smaller groups. There are occupancy limits and they have to wear masks, but they will get those in-person interactions." 
Returning students were able to request to live in the same residence hall with up to five friends. Angel Ebebi '23, from Abuja, Nigeria, thinks this is a good step. 
"I'm already seeing a positive effect," said Ebebi, who is a community advisor this semester. "Last semester, when I was on campus, it was quiet and eerie. Now I see people in pairs chatting. People are smiling more. That's a relief to see." 
While the mechanics of a Mount Holyoke College semester might have changed, goals for a successful term have stayed the same. Lee's father, Stein Schreiber, looks forward to his daughter's on-campus semester. 
"I'm just hoping she gets a little bit more of the college experience," he said. "I want her to meet more friends her age who are smart and brilliant and want to make a difference in the world."