Stella Elwood '19 turned to the Makerspace to create an effective, affordable tool for use in veterinary medicine.
During summer and winter breaks from Mount Holyoke, I work as a technician and an intern at three different veterinary hospitals. Two of the hospitals treat small companion animals and one treats wildlife: the New England Wildlife Center in Weymouth, Massachusetts.
As a pre-veterinary student, I am incredibly privileged to be a part of these three communities. Over the past few years, I have developed so many important skills — from drawing blood to making small talk with clients — that I hope to one day utilize when I am a veterinarian myself.
While going about my duties at the wildlife hospital in December 2017, I was asked to assist with a splint replacement on a Canada goose.
Canada geese are frequent patients at the hospital, and although lead toxicosis and wing breaks are more common issues, a number of these birds also present with a fractured tibiotarsus or tarsometatarsus. These two bones, which comprise a large portion of the leg, are necessary for normal walking and flying, so our patients often limp or have trouble standing. Geese with fractured leg bones have little hope of surviving in the wild, so it is imperative that the hospital completely repair any breaks.
The treatment plan for geese with compromised leg bones includes monitoring via radiography and blood tests (including total solids, packed cell volume and buffy coat) — plus cage rest and the oral drug meloxicam for pain management. However, the most important part of the regimen is the splinting, bandaging and physiotherapy of the affected leg.
When I assisted with this process back in December, the hospital used a splint that was designed by my coworker, a technician named Jen Wolfe. The model was cut out of a plastic cookie dough container — resourcefulness is a common theme at the hospital, as we rely solely on donations and are always tight on funding — and effectively keeps the leg in the desired position.
After bandaging up the goose, I could not help but wonder if there were a more professional yet still cost-effective way to make splints. My mind instantly turned to Mount Holyoke's Makerspace, where I often spent afternoons laser cutting art pieces for my family and friends.
This magical room, tucked into a corner of the Art Building, features many tech and creativity-based resources, such as a laser cutter, a 3D printer, a vacuum former, a vinyl cutter, various sewing machines and more. The space is regularly staffed by knowledgeable students, as well as Shani Mensing '15, the Makerspace coordinator and technical specialist. Knowing that certain 3D-printing materials are cheap yet durable, I decided to use the Makerspace to print an improved splint model.
With Wolfe's permission, I studied her original design and identified the need for adjustments and improvements — including some support braces, a rounded ankle support and filleted sides for optimal claw comfort. I then modeled my ideas using print software called Fusion 360. Once I reached a blueprint that I felt fully represented my ideas, I printed my design using the Makerspace's MakerGear M2 3D printer.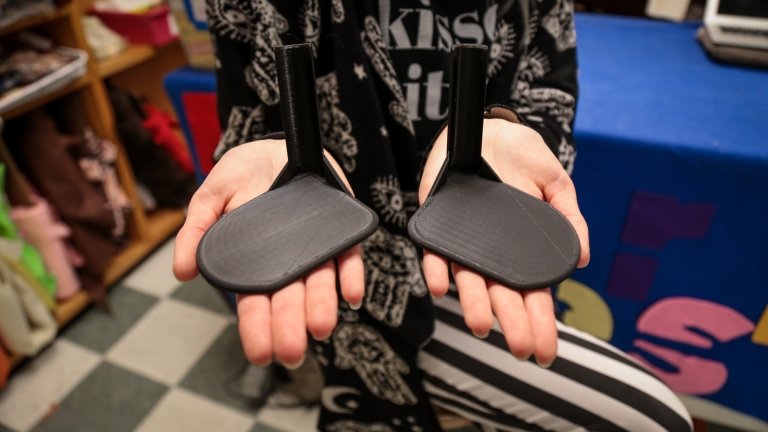 A hobby takes off
Over time, I realized that this project would benefit from faculty guidance, so I reached out to my then anatomy professor, Patricia Brennan, assistant professor of biological sciences. She helped me to turn my hobby into an independent study, to better my designs, and to develop a protocol for testing the splints once they were ready. Professor Brennan has also been an amazing support system for me across disciplines and always encourages me to achieve my goals, no matter how expansive they may be!
After registering my idea as an independent study in the spring of 2018, I brought my prototype to the New England Wildlife Center, where a veterinary technician and I fitted it on an orthopedically healthy Canada goose. I repeated the entire process — testing, modifying, printing and testing again — multiple times in order to tweak my design and perfect the fit. After months of trial and error, I finally created a durable design that seamlessly forms to the average adult Canada goose leg.
In order to accomplish this feat, I spent many hours toiling at the Makerspace's 3D printer, a somewhat complex and initially daunting machine, making adjustments. I owe a great deal of my success to Mensing, who explained all that I needed to know about the intricacies of 3D printing, and who helped me hone the skills needed to approach my printing goals with confidence.
Next steps: testing
Since the fall of 2018, I have contacted wildlife hospitals all over North America to see if they are interested in testing out my splints. Since many clinics rely on old or DIY treatment methods, most of the veterinarians that I have contacted are happy to give new techniques a try. Furthermore, a number of hospitals expressed excitement at taking part in a project that has the potential to improve wildlife medicine. Thus far, I have sent the latest version of the splint to clinics as close as Cummings School of Veterinary Medicine at Tufts University in North Grafton, Massachusetts, and as far away as Washington state and even, yes, Canada.
While the testing protocol is still in its beginning phases, I am excited to see how my work may improve the healing process for Canada geese. I also hope that my efforts can serve as a model for others who wish to make veterinary medicine more effective and affordable for the caregivers of all sorts of animals. None of this would have been possible without my resources here at Mount Holyoke. I'm glad to attend a college that encourages students to take matters — and models — into their own hands at the Makerspace.