Patterson receives NSF grant for virtual field experiences
Patterson receives NSF grant for virtual field experiences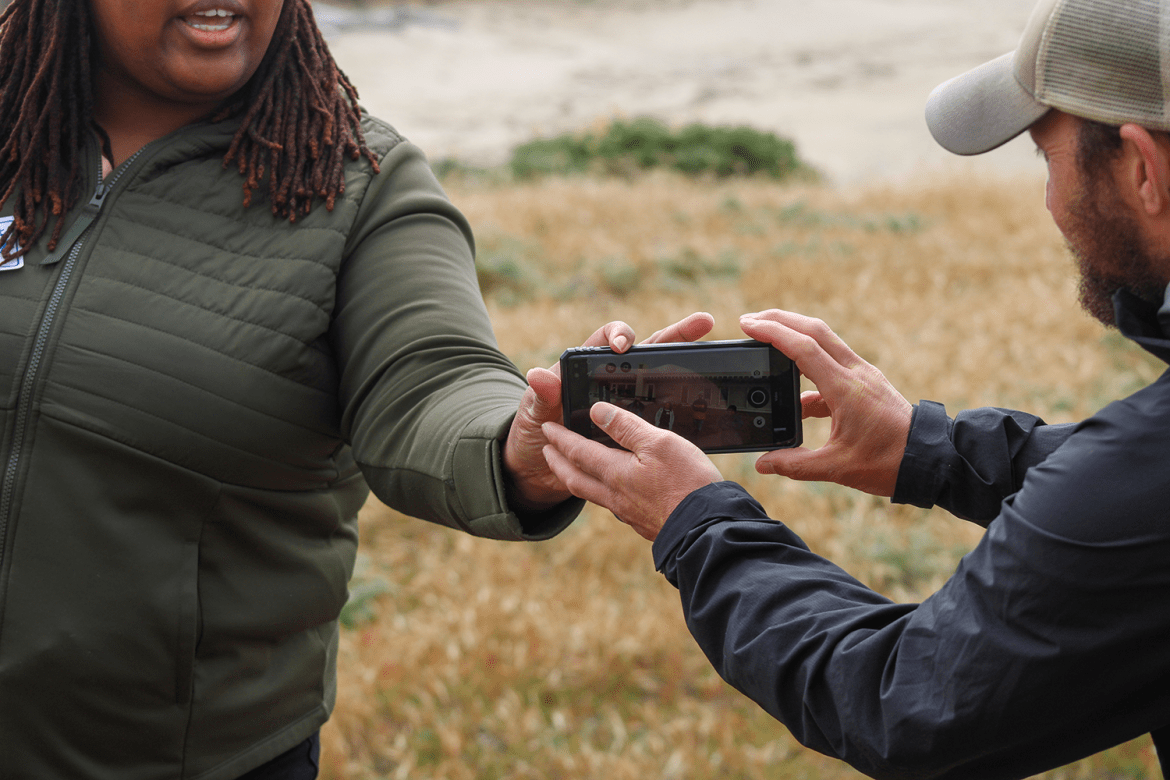 Angelica Patterson, the curator of education and outreach at the Miller Worley Center for the Environment at Mount Holyoke College, is the principal investigator for a new National Science Foundation grant to produce virtual field experiences for underserved students.
Prior to coming to Mount Holyoke, Angelica Patterson used a shotgun to collect tree branches for data for field research. As the curator of education and outreach for the Miller Worley Center for the Environment, Patterson has taken aim at increasing diversity in the environmental sciences and received a $499,437 grant from the National Science Foundation (NSF) to assist in her work.
"My goal with this project is to reach as many students as possible," she said.
With the grant, Patterson will produce virtual field experiences of various ecosystems that will be used to create a library for faculty and help transform the method in which underserved and underrepresented college students across the country learn about earth science. Mount Holyoke College is heading up the project, in collaboration with Arizona State University, Sonoma State University and Oregon State University.
Field experiences have been shown to have a lasting impact on undergraduate students' knowledge and long-term engagement in the sciences. This project is an extension of one that was born during the COVID-19 pandemic by members of the Organization for Biological Field Stations. The shutdown prevented educators from taking their students to field stations where students could learn more about ecology and collect data for field research. As a result, educators began recording videos for students to observe, allowing them to continue to learn how to view the natural world as scientists.
Moreover, while field learning experiences serve as essential teaching tools that help bring science to rural, urban and underserved communities, access is often out of reach for these students. Those who will benefit from the curricula created from the virtual experiences in this project include students from community colleges, Hispanic serving institutions, historically Black colleges and universities and tribal colleges.
Educators will have access to three libraries of inquiry-based virtual learning experiences. The first is a library of Ecosystem Exploration Videos that contain three minute videos filmed at 30 field stations and marine labs around the world. A series of four assignments accompanying the videos are aimed at teaching students observation, communication, questioning and critical thinking skills.
The second is a set of 50-minute live events with three researchers working on similar topics at various field sites worldwide. The events also include live Q&As with students. The third set is a series of short 360-degree videos, taken seasonally during the annual solstices and equinoxes at 69 ecosystems. These videos are accompanied by inquiry-based curricula and instructional guides on how to produce new videos or include them as supplemental material.
"Hopefully, these experiences will be instituted into college curricula to better enable students to experience different places around the world that they may not have or will never experience," Patterson said. "I've been in the field sciences for over ten years, and I still haven't been to some of these ecosystems that are represented and shown in our virtual content."
Patterson is excited to bring this project to Mount Holyoke. As the principal investigator for the grant, Patterson was able to represent a demographic that is usually not seen in the earth sciences. She credits Leslie and Sarah Miller Director of the Miller Worley Center for the Environment Olivia Aguilar for supporting this initiative.
"Ultimately, these virtual experiences are going to be another way for students to experience the world," Patterson said. "Hopefully they will learn from it and be inspired to pursue more field experiences in their career journeys."