Physics professor wins prestigious award
Physics professor wins prestigious award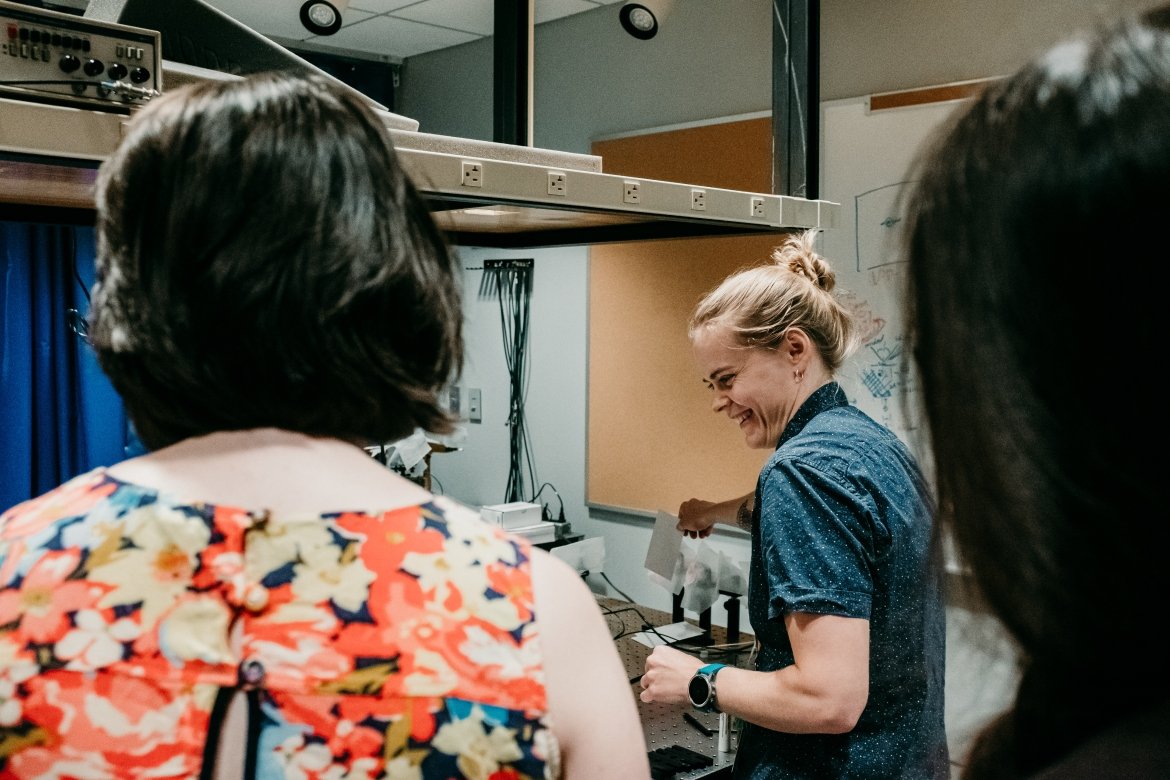 Kerstin Nordstrom of Mount Holyoke College was one of just 24 scientists — and the only physicist from a liberal arts college — selected to be a Cottrell Scholar.
By Keely Savoie
Kerstin Nordstrom, Clare Boothe Luce Assistant Professor of Physics at Mount Holyoke College, has been named a Cottrell Scholar, a prestigious recognition and highly competitive award for early-career scientists poised to bring change to their fields through research and teaching.
Nordstrom is the second Mount Holyoke faculty member to win a Cottrell Scholar award. Katherine Aidala, chair of the physics department at Mount Holyoke, is a 2009 Cottrell Scholar.
"I am really excited to have been selected," said Nordstrom, noting that competing with scientists from institutions like MIT and Caltech made the recognition even more meaningful. "There were 24 awards, and seven went to physicists. I was the only physicist  at a liberal arts institution."
The award comes with a $100,000 grant for a three-year period for the pursuit of research and teaching projects. But the award is worth more than the money; it's an indication of early career success and poses its recipients for future awards and recognition. The recipients also become members of a vibrant network of current, past and future Cottrell scholars. Each year the award winners come together in a conference to generate, incubate and implement ideas. The Research Corporation for Scientific Advancement, which funds the Cottrell awards, also provides funding for further projects between Cottrell scholars.
"The annual summer conference is energizing," said Aidala, who is also the chair of engineering at Mount Holyoke. "It's a room full of people who make things happen.  Research collaborations are formed and people join together to tackle educational and career pathway challenges, aided by funding from the foundation dedicated to projects that are developed during the conference."
Nordstrom intends to use the research money for related travel, supplies, software and equipment for her lab, where she investigates flow dynamics in complex fluid systems.
In particular, Nordstrom has her eye on a dedicated laser cutter for her lab. Her students currently use the laser cutter in Mount Holyoke's Makerspace, but having her own will enable to lab to create the materials it needs more quickly and efficiently.
For the teaching money, Nordstrom has a vision to launch a pre-college orientation for incoming students at Mount Holyoke. Her goal: to foster an atmosphere of support and set students up for success.
"I want to focus on first-generation college students and students who don't come from a science background," said Nordstrom. "I want to orient them to how science works as a field and give them an opportunity to do hands-on projects, and get familiar with equipment and the processes of science."
Regardless of the declared majors of the students who attend her science orientation, Nordstrom plans to continue to support and maintain the students throughout their time at Mount Holyoke. She is so enthusiastic about the idea of inculturating scientifically-minded students that she was already investigating alternative ways to pursue it if she hadn't received the Cottrell award.
"When I learned that I got the award, I was speechless," she said. "Then I started jumping up and down."
Find your path to success. Learn more.