Pickin' at wisdom
Pickin' at wisdom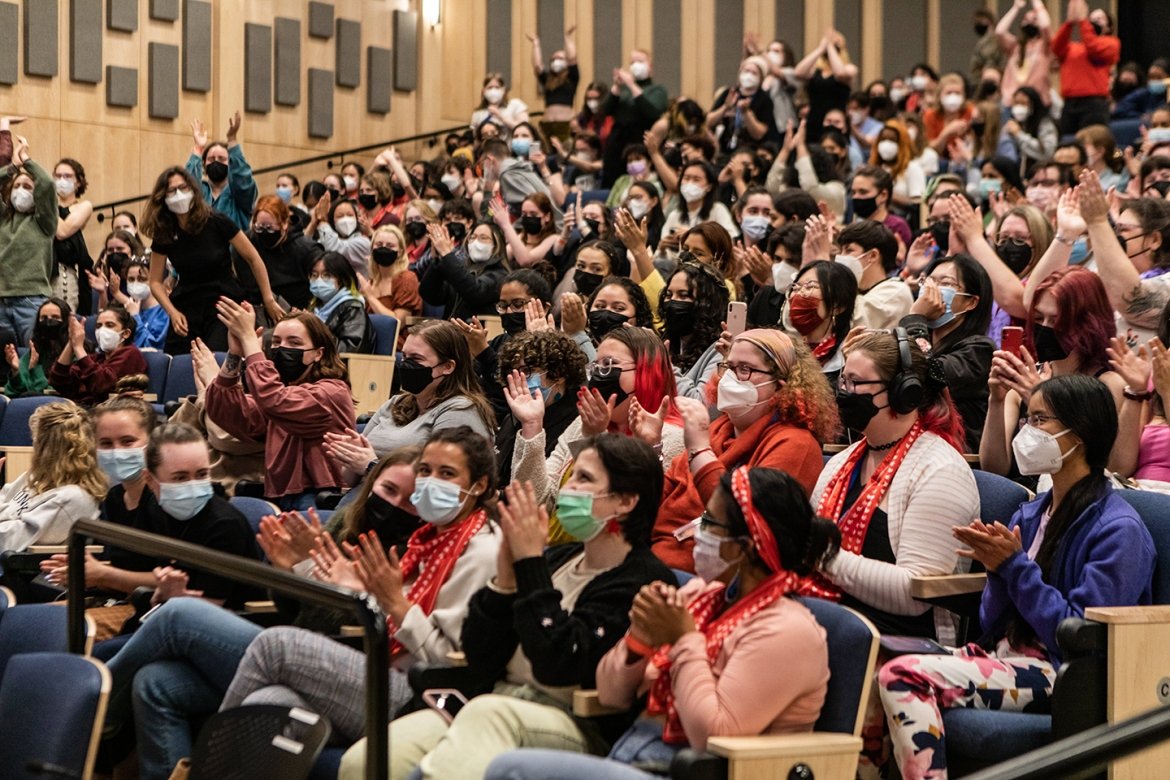 At Mount Holyoke's Final Lecture, students got some parting wisdom — and a just-written-for-them song.
How do you inspire a graduating class that endured a multiyear global pandemic and is now heading into a precarious world?
Timothy Farnham, associate professor of environmental studies and the chair of environmental studies, said that when words fail, it's time for something even more impactful — like a little banjo ditty. 
"I think, like, eight people are going to say, 'Oh boy, a banjo,' and the rest may say, 'Oh no, a banjo,'" he joked about his performance at Final Lecture. Still, there was no way he was passing up the opportunity to serenade a captive audience. "All professors have a little bit of a performer built into them," he said, adding that he was honored to get one last chance to perform for the class of 2022.
"This is a really special class. I really love this class," he said.  
If he's being totally honest, Farnham can't remember any of the graduation speakers at his college commencement back in 1988. Worried he and the other Final Lecture speakers could be relegated to the same fate, he thought that if he opened " with the banjo, people would be so traumatized by the banjo that they'd have to pay attention." 
The week before Final Lecture, Farnham plucked out a tune and drafted lyrics that acknowledged both the joys of graduation week and the serious challenges that lie ahead for these seniors. "There is a lot of heavy stuff in the world, but you have to be able to face it with humor," he said. He also added, "I want the students to remember they laughed a lot, that it was a fun time, and that it really kicked off a whole big weekend of graduation." 
This year's Final Lecture wasn't all a song and dance, though. Each of the three professors selected to speak was given 10–15 minutes to impart wisdom to the class of 2022. Farnham's allotted time was the only one that came with a musical accompaniment.  
William Girard, a visiting lecturer in cultural anthropology, chose to give the class a little insider knowledge about how their lives were about to change. "I think for a lot of students, up until now, so much of their success has been measured by their smartness," he explained. "My sense is that after you graduate, you find out that there's a lot of aspects of your personality that end up being more important than raw processing power," he said. Things like empathy, grit and the ability to work well with others all become vital skills in the postacademic world.  
"I worry sometimes that we put so much emphasis on smartness — that it is kind of the ultimate goal, [that] it's what makes you a worthwhile person," he said. But performative smartness — or trying to show you're the sharpest observer in the room — can hinder your ability to grow. 
That's something Girard learned the hard way. In graduate school, he remembers shooting down another student's interpretation of a reading. He instinctively declared their view as wrong: "In retrospect, it seems very shallow." He added, "There probably was a conversation to be had there," and Girard was the one who missed out on it. Now, his ability to do fieldwork requires relationship building within communities. That takes emotional intelligence — and a willingness to understand what you, as a researcher, do not know.  
Vanessa Rosa, meanwhile, started the process of drafting her lecture by looking back. In the fall of 2018, Rosa, the Class of 1929 Dr. Virginia Apgar Assistant Professor of Latina/o Studies, spoke at Convocation to the incoming class of 2022. Back then, she implored Mount Holyoke's newest scholars to embrace the transformative power of a liberal arts education and a liberal arts community.
In her 2022 message, Rosa focused on how students can carry her Convocation message out into the world — no matter what happens next. She cited the Latina feminist writer Cherrie Moraga's "theory in the flesh," as a call to action for the soon-to-be grads. Theory in the flesh discusses how our experience informs our knowledge and how the physical realities of our lives produce "a politic born out of necessity," Rosa said. This idea implores us to move our activism out of theoretical discussions and into the real world. At the end of a semester, Rosa will often ask her students what they've learned about racism, intersectionality and histories of colonialism. Then she'll ask what they plan to do with that new knowledge.
During Final Lecture, Rosa brought that question to the entire class of 2022, bookending her 2018 lecture with a challenge to the students to take the skills gained from their liberal arts education into everything they do in the future. "Now that you know, what will you do," she asked, adding, "How will you carry this knowledge with you to address change?" 
Although Rosa's ending was slightly more serious than Farnham's ditty, ultimately, its messaging echoed Farnham's chorus of: "Don't be afraid of what lies beyond college / You've got all the skills and tools and lots and lots of knowledge / Go fix the world you have to suck it up / because my generation really effed it up." 
In the months to come, whether these students find themselves ruminating on theory in the flesh, reaching for skills beyond smartness or humming a bit of Farnham's tune, they'll be well-prepared for whatever comes next.   
Written By

A.C. Shilton
Published