Plants for new students: The tradition continues
Plants for new students: The tradition continues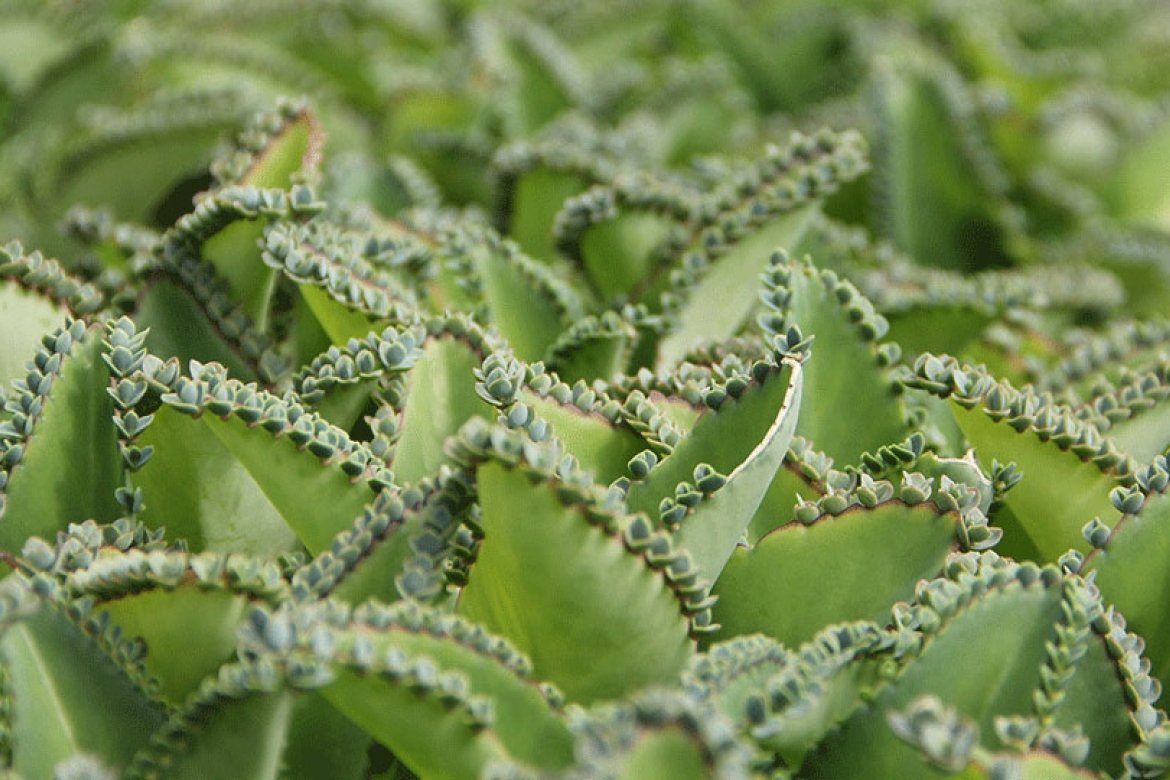 As part of New Student Orientation, new students are offered a plant, a Mount Holyoke tradition since 1971. This story, first published in August 2017, tells the tale of how the custom was re-envisioned by three entrepreneurial and creative students.
Among the many benches of plants lining the aisles of the Talcott Greenhouse at Mount Holyoke College, an entire section stands apart from the rest. Most of the greenhouse is a living display of the awesome diversity of plants, with stolid cacti hunkered next to exuberant climbers twining up the trailing bits of hanging plants; rare flowers slyly blooming in the dead of night; herbs filling the air with their redolent fragrances.
But in late summer, certain benches are lined with 1,071 small pots with tiny cuttings, all facing the direction that gives them the kind of light that favors their best growth. This year's incoming students will be the 46th class to receive new-student plants, gifts from the Botanic Garden that say, "Come grow with us."
And this year students won't have to wing it with plant care.  Thanks to the ingenuity of Botanic Garden interns Lynn Shen '19, Melissa Curran '19 and Zhuoran Yu '19, all environmental studies majors, the new-student plants have entered the 21st century.
Now every pot will have a sticker with a QR Code linked to a Facebook page with specific, detailed care instructions. Further, the plants will be arranged on the appropriate benches to demonstrate their sunlight needs. Annotated campus maps will be on display to help students determine the direction of their room windows so they can pick the best plant for their light.
"We wanted to give students a variety of choices based on their tastes, but we also want to give them an idea of what they could reasonably care for," said greenhouse manager Jimmy Grogan, who oversees the project.
Roots
The First-Year Plant tradition is said to have taken root in 1971, with then-greenhouse manager Johnny Walker, who wanted to connect students from their first day on campus with the greenhouse and Botanic Garden.
"The goal of the new-student plant project is to showcase the richness of the greenhouse as a resource for students," said Tom Clark, director of the Botanic Garden. "We also want to bring a little green into their lives during this period of intense transition."
Shen, who came to Mount Holyoke from her native Shanghai, remembered feeling a peace in the greenhouse that helped her navigate her own transition.
"Coming to a new country and into a new environment was so disorienting," Shen said. "I walked into the greenhouse on one of those bad days and it instantly became the most homey place for me. And I made friends with Jimmy."
In her sophomore year, Shen applied for a summer internship with the Botanic Garden through the Miller Worley Center for the Environment. Funding for internships and research opportunities is provided to students through The Lynk, the College's extensive classroom-to-career initiative.
The germination of an idea
Clark, who became the director of the Botanic Garden a year ago, revived the internship program after a 10-year hiatus. At the beginning of the summer he asked the three interns to brainstorm project ideas. They began talking about their new-student plants and immediately thought, "How could we help incoming students care for their plants?"
The project was inspired, in part, because two of the three new-student plants the students had received had died — though not for lack of trying.
Only Yu's plant, a cyperus, fared well. "It is still alive and grew three times taller. His name is Johnny, inspired by the movie 'Dirty Dancing,'" she said.  
Shen remembered her pineapple mint, and how it brightened her days, until it died due to insufficient light and a chilly windowsill. Curran's succulent also perished, from what she called a combination of overwatering and her overconfidence in being able to care for it.
Growing together
The trio began researching plants and plant care, photography, design, and Facebook-page set-up. Between Shen's photography expertise, Yu's facility with Facebook and QR Codes, and Curran's Photoshop skills, the students have developed a comprehensive site that includes portraits of and information about each type of plant, along with detailed instructions to help it thrive.
 "We wanted to do something to help first-year students keep their plants growing while they are at Mount Holyoke, and hopefully well beyond," said Shen.
As the summer drew to a close, 20 varieties lined the greenhouse benches, including tiny jade plants in gollum, pointed leaf, wavy leaf and classic varieties; walking irises in small, medium and large; Swedish ivies curling along the edges of their pots. One species, the kalanchoe, is nicknamed "mother of thousands," as it grows hundreds of tiny offshoots along the frilled edges of its leaves.
"I hope this project really helps students keep their plants healthy," Shen said, brimming with optimism. "I hope they come back to the greenhouse and see what a great space it is for all of us."