Pursuing my Passion, Finding My Calling
Pursuing my Passion, Finding My Calling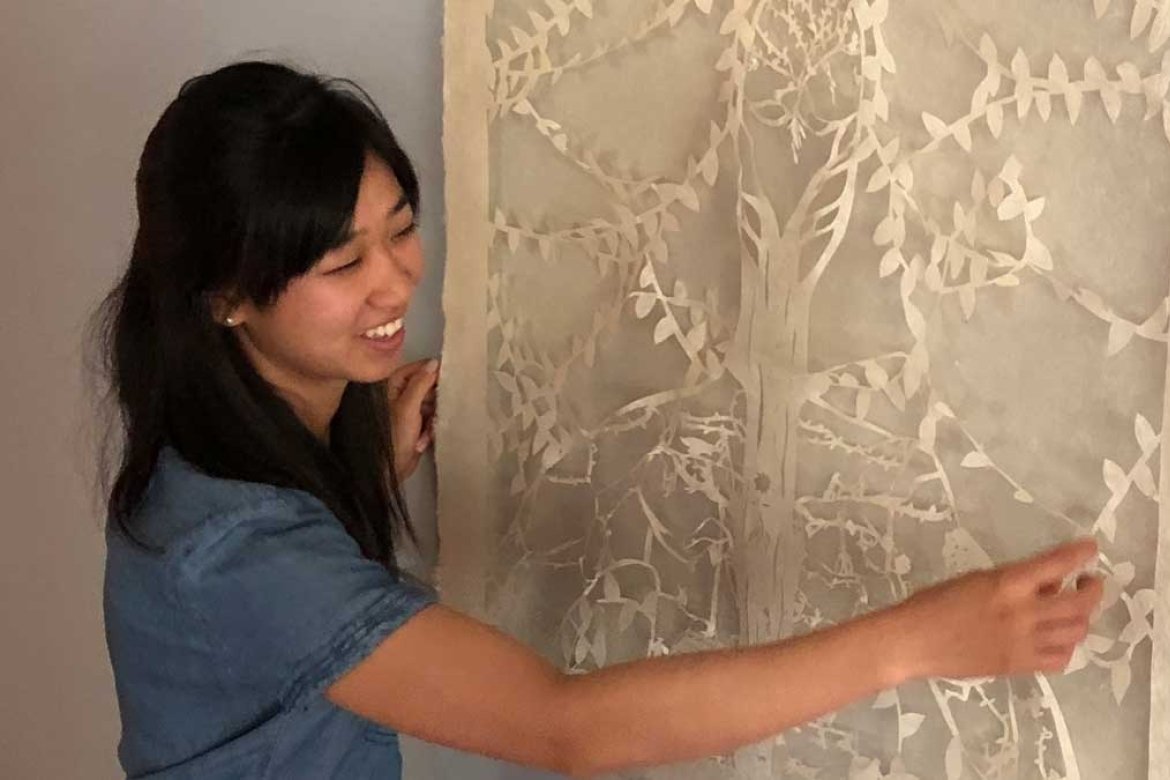 "Constructive criticism, crucial guidance and the overall knowledge/resources of my professors helped me in my arts career."
Academic focus: studio art major, psychology minor
Internships: English teacher, Aeon, Japan; intern, Care for Orphaned Babies and Young Children, Connecticut; intern, Triangle Arts Association, Brooklyn, NY; intern, Lyman Allyn Art Museum in New London, CT
My first year at Mount Holyoke, I was taking prerequisite courses and dabbling in a multitude of classes to see which interests emerged. Drawing and Introduction to Neuroscience were two of those classes. I became enthralled with the idea that humans have more knowledge about the solar system and vast Milky Way than we do about our own grey matter. I declared neuroscience my major.
However, I stumbled through my classes and barely understood the readings. One day, my esteemed drawing professor, Rie Hachiyanagi, slapped me on the shoulder and proclaimed that I should major in studio art, that I was an artist. It took me a whole semester and many tears to finally come to the same conclusion. The shrewd and amazing master artist was correct.
For me, tackling three studio art classes, which was considered unheard-of, was easier than one neuroscience class. I had found my major, my passion and my calling. Hachiyanagi and all of the studio art professors propelled me, encouraged me and taught me how to navigate the art world. At Mount Holyoke, I developed a passion for Japanese papermaking, as well as strengthened my paper-cutting skills.
After graduating, I moved to Japan to teach English and absorb the culture. While there, one of my pieces was accepted into the National Collegiate Handmade Paper Art Triennial in Washington, D.C.. It was an honor to have my work shown.
When I returned from Japan, I took an internship at Triangle Arts Association in Brooklyn, New York, where I met curators from all over the world. I updated Triangle's social media platforms and assisted the artists in residence. One of the challenges the artists faced was how to best display their work within the confines of the available space. I offered to explore this and learned more about strategies for optimal hanging.
Building on what I learned at Mount Holyoke, I curated Pratt's photography exhibit at Brooklyn's Photoville, a unique space comprised of shipping containers. The work that I helped install was the only work that hung from the ceiling. Since a majority of my work as an undergraduate was hanging pieces, I was able to share my knowledge in connecting the photos with monofilament and attach the works to the ceiling with magnets. Hanging the photographs from the ceiling made this exhibit stand out. My exhaustion at the end of the day was extreme, but playing an important role at Photoville challenged me to work harder on future projects.
For the past year, I've been interning at the Lyman Allyn Art Museum in Connecticut, working closely with curators on the new permanent Louis Comfort Tiffany wing that will be opening in October 2018.
This fall, I will be attending the Master's Program in the History of Design and Curatorial Studies, which Parsons School of Design offers jointly with the Cooper Hewitt Smithsonian Design Museum in New York, and was honored to receive a fellowship.
Without the constructive criticism, crucial guidance and overall excellent resources and knowledge from the professors at Mount Holyoke, I would not be where I am today. Mount Holyoke taught me skills and tools throughout the years and continues to support me as an alumna.