Race, Shakespeare and America
Race, Shakespeare and America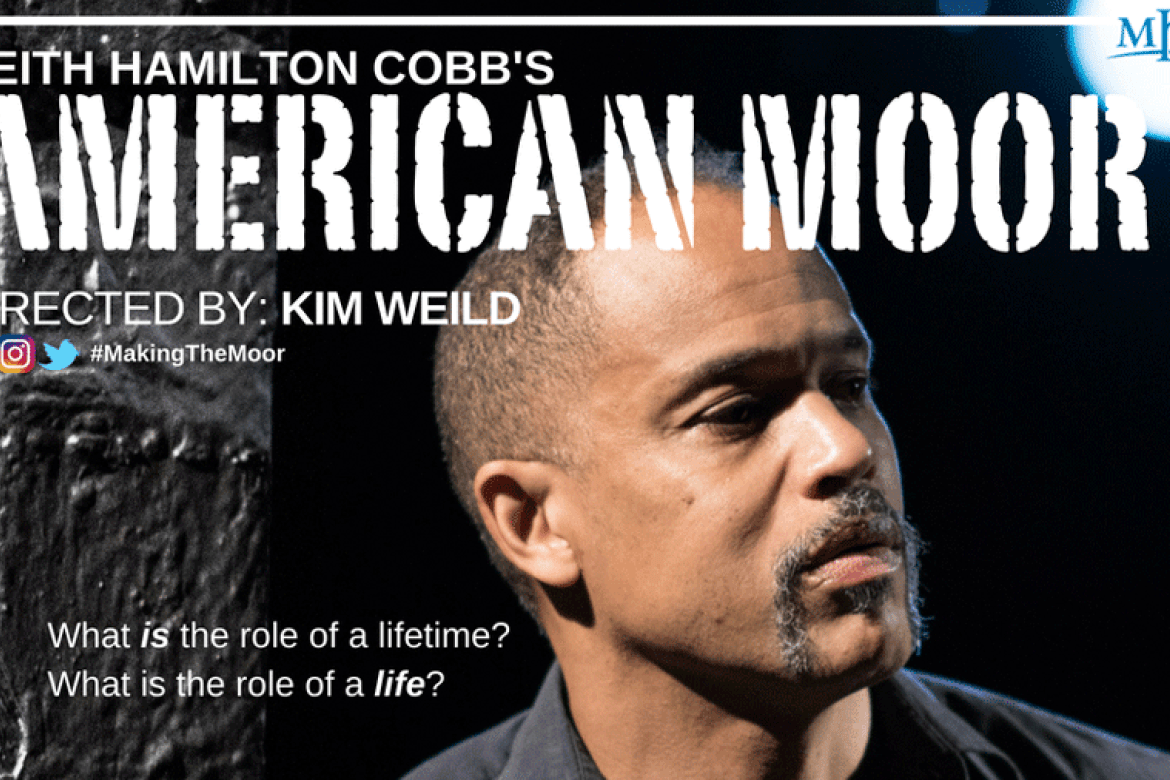 This is the perfect time for "American Moor," a play running Nov. 8–10 about one actor's Othello audition, says Mount Holyoke professor Amy Rodgers.
Updated 11/1/18: The Daily Hampshire Gazette's interview with Cobb is now available.
Performance and all its nuance have been at the core of Amy Rodgers' life for a long time. 
A former professional dancer, Rodgers, an associate professor of English at Mount Holyoke College, turned to academia when an injury sidelined her from performing. Her wide range of passions have led to publications as disparate as Renaissance court masque, the Hindi-language film director Vishal Bhardwaj, and the influence of Shakespeare's history plays on "Game of Thrones." Her book, "A Monster With a Thousand Hands: The Discursive Spectator in Early Modern England," was published by the University of Pennsylvania Press in summer 2018. She is also dean of the senior class and a member of the film studies and theater steering committees. 
Rodgers' latest endeavor is overseeing a nine-day residency with Keith Hamilton Cobb, who will perform his award-winning play, "American Moor," for the public at the College's Rooke Theatre on November 8, 9 and 10 at 7:30 p.m. A free students-only performance is offered on Sunday, November 11. Tickets for purchase are available online.   
Cobb, best known for his role as Noah Keefer in ABC's "All My Children," has performed in numerous Shakespeare plays as well as contemporary roles and other television projects.
"American Moor," which most recently played at the Globe Theater in London, has inspired rave reviews. The play is "pulsing with blunt humor and rage, is so passionate that it had me riveted, ears and brain engaged," wrote Carolyn Clay for WBUR FM when the show came to Boston in 2017. The Boston Globe called it a "spellbinding journey through Shakespeare and race." 
Rodgers spoke with Sasha Nyary from the Office of Communications and Marketing about about why Cobb's visit, and performances of "American Moor," are deeply relevant for everyone at Mount Holyoke — and beyond. Please note that the residency and performance schedule is listed below.
Please tell me about "American Moor." What does the title refer to? Why did you want to bring this play to Mount Holyoke now? What do you hope it will say to students and the community? 
The name "American Moor" is a reference to the Shakespeare tragedy "Othello." The title character is known as "the Moor," an epithet that refers to the color of his skin and his upbringing in the Muslim faith. Othello has risen to tremendous social prominence in the Christian city of Venice and his rivals are trying to take him down. 
In "American Moor," Keith Hamilton Cobb, who also wrote the piece, plays an African-American actor who comes to a regional theater to audition for the role. The director he's auditioning for is a younger white male. Cobb's character alternates between his inner monologue — what's in his mind — and their actual conversation as he's going through the audition. The audience experiences the actor's dilemma: He wants to get this role, he's trying to please the director, but he feels the director is not listening to him and has his own ideas. And underlying it all is the issue of their racial difference. 
My hope is that this show provokes our community to think about American race relations and the ways in which we communicate with one another when those topics come up. In many ways, it speaks to issues of diversity, equity and inclusion that Mount Holyoke is working on right now, and will continue to confront going forward as a community.
How do you expect "American Moor" to affect the Mount Holyoke community?
We don't flinch from difficult subjects here, and my hope is that the play will help us continue to practice talking about them. We all need practice. "American Moor" looks at the issue of race relations, particularly black/white relations, full in the face, unflinchingly. It is a show that ultimately wants to explore how we talk about these issues and find new ways to communicate with each other. 
As part of the Diversity, Equity and Inclusion Initiative, the College held the first BOOM! Learning Conference in 2017. It was a fantastic event. Last year's BOOM! had its own successes as well, but I think a number of students felt that it was too disparate and wanted more of a sustained, deep dive into the issues that BOOM features. So a question that many of the faculty have been asking is, how can we do this more? How do we have more sustained conversations about these issues?
Bringing the play here now speaks to the College's commitment to foster difficult conversations over a longer period of time and make them a part of the fabric of what we do, rather than compartmentalizing them in a single day or a few little spots here and there. Now we're figuring out how to interweave some of the most important issues of our times with our practices and pedagogy, issues among which race, gender and class feature prominently. We need to be integrating these topics into the curriculum, into faculty discussions, into our performing arts productions. So that's why it seems to be the right time. Because we're poised to do this and now we need to take the jump. 
What are the plans for Cobb's visit to the Pioneer Valley? 
Keith will be on campus for nine days doing a series of events. He's bringing Kim Weild, his director, with him. They've been working on this project for five years. She's a white woman,  and they're going to discuss candidly their experience of how dealing with their different perspectives played a role in making "American Moor." What were the biases that they found? What were the difficulties? How did they overcome them? How did they, over the last five years, come together to create this incredible piece of theater? 
The actors who play the white director and the stage manager are also a part of the residency, and will be talking about their experience performing and facilitating "American Moor." They will be visiting about 10 classes over the course of their stay. They'll also participate in a Teaching and Learning Initiatives lunch for professors, on November 9, called "Teaching Race Across the Color Barrier with Keith Hamilton Cobb & Kim Weild." 
The residency approaches the topics of race in America and our nation's failure to foster lasting change around the legacy of racial oppressions, and the theater's role in fostering change. Ultimately, this play is about love and an abiding belief that empathy and self-reflection can ignite genuine transformation. The fact that we'll be having these conversations in all different places and spaces, both at Mount Holyoke and in the Five Colleges [see schedule below] is very exciting.
---
Highlights of Keith Hamilton Cobb's visit to the Pioneer Valley 
In addition to the three public performances, Cobb's visit includes several opportunities for the greater community to join the discussion.
"African American Perspectives on Othello"
Friday, November 2, at 4:30 p.m., Gamble Auditorium
The Mount Holyoke College Art Museum is hosting a public conversation between Cobb and Curlee Raven Holton, whose exhibition of etchings, "Othello Re-imagined in Sepia," is at the museum through December 16. The internationally known Holton was recently the subject of a retrospective at the Cleveland Institute of Art. Rodgers' students are working with museum staff to write labels for his artwork.
"American Moor"
November 8, 9 and 10 at 7:30 p.m., Rooke Theatre
These performances are open to the public. 
"Othello Was My Grandfather: Shakespeare in the African Diaspora"
Saturday, November 10, 1 p.m., Rand Theater, Fine Arts Center, UMass Amherst
A talk by Barnard College professor Kim F. Hall.
"Shakespeare, Race and America … not necessarily in that order"
Saturday, November 10, 2 p.m., Rand Theater, Fine Arts Center, UMass Amherst
Cobb and his colleagues will join a discussion about other instances of "acting while black." 
"American Moor"
Sunday, November 11, 1 p.m., Rooke Theatre
The Mount Holyoke student-only performance will be followed by a post-show event.
What do you want to talk about? Visit.