Spotlight on popular majors: Sociology
Spotlight on popular majors: Sociology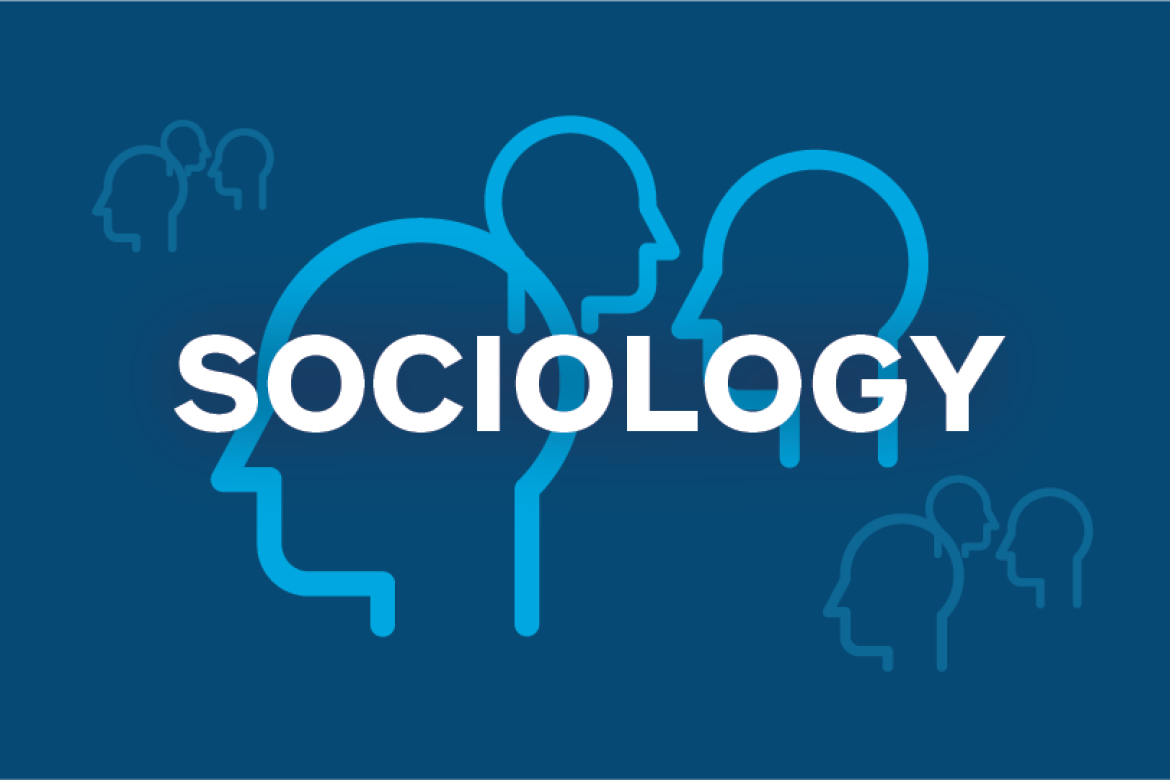 Sociology majors are interested in core questions about individuals, institutions and global processes — and how they impact the world.
Are you passionate about social justice? Do you have a hunger to understand human relationships, from individual to societal? Have you ever wanted to change the world for the better? 
As a sociology major, you learn how to analyze all the elements of society — people, organizations, events, social meanings, groups and relationships — and the interconnections between them, as well as build the tools for creating change. 
"We provide opportunities for students to think about concepts and theories in relationship to current events," says Professor Patricia A. Banks, who explores culture, consumption and inequality, such as in her book "Diversity and Philanthropy at African American Museums." 
Your courses will tackle subjects such as social inequality, social movements, capitalism and development, consumption, criminology, race and ethnicity, and education.  
"Sociology is fundamentally interdisciplinary," says department chair Eleanor Townsley, who is a cultural sociologist with interests in media and intellectuals, organizations and inequalities, and social theory. "We ask questions that intersect with anthropology, art, economics, gender studies, history, literature, media studies, politics, studies of post-coloniality, and racial and ethnic studies."
Your sociology professors exemplify this range: Assistant professor Ayca Zayim explores how the power of finance shapes global inequality. Ben Gebre-Mehdin, an assistant professor, looks at how fields such as computer science and data science are reshaping academic hierarchies and scientific practice. Ken Tucker, Helen P. Bibbero Professor of Sociology, looks at individualism and intersectionality in contemporary social movements such as Black Lives Matter.
As you ask questions, you will acquire a range of research methods to answer them. You might do archival research or comparative-historical research. You might conduct interviews and surveys. You will probably use statistical analysis and data visualization.
Along with those skills, you will deepen your awareness of the potential impact of your own social status, identity, emotions, and biases in context. The goal is to develop analytical skills such as reflection and judgment, and combine these with emotional skills of empathy and perspective. 
The practical applied research, writing and analytical skills you learn, along with teamwork and the invaluable lessons of working in diverse groups, will be useful no matter what you do. 
And you won't be learning them alone. The value of building relationships is at the heart of the sociology community at Mount Holyoke. You can participate in a vibrant seminar experience, movie nights, guest speakers, events with alums, and a supportive community that is also cross-disciplinary: You may well choose to explore a second major in another discipline, such as art history, languages, psychology, environmental studies, politics, or data science. You may join other majors in doing sociology projects with the Mount Holyoke College Art Museum or the College archives, or do a Nexus concentration. 
"Many of our students are passionately engaged in building a more just and beautiful world," says Townsley. "I think sociology helps them to see that world clearly and figure out how to choose internships, research projects, graduate school and careers where they can make an impact."
"I have spent many a long and inspirational afternoon weighing the pros and cons of different options with students," says Townsley. "Grad school can sometimes seem distant and even overwhelming, so part of the process is making it real and accessible for our students. We also encourage students to apply for grants, awards, competitive internships, etc., and all this illuminates a wider world of possibility. We help students navigate the application process, connect with alums, write letters and follow up with references."   
Stats about Sociology
As of February 2021:
72 students currently major in sociology. Of those, 38 are double majors.
18 minors
6 faculty in spring 2021
17 students graduated with honors from 2010–2020. Their theses topics included: 
Your Kids and All Kids: Parent-Led Nonprofits and Opportunity Hoarding in Selective Public Schools
Demographic Differences in Access to Formal Sex Education in the United States
Boomerang Adoptees: Making Moves in South Korea
Individualization and Its Effects: A Case Study of Chinese Students in the United States
Exposing Existing Environmental Morals – the Search for Action within Environmental Issues
The Effects of Elite Prep School Education on Society
Deepening the Defense for Diversity: Affirmative Action, Social Science, and the Quest for a Compelling Interest 
Second Generation Nouveau Riche Women and the Rise of a Young Global Elite
Stars Within Our Reach Celebrity Production and Signification in Modern American Society
Community Forming in the Yoga and Dressage Worlds
Technological Trauma and Personalized Politics: On the Political Consciousness of the Millennials
These results are from Mount Holyoke's annual Alumnae Survey: 
82% of respondents satisfied with their careers thus far
80% enrolled in a grad program since graduating from the College
60% reporting that their career is related to their major
70% who said Mount Holyoke prepared them well for their careers
Most common areas of employment: education, social services