Taking the distance out of distance learning.
Taking the distance out of distance learning.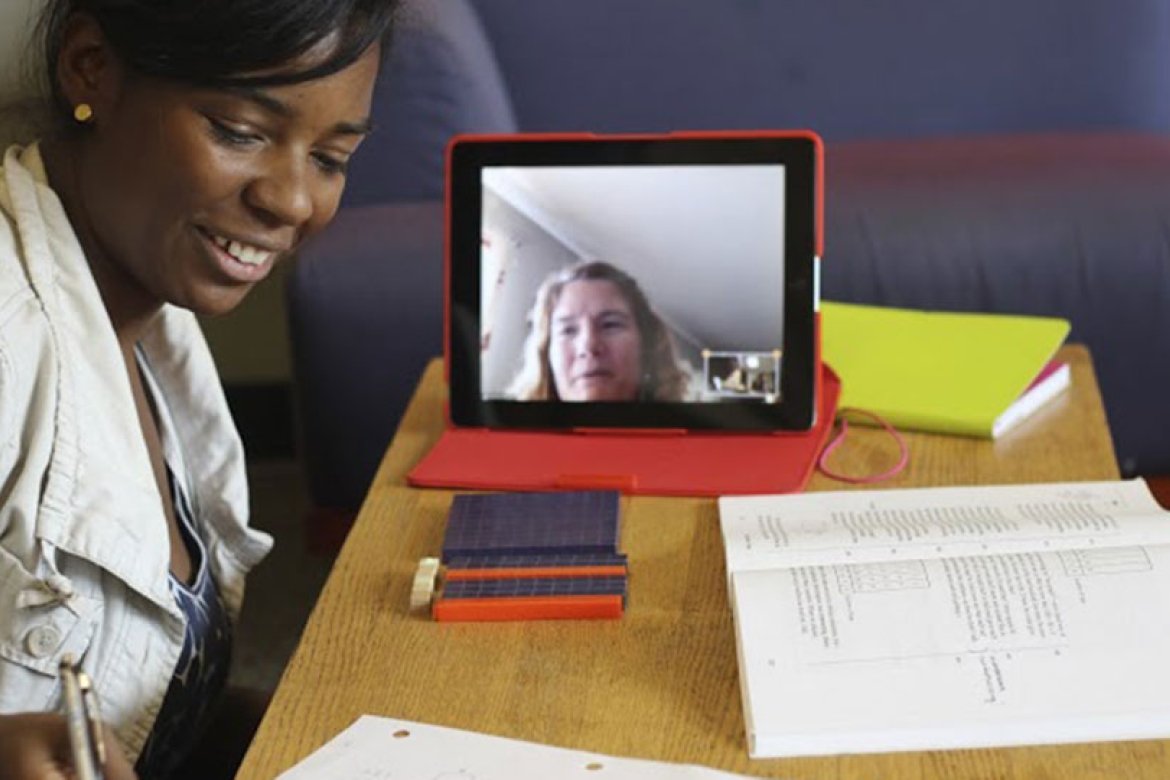 Mount Holyoke College's Professional and Graduate Education online hybrid classes bring students and teachers together wherever they are in the world.
By Keely Savoie
Jessica Boland, a math coach in Mozambique, wanted to bolster her skills over the summer and bring back some new teaching ideas to her colleagues in Africa.
The only problem? Her travel schedule made it impossible for her to attend a standard professional development course.
So when she heard about an online/in-class hybrid math course being piloted through the Professional and Graduate Education (PaGE) program at Mount Holyoke College, she jumped at the chance to try it. The program was devised by her acquaintance Michael Flynn, director of mathematics leadership programs at Mount Holyoke. It uses dynamic cameras, streaming video, and online technology to deliver the small-group and personalized classroom experience, which is central to Mount Holyoke, to students and teachers wherever they are in the world.
"Although you are not in the classroom, you have the capability of seeing the participants in the classroom and you are able to communicate and share with participants online as well," she said.
The platform was so simple and accessible that Boland could take her second class while en route from her native Arizona to Mozambique, completing assignments as she traversed the globe, and using layovers to check in with the class while it was in session.
"I had taken webinars and online classes before, but this was a completely different experience. It is really as if you are in a classroom," she said. "It's probably the first online professional development opportunity that is completely meaningful and engaging and supportive no matter where you are. There were people from many different states, some people in Mozambique, and a person in the Netherlands."
Boland was so pleased with her experience that she decided to pursue a master of arts in mathematics teaching at Mount Holyoke, which she will do almost exclusively through the online hybrid classes.
"They've created an opportunity for teachers who cannot be there in person to get quality math professional improvement. It's the first program in the world that's been able to do this," said Boland.
Flynn developed the program to be unique in a number of ways, but most importantly, to give students who could not attend class personally the same, rich, interactive and personalized experience as those who came in person. With the help of Virginia Bastable, assistant director of the SummerMath for Teachers program, and Megan Allen, director of the master of arts in teacher leadership program, Flynn devised a list of nonnegotiables: small-group instruction, interactive activities, hands-on learning, and lots of contact with instructor Nick Baker, the library and technical liaison to the PaGE program who helped with the technical system.
"Above all, we wanted both the students on campus and the online students to feel like a community of learners," said Flynn. "We blurred the lines between online and campus students. People started to get to know and trust each other. It's really important for us to have a safe environment to teach challenging math concepts, and we were able to replicate that experience with technology."
Both the summer program and the master of arts in mathematics teaching are accepting students on a rolling basis.
Get where you want to be—from wherever you are. Do it here.