Weissman Center explores public careers
Weissman Center explores public careers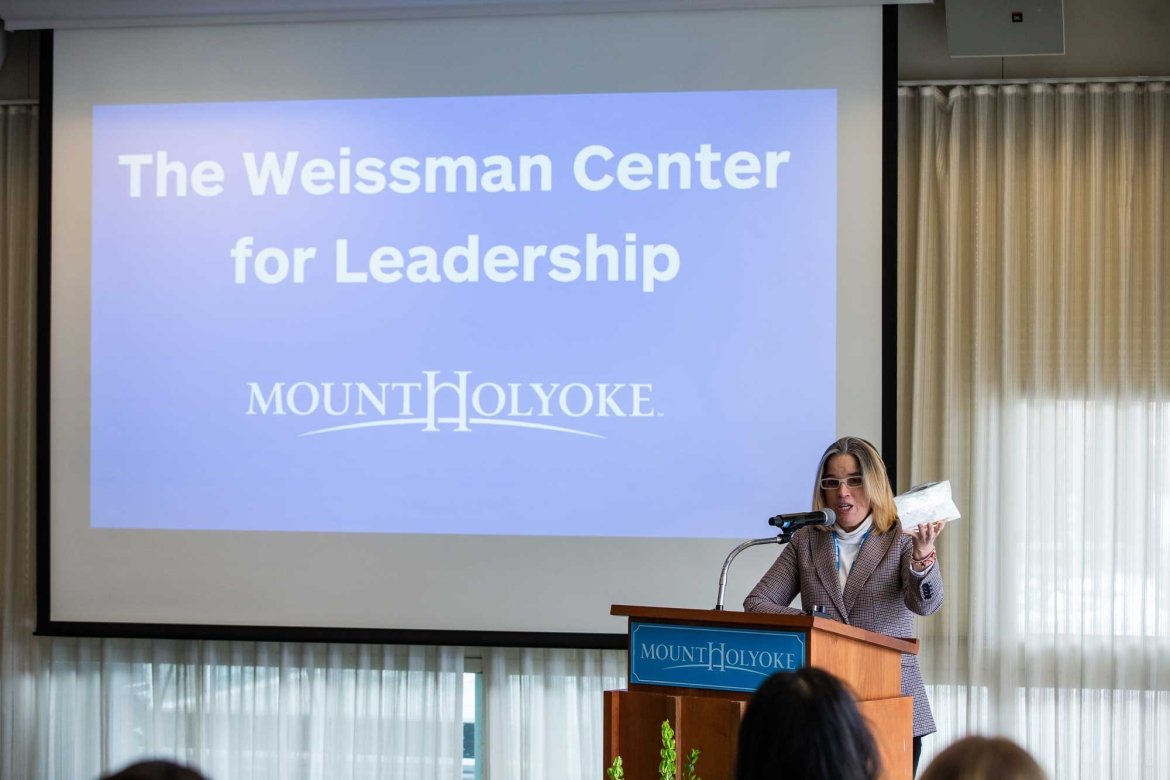 Mount Holyoke students interested in careers in public service got pointers from alums and San Juan's former mayor.
Mount Holyoke students interested in public service got some pointers from three alums who have made their careers in government, law and public policy and were on a panel presented by the Weissman Center for Leadership as part of the Center's annual Careers in Public Service Program. More than 50 students and alums attended the virtual session.
The panel was followed the next day by a three-hour workshop called Leading in a Time of Crisis, presented by Carmen Yulín Cruz, former mayor of San Juan, Puerto Rico, and current Harriet L. Weissman and Paul M. Weissman Distinguished Fellow in Leadership at Mount Holyoke.
Panelist Tara Butler '95 said that for her, coming back to speak to current students is not only enjoyable but also essential for the future.
"I wouldn't be where I am today without the help of fellow Mount Holyoke alums," said Butler, who is the senior policy advisor for economic development at the White House National Economic Council. 
"I also believe that today we are facing a series of critical challenges — at the local, state and national level and on the global stage — where public service will be especially important as we reshape and reframe our world for future generations. We are facing an inflection point, more so than any other time in recent memory, where women are centered in the narrative. To tackle today's challenges, we need the best and the brightest leading the charge. There is nowhere better to find those future women leaders than here at Mount Holyoke and our fellow Seven Sisters colleges."
Butler was joined on the panel by Courtney Brunson '16, who is a former staffer for U.S. senator Elizabeth Warren and is now at Harvard Law School; and Gayathri Ramani '12, a research analyst at the International Food Policy Research Institute in Washington, D.C.
Attending the two sessions was a perfect opportunity to further explore career goals for Tina Arechiga '23.
"I am interested in a career in public service because I want to use the law degree that I hope to attain to make policy changes and advocate for social issues [that] transform ideals into workable solutions," said Arechiga, who is from Los Angeles, California, and is majoring in environmental studies and politics. Her participation in the Weissman Center for Leadership MHC Semester in D.C. Program had solidified her interest in public service. 
At the event, panelists walked students through the arcs of their careers to give a sense of how skills, flexibility, networking and an openness to opportunity can all play key roles in career progress.
Ramani credited growing up in Kenya, combined with the research and data analytics skills she developed at Mount Holyoke as a double major in mathematics and economics, with leading her to her current work of addressing food insecurity on an international level. But, she reminded participants, her path was not straightforward. After graduating from Mount Holyoke, she worked for a consulting firm and a nongovernmental organization and went to graduate school — all before moving to her present position where she evaluates agriculture, nutrition, health and gender programs across countries in sub-Saharan Africa and Southeast Asia.
Ramani uses a wide range of research tools in her work to assess the effectiveness of programmatic initiatives.
"If you want to know if a program actually has an impact, [you have to have ways to measure that]," she explained. "If farmers have more water, for example, [you need to be able to assess if they] will be able to increase production, and, if so, does that improve their diets and income? We try to do this kind of analysis in a very systematic way."