Commencement Traditions
Commencement Traditions
The Mount Holyoke experience is built upon — and truly inseparable from — its traditions. Some trace back more than a century, while others have recently emerged or have evolved. The events encourage connections between classmates and generations of alums. The days preceding Commencement are especially alive with tradition. See what's in store!
Pre-Commencement celebrations and ceremonies
Seniors typically stay on campus to enjoy the many traditions that are held leading up to Commencement.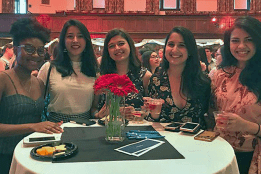 Strawberries and Champagne
Typically held on the last day of spring semester classes, the Alumnae Association and the Office of Advancement host this celebratory reception for seniors to toast the completion of classes and welcome the newest members to its worldwide network — more than 38,000 strong.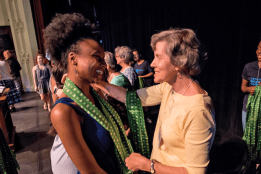 Welcome Ceremony for New Alums
This tradition is hosted by the Alumnae Association and the seniors' Connection Class — members of the year's 50-year reunion class. Seniors receive scarves in their class color and are welcomed into the worldwide alum community. It is typically held on the Thursday before Commencement.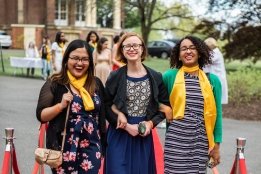 Red Carpet Reception
Following the welcome ceremony, the celebration continues with a red carpet cocktail party for seniors at the President's House.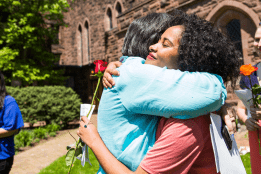 Blessing and Sending
Typically held on the Friday before Commencement and hosted by the Office of Religious and Spiritual Life, this ceremony, which includes an exchange of roses, is spiritual more than religious. Seniors, accompanied by family and friends, are given a blessing and a send-off as they commence their new lives.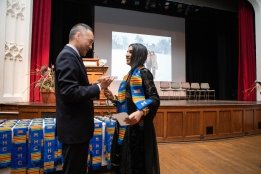 Stoling Ceremony
In this celebration of mentorship typically held on the Friday before Commencement, students of color honor and thank mentors who have helped them succeed. In return, mentors give students a stole — a long scarf — made of boldly colored cloth that is embroidered with "MHC" and special symbols.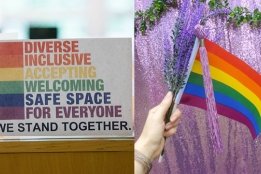 Lavender Ceremony
A student-coordinated, administrative-led ceremony that recognizes Mount Holyoke's broader LGBTQ+ community, reflecting the supportive and visible community that now exists at the College.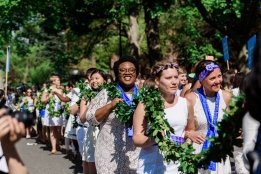 During the Laurel Parade, seniors — linked by two 275-yard laurel chains — process through campus to the grave of College founder Mary Lyon, where they sing "Bread and Roses." As they have since 1902, seniors are cheered on by the ranks of alums, family and friends. Graduates often cite this as the College's most moving tradition.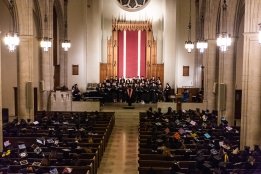 Baccalaureate Ceremony
For one last special moment, seniors gather together as a class in Abbey Memorial Chapel on the Saturday evening before Commencement. They hear remarks from selected faculty members and classmates, in addition to College leadership.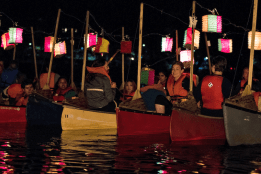 Canoe Sing
This glowing, ethereal nighttime celebration on Lower Lake dates back to 1911. Twelve canoes of seniors navigate the water, illuminated by paper lanterns, in formations choreographed to the lineup of songs. On shore, more seniors and other College community members revel in song and celebration.
Commencement
While graduation signifies that all of a student's academic requirements and obligations for a degree have been completed, Commencement is a ceremonial occasion that celebrates the completion of that degree. Most students finish their degrees in May but some graduate the previous December or March, and Mount Holyoke College holds one annual Commencement to honor them all. The ceremony in the Kendall Field House is both formal — with faculty and deans wearing their elaborate academic robes depicting their degrees — and festive, with the graduates often festooned with objects and clothing in their class color and personalized mortar boards, as well as their simple black gowns.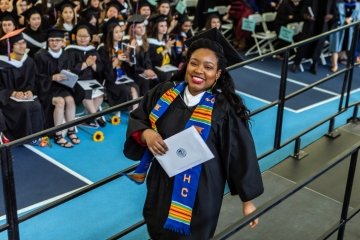 Commencement is presided over by the chair of the Board of Trustees and led by the College president. As part of the ceremony, three honorary degrees are presented to distinguished alums and others who have made a significant contribution to a specific field or to society. One of the recipients is the Commencement speaker, and the others give shorter speeches. A student also speaks. After diplomas have been awarded, the morning concludes with the singing of the Alma Mater.
Crossing the field gate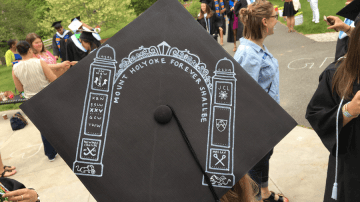 Following Mount Holyoke tradition, the first time a student is supposed to cross through the field gate — at the top of Gateway Road, by Mary Lyon Hall — is after Commencement! To do so beforehand is considered. Very. Bad. Luck.