Glascock Poetry Contest
Glascock Poetry Contest
An intercollegiate event since 1924, the Glascock Poetry Contest is the oldest continuously-running poetry contest for undergraduate students in the country. Students are judged by a panel of three distinguished poets.
Advice By Kathryn Irene Glascock, Class of 1922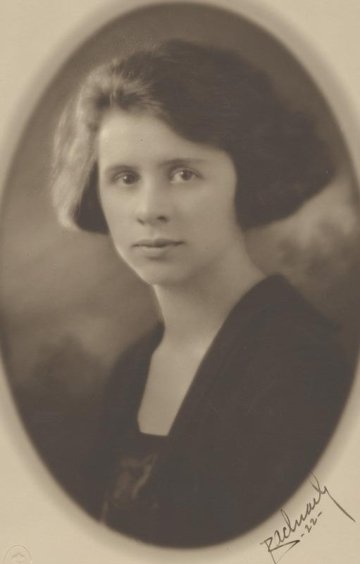 Give her any flashing thing
That could please a child at play—
Some small passion fit to fling,
In a little while away.
Give her tears or give her mirth—
Mirth that passes, tears that dry—
Something that is all of earth,
Something that is cheap to buy.
Never think that she would guess
If your gift had been more dear,
Never give her tenderness
Worthy to be kept a year.
Selected from her "Introduction to Preludes: Selected Poems from the Kathryn Irene Glascock Intercollegiate Poetry Contest 1924-1973".
Happening at Mount Holyoke
Glascock Poetry Contest in the news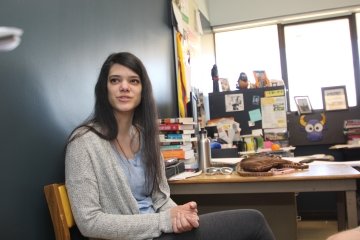 Perez is the first community college winner of Mount Holyoke College's 97-year-old Glascock Poetry Prize.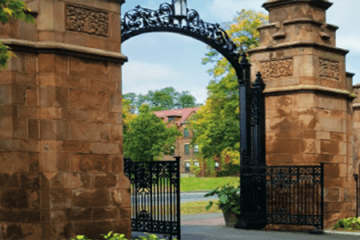 The 95th annual Glascock poetry contest offers two days of young and established poets reading and talking about poetry.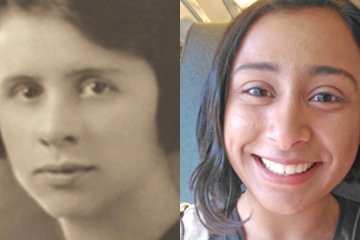 Anisha Pai '19 is the first Mount Holyoke winner of the annual Glascock poetry contest since 2009 and one of only 20 since the contest began in 1923.
History of the Glacock Poetry Contest
The Kathryn Irene Glascock Poetry Contest honors a promising young poet who graduated from Mount Holyoke in 1922 and died of pneumonia in 1923. Established by her parents in that year, the contest became an intercollegiate event in 1924. Students are nominated by faculty members, and then judged by a panel of three distinguished poets. James Agee, Frederick Buechner, Kenneth Koch, William Manchester, James Merrill, Sylvia Plath, Katha Pollit, Muriel Rukeyser, and Gjertrud Schnackenberg are among the many writers who were Glascock contestants. Judges have included Robert Frost, Seamus Heaney, Audre Lorde, Robert Lowell, Howard Nemerov, Adrienne Rich, Richard Wilbur, and William Carlos Williams.
In 1976 and 1977, poet-judges were asked to hold informal conversations to preface the competition weekend. Since then, this introductory address has become tradition and is held on the first day of the competition, prior to student-poet readings later that evening. Judges also read their own poetry aloud in the form of the Judges' Poetry Reading, which takes place on Saturday morning of the competition weekend.
Woman, Poet, Fire-bright spirit prematurely snuffed
Kathryn Irene Glascock was born in 1901, the daughter of Hugh Grundy Glascock, an educator, and Etta (or Ella) Bodine Woods. Glascock graduated from Mount Holyoke College in 1922. As a first-year student, she was Editor-in-chief of the Mount Holyoke News. As a sophomore, she was one of three to receive the Sigma Theta Chi Prize for poetry. In her junior year, she was the editor of the literary section of the News.
Finally, as a senior, she was named Editor-in-chief of the Mount Holyoke News, a member of Phi Beta Kappa as well as winner of numerous awards for her literary achievements.
After graduation, she began work at a publishing firm in New York City. Her poems were published in Vanity Fair and Poetry magazines. She died shortly thereafter on February 23, 1923. In memoriam, her parents established the annual Kathryn Irene Glascock Intercollegiate Poetry Contest at Mount Holyoke College with then-department chair and professor of English, Miss Ada Snell. Together, they posthumously published a collection, edited by Miss Snell, of Glascock's poetry entitled, Poems, and had one of her poems, "Daylight," published in Poetry Magazine. After Snell's retirement, Marianne Brock took over the Contest.
Poems. Garden City, N.Y.: Country Life Press, 1923. "Daylight," Poetry Magazine, Volume 22, May 1923, Page 83.
By Joyce Horner, Professor Emeritus of English
The contest began in 1923 with a gift from the parents of Kathryn Irene Glascock as a memorial to their daughter, who died soon after her graduation. Kathryn Irene Glascock had been a promising poet, and Miss Ada Snell, then chairman of the English Department, decided to give the memorial the form of a poetry reading, a prize contest and a public occasion. In its second year Miss Snell opened the contest to other colleges, so taking it out of the realm of the parochial. Since then its form has changed little, though its style may have changed considerably. Each year about half a dozen undergraduate poets are invited from colleges within reach to read from their works before judges and a college audience.
After Miss Snell's retirement in 1938, the organizing of the contest passed to Miss Marianne Brock, who ran it single-handed for many years. As life became less simple, however, and problems of communication, transportation, and entertainment thickened, the need for more hands became apparent, and a committee took over the work. The committee is now regularly elected from members of the department, and recently a student committee has been added.
The contest began with a gift and has been sustained by others. From the first the Mount Holyoke News has contributed part of the prize in memory of Kathryn Irene Glascock, a former editor. In the 1950's Miss Snell gave money for a second prize. In 1969 the Joyce Horner poetry prize was established by the alumnae, to be added to the first prize and so repair the ravages of inflation.
Even so, it should be emphasized that the readings could not have survived in the form they have taken without the generosity of the long series of poets and critics who have served as judges. For many years they gave their time for nothing, and for many years thereafter for a pittance. Beginning with Robert Frost, the Glascock Contest has had many friends. Anna Hemstead Branch, Robert Fitzgerald, Robert Francis, James Merrill, William Meredith, Marianne Moore, Wilbert Snow, John Sweeney, Andrews Wanning, George F. Whicher have all judged three times or more; Rolfe Humphries served six times and Louise Bogan seven. Others, like John Holmes and Richard Wilbur, have both served as judges and sent us their promising students.
It might also be mentioned that Wallace Stevens, though he declined to be a judge, gave a paper on the occasion of the twenty-fifth anniversary and, under the guise of an anonymous donor, turned back his fee to be divided among the losers.
This generosity of the judges in giving their time is worth insisting upon. Not only were they present at the readings, with their attendant social events, but they took away the manuscripts afterward and turned in comments with their verdicts.
"I have made many readings at different times to get these poems assembled in order of merit," wrote John Crowe Ransom to the committee in 1959.
While the contestants may not necessarily have been inspired by the comments - some were - one would think they must have been flattered to have their work the object of such careful consideration.
"These poems seem marked by a kind of dogged aplomb," wrote Marianne Moore of one contestant, and in the margin of her notes on another: "Mystery is one of the most valuable things in life. We must never let ourselves be defeated by it. Feel reconciled to it, Miss —."
"Each poem has corroborating individualities and no pains are spared," is the end of her report on Sylvia Plath.
The list of Glascock readers... has almost as many well-known names as the list of judges. While a few stand out — Robert Lowell, James Merrill, Sylvia Plath — there are many others who are poets of reputation, with a number of books to their collective credit. Others on the list are better known as novelists — James Agee, Frederick Buechner — or as playwrights, critics, or scholars. And there are a few names — William Kunstler is the striking example — that have become distinguished in fields for which poetry is not normally a part of the preparation... One can make too much of differences in form or the changes that have come with the loss of innocence of the age. It is for what young writers such as these have in common that the prize was founded.
In 1923, all judges and contestants were Mount Holyoke College students and faculty. In 1924, Vassar and Yale were invited. The winner was Mount Holyoke College. The judges were Robert Frost, John Livingston James, Fannie Stearns, and Davis Gifford. Among schools now participating are Amherst College, Cornell University, Tufts University, College of William and Mary, and the University of Michigan. Mount Holyoke College took part in the competition every year except for 1951. Among previous judges have been Robert Frost, Marianne Moore, Sylvia Plath, James Merrill, Robert Fitzgerald, Robert Lowell, Stanley Kunitz, Adrienne Rich, Seamus Heaney, Gjertrud Schnackenberg, Audre Lorde, and Paul Muldoon. The original prize was a gold-embossed leather briefcase, the original of which is stored in the Mount Holyoke Archives. Three judges are invited per competition. In 1976 and 1977, poet-judges were asked to hold informal conversations to preface the competition weekend. Since then, this introductory address has become tradition and is held on the first day of the competition, prior to student-poet readings later that evening. Judges also read their own poetry aloud in the form of the Judges' Poetry Reading, which takes place on Saturday morning of the competition weekend. The contest itself is held in Gamble Auditorium. Contestants submitting their poetry must be endorsed by a faculty member of their home institution and enter only what they can read aloud in ten minutes. Poem submissions are read and judged for selection anonymously, and the preliminary winner is announced thereafter. Judges and contestants reside at Willits-Hallowell hotel on the Mount Holyoke College campus. All events are sponsored by the Mount Holyoke College English Department and are open to the public free of charge.