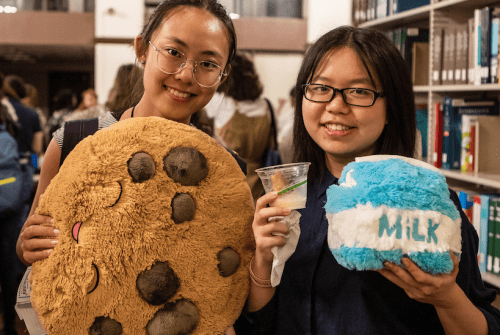 M&Cs (Milk and Cookies)
M&Cs (Milk and Cookies)
Known as M&Cs, the tradition of taking a nightly break to snack with friends is one of the oldest and most beloved traditions on campus.
Baking up a tradition: the history of M&Cs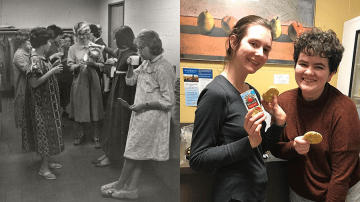 The origin date of M&Cs is a bit tricky to pin down, but students have long written about the opportunity to grab a simple evening snack. In an 1847 letter, Lucy Barlow (class of 1847) notes that students had "a recess of 15 minutes in the forenoon and evening at which times if we like we can go down to the middle room and take some luncheon which consists of cake and crackers."
Archives also has documentation from the early 1970s: rules regarding the "milk and crackers program," including when food was to be brought out and put away, and articles from the student newspaper about whether the cost of M&Cs was worthwhile.
M&Cs today
Today, incoming students experience their first M&Cs during Orientation, and graduating seniors celebrate their last M&Cs during senior week. Continuing the tradition beyond the gates, alum groups around the world hold M&Cs themed gatherings throughout the year.
A rotating lineup of treats (not always cookies!) are served up in each residence hall every Monday through Thursday night. On Sunday nights, a community version of M&Cs is served in the Dining Commons. Plus, an online menu shows the rotating lineup of M&Cs treats. Pro tip: Crowd favorites such as cupcakes and brownies go fast. As do the goodies served at community M&Cs.
As students attest, M&Cs is about much more than the food. It's about making memories by taking time out with friends at the end of the day. When asked what they will miss most about campus life, seniors often answer "M&Cs!".
Around Campus
Why we love M&Cs