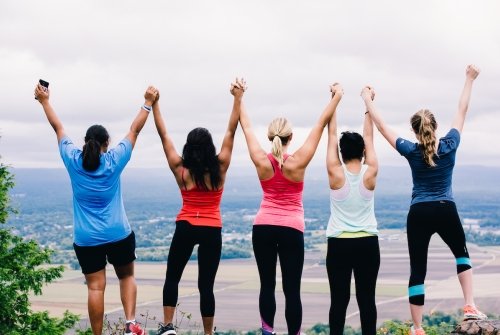 Mountain Day Wherever You Are
Mountain Day Wherever You Are
How to celebrate — around the world
When Mountain Day bells are ringing, we want everyone to be able to have safe and healthy ways to celebrate! Whether you're grabbing a frozen treat or spending some time in nature, there are so many ways to join the community celebration. Read below for some ideas to partake in one of Mount Holyoke's favorite traditions.
No matter where you are or how you choose to celebrate, don't forget to share your pictures and comments with us on social media using the hashtag #MtnDayMHC.
Create your Mountain Day experience!
Take a walk or hike — don't forget to sport your MHC gear! (You can order MHC gear online from the Odyssey Bookshop.)
Enjoy your favorite frozen treat — ice cream, froyo, sorbet? — or make your own apple pie with Dining Services' recipe.
Catch up with an MHC friend via letter, phone or Zoom, or host a virtual ice cream social.
Craft or create a piece of art with Mountain Day spirit.
Check out the Campus Living Laboratory Webcam to see if you can spot Jorge!
Add some Mountain Day spirit to your celebration:
Share your Mountain Day photos on social media using #MtnDayMHC and follow the College social channels to see how others are celebrating the day!
Zoom backgrounds and social graphics
Choose a background for Zoom conferencing, or download and share a Mountain Day graphic on your social media account. Scroll through and click on the image you like. When the image opens, click on the download icon in the lower right corner.
Apple Pie
Recipe courtesy of Dining Services
Ingredients for Pie Filling
Apples: 2 lb. peeled, cored and sliced
Sugar: ¾ cup
Cinnamon: 1 ½ tsp.
Flour: 1 T
Cornstarch: 2 T
Lemon juice: 2 tsp.
Ingredients for Pie Double Dough Crust
Pastry flour: 1 ½ cups
Shortening: 9 T or ½ cup + 1 T
Cold water: 1/4 cup
Sugar: 1 ½ tsp.
Salt: ⅛ tsp.
10-inch pie pan: 1 (not ingredient)
Instruction
Pie Dough: Mix together ingredients to form dough. Form two equal sized disks. Chill dough for 1 hour. Spray pie tin, roll out one disk of dough and place in a 10-inch lightly greased pie pan.
Apple Pie Filling: Mix together all ingredients until well combined. 
Fill the pie pan with dough with the apple mixture. Mound apples in the center. Roll out the second dough disk and cover the top of the pie. Crimp your edges and make small cuts on top of the pie for venting steam.
Bake in a preheated oven at 400 degrees Fahrenheit for 45 minutes to an hour. Pie should be brown and bubbly.