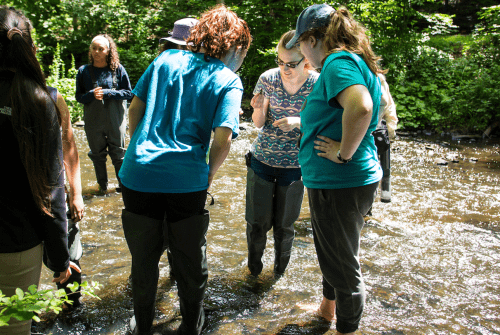 Campus Living Laboratory
Campus Living Laboratory
Inspired by a diversity of ecosystems and a culture of sustainability, the living laboratory transforms Mount Holyoke's natural and built landscape into an exciting destination for hands-on, multidisciplinary undergraduate research and teaching.
More than 700 acres of natural and engineered ecosystems. A four mile network of trails. An online database housing decades of student and faculty monitoring obtained from 15 permanent water sampling stations, five weather stations and additional ecological field sites across campus. Countless opportunities for independent student research and inspiration, all right here at home on the Mount Holyoke campus.
The campus living lab allows students to advance discipline-specific and interdisciplinary learning to foster new ways of perceiving both the natural and built campus landscape. The living lab seeks to highlight and coordinate place-based opportunities for learning, experimentation, and demonstration through the integration of resources like campus ecological sites, progressive sustainable infrastructure, academic courses, and the botanic garden.
Living Laboratory Webcam
Living Laboratory Map
Hover over the icons on the image or see the descriptions below to learn the how the campus is used as a living laboratory.
Campus Research Center
The Mount Holyoke campus has long served as a field station for student and faculty research. As a component of the living lab, the campus research center stores data on a rich array of environmental phenomena.
Using the Institutional Data Archive (IDA), those affiliated with Mount Holyoke or the general public may access both faculty and student research data, reports and other materials, including a collection of historical and contemporary campus maps.
In particular, students may view, download and use data collected from more than two dozen courses and many more independent student projects and then conveniently upload and store their own research, thus contributing to this vast body of knowledge for future student endeavors.
On IDA, the data collected in the campus living lab are split into three sub-communities:, Environmental Monitoring, Sustainability and Environmental History.