Eliana Ortega Cultural Center
Eliana Ortega Cultural Center
The history of the Eliana Ortega Cultural Center
The center is named after Eliana Ortega, Professor Emeritus and co-founder of La-Unidad. Ortega House was officially opened on the evening of November 15, 1995. Prior to the spring of 2000, the Ortega Center was mainly used by La Unidad, an organization of self-identified Latina women. But in spring 2000, MEChA — an organization which concentrates on political issues not necessarily limited to self identified Latina — was created.
Happening at Mount Holyoke
The Ortega in the news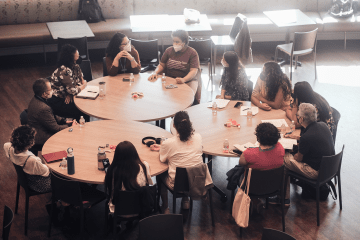 The student-led month of celebration for Latinx Heritage Month at Mount Holyoke College honors the richness of Latinx culture and connection on campus.
Contact us
The Eliana Ortega, known as the "Ortega," serves as a home away from home for students within the Latinx diaspora.
4 Dunlap Place, South Hadley