Latinx Heritage Month celebrates vibrant campus community
Latinx Heritage Month celebrates vibrant campus community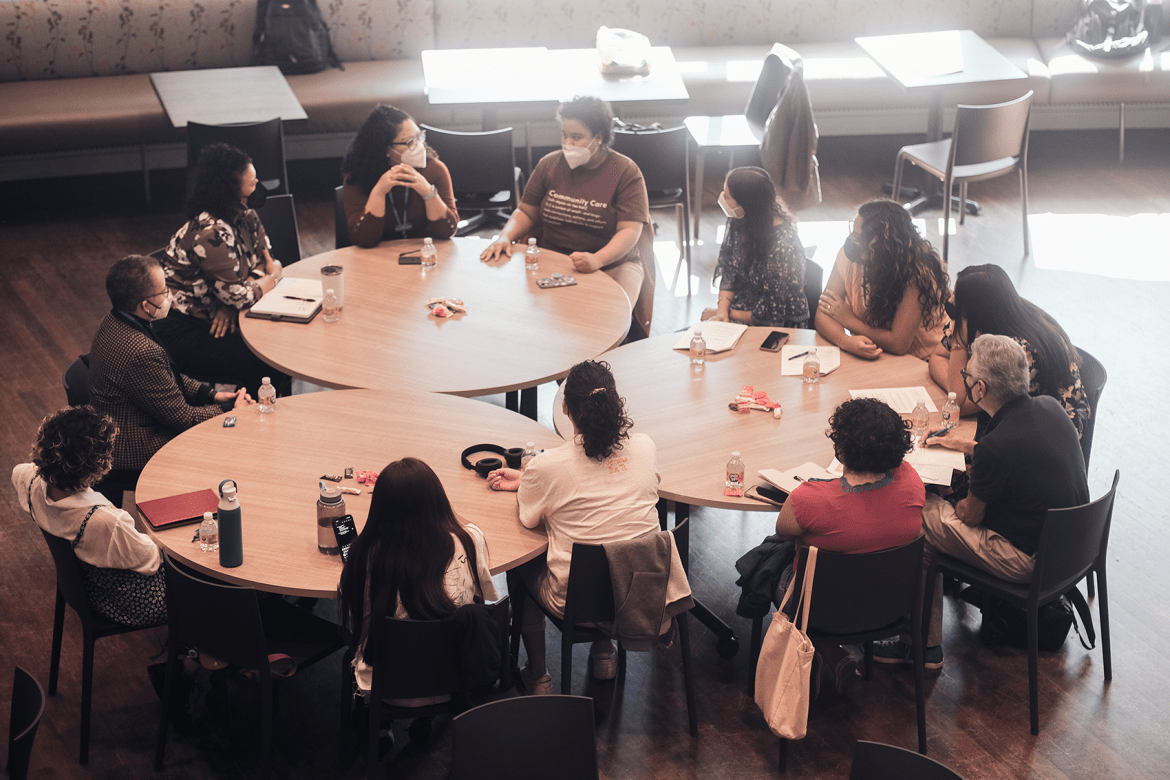 The student-led month of celebration for Latinx Heritage Month at Mount Holyoke College honors the richness of Latinx culture and connection on campus.
The Mount Holyoke College community recently celebrated the start of Latinx Heritage Month, which is taking place on campus from September 15 – October 15, 2022, aligning with national efforts to celebrate the diverse cultures and contributions of peoples of Latin American descent. The month of programming aims to support a thriving campus life for Latinx students through dedicated opportunities for connection, reflection and the shaping of a shared experience. The series of events includes a student summit, homecoming, discussions and cultural activities.
Latinx Heritage Month launched on September 15 with a kickoff event featuring live Afro-Puerto Rican music and dance and special guest speakers. Former faculty Dr. Alberto Sandoval-Sanchez and Dr. Eliana Ortega '67 joined students to share stories of the Latinx history of Mount Holyoke and the Five Colleges. 
The development of Latinx Heritage Month at Mount Holyoke was spearheaded by the College's Office of Community and Belonging and brought to life by a dedicated student-led committee. A sense of belonging is central to the fabric of the Mount Holyoke experience, from its many beloved traditions to its dedicated cultural centers.
"We want to create and build community this year for the growing Latinx student population on campus," said Latrina Denson, associate dean of students and executive director of community and belonging. "It's about centering their voices. Opportunities for dialogue, education, social justice and service are all ways we create a sense of belonging."
Lead student organizers Valeria Serna-Solis '23 and Citlalli Caratachea '25 work as program assistants at the Eliana Ortega Cultural Center, which serves as the heart of Latinx student life at the College. They worked together to form a Latinx Heritage Month committee that gathered input, involved other students and met with Denson during the summer to begin planning. The committee collaborated with the Office of Diversity, Equity and Inclusion and also had close ties with the Five College Consortium and the cultural heritage of the local area.
The theme chosen for this Latinx Heritage Month was "'cosechando' (cultivating) and blooming." The student summit on September 17 brought Mount Holyoke's Latinx community together to explore what it needs as it continues to rebuild the connections that it had before the pandemic. The summit was followed by a homecoming at the Ortega Cultural Center for Latinx alums, students, faculty and staff. Strengthening these spaces is vital to helping Latinx students thrive on campus.
"My culture has been a big part of my life," said Caratachea, a neuroscience major who grew up immersed in Mexican tradition in a vibrant immigrant community in Lemoore, California. "It has shaped who I am and has given me strength, confidence and joy. My whole life, my family and community have supported me and have encouraged me to do big things. Whether this be through prayer or my parents making sacrifices for me to go to college, I have felt my people pushing me to do better. At home I was truly enveloped in my community and culture, from the street vendors outside of church to my Azteca ceremonies. The smells, colors and sounds all, in some way, served as a mirror, reminding me of the people I come from and those who uplift me today.
"Coming from an area in California that's surrounded by a strong farm worker community to South Hadley where I am surrounded by academics has been a culture shock for me. My ancestors give me the strength I need to navigate this unfamiliar environment, the strength to get up and keep walking when I feel that I don't belong in higher education or at this elite college. For me, culture, identity and community are intersectional. One cannot exist without the other."
Mount Holyoke offers rigorous programs of study that explore the rich history and cultures of the peoples of Latin America and their descendants. In addition to courses in Spanish language and literature, students can pursue minors in Latin American studies or Latina/o studies, which provide an interdisciplinary exploration of the experiences of Latinas/os in the United States. A virtual event discussing "Languages, Ideologies and Identities" will be held on September 29.
"When I came to Mount Holyoke, I had no idea what ethnic studies was until I took my first-year seminar, Politics of Inequality," said Serna-Solis, a biology major of Mexican heritage from Atlanta, Georgia. "My mind was blown as I was given readings about the experiences of Latine people in the U.S. and across the globe, thinking that there wasn't anything written about the community. Since then I have taken many Latine studies classes and declared it as my minor. I continue to use that knowledge I received and transfer it to my life, work and engagement with the community. It's my responsibility to pass that ancestral knowledge onto the next generation. 'We're standing on the shoulders of giants,' as Professor Vanessa Rosa would say." 
"Knowledge is power," said Caratachea. "I learned in my Intro to Latinx Studies course last year that knowledge comes from different places and all of that should be valued. Storytelling is powerful, our lived experiences are powerful, learning outside of a classroom setting is powerful. This is what I bring to my classes, the story of my parents, my grandparents, my ancestors and lastly, my own story — the story that I'm still shaping here at Mount Holyoke."
The entire community is invited to join the closing celebration, "Noche Latina," on October 15. The full schedule of Latinx Heritage Month events can be accessed online.