Natasha Mohanty '03
Engineering Leadership, Stripe
San Francisco, CA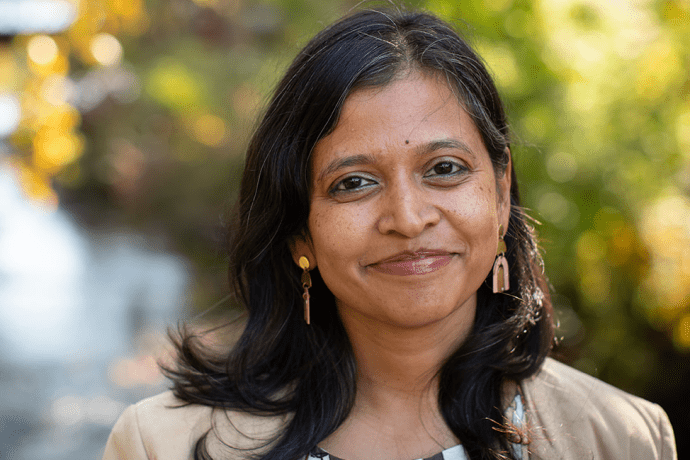 Back in the early 2000s, when Natasha Mohanty first interned at Google, no one in her master's program at the University of Massachusetts Amherst had even heard of the California startup. When Google offered her a full-time position, taking the leap of faith to leave her Ph.D. program was a hard choice. But it was a decision that led Mohanty to become a leader in tech and startups for more than two decades.
At Mount Holyoke, Mohanty initially pursued astrophysics before realizing computer science was a better fit. That early lesson on being open to change has served her well in tech, an industry where she who can pivot and innovate fastest, wins. After Google, Mohanty co-founded a startup called Prisma.ai. Using artificial intelligence, Prisma.ai pioneered viewer analytics, content discovery and predictive viewing for top media companies. Nielson acquired Prisma.ai in 2018, and Mohanty stayed on for nearly three years at Nielson, leading large teams of engineers.
For Mohanty the fun part of working in startups is building a product the world doesn't yet know it needs but soon won't be able to live without. The less fun part is gathering funding — and getting sometimes-critical user feedback. Growing pains, of course, are just part of launching a new product. Many of the skills she's needed to thrive in startups are skills she gained through her experience at Mount Holyoke. Her years on campus granted crucial friendships and peer connections and taught her the importance of having a community — especially in the lonely world of tech leadership. She also learned that paving your own path is often the best way to go, even if your trajectory isn't always straightforward and doesn't look like your peers' journeys. Today, Mohanty continues to lead as the head of engineering for checkout experiences at Stripe, a financial infrastructure platform. She also serves on the Mount Holyoke Board of Trustees.
Class year: 2003
Major: Computer science
Joined board in: 2014, re-elected in 2019