Launching Leadership: Mona Sutphen '89 and Natasha Mohanty '03
Launching Leadership: Mona Sutphen '89 and Natasha Mohanty '03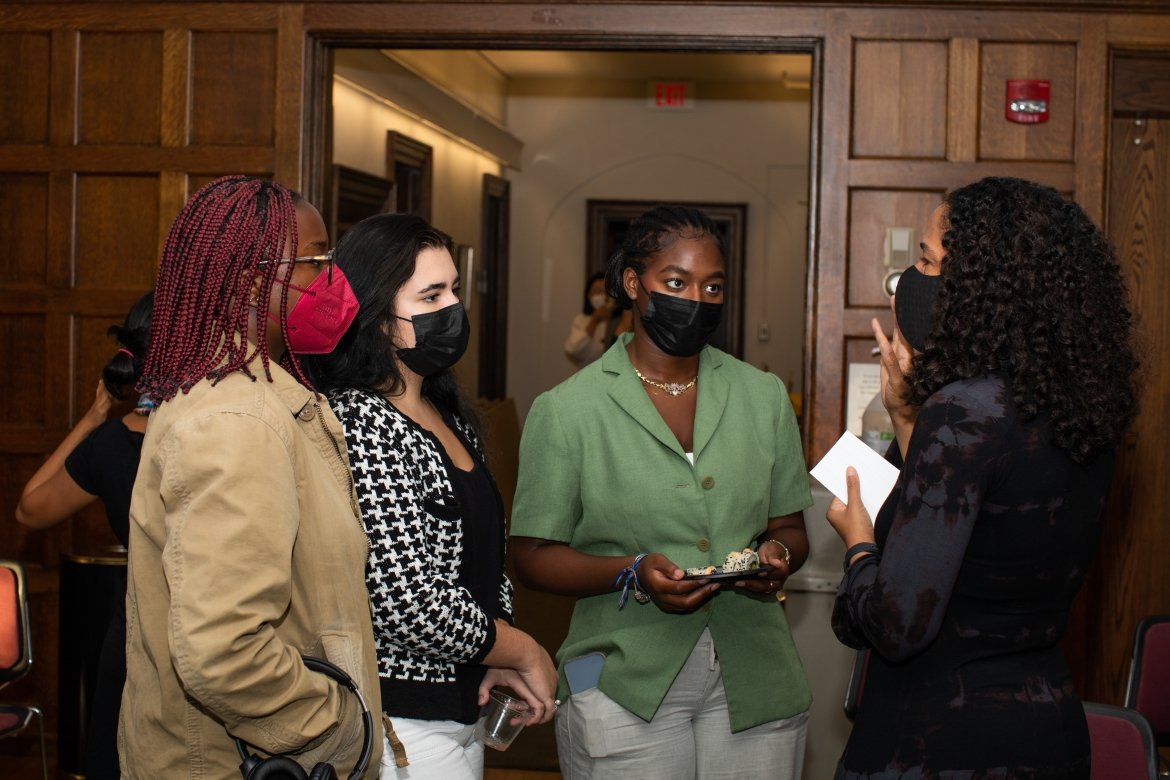 At the second Launching Leadership event at Mount Holyoke College, Mona Sutphen '89 and Natasha Mohanty '03 discussed the importance of embracing a nonlinear path to success, why leadership can be lonely and the importance of a support system.
At the second Launching Leadership event in October 2022, Board of Trustee members Mona Sutphen '89 and Natasha Mohanty '03 discussed the importance of embracing a nonlinear path to success, why leadership can be lonely and the importance of a support system.
In the New York Room, interim President Beverly Daniel Tatum introduced the two alums to a small audience of 30 students. Mona Sutphen '89 served as the White House deputy chief of staff for policy for the Obama administration from 2009 to 2011. Currently, she is a partner and head of investment strategies at The Vistria Group, a Chicago-based private equity firm with a focus on technology.
Natasha Mohanty '03 worked for several years at Google, then co-founded Primza, an AI-powered video engagement and media analytics SA5AS solution that offers content discovery, personalization, predictive viewing and analytics for media and telecom companies. She is now an engineering leader at Stripe, a financial services and software company based in the Bay Area.
Both agreed that their careers were not what they had in mind when they were students at Mount Holyoke.
"I always had this strong desire to be in the world and not just an observer," Sutphen said. An international relations major who studied Chinese, she always had a strong interest in what she called "the creative side of life." After Mount Holyoke, she took a job in advertising.
The path from advertising to diplomacy came as a result of a push from her professors at Mount Holyoke. They urged Sutphen to take the Foreign Service exam. She did, not expecting it to lead to much.
"My wakeup moment [came when I realized] there has to be more to life than selling shampoo," she said after she described pulling an all-nighter at an advertising firm to replicate a lost Excel spreadsheet. "Five weeks later, the Foreign Service called."
Mohanty, a computer science major, started her career at Google — but not the tech behemoth that it has become. "I interned there at the early IPO [initial public offering]," she said. "No one in my master's program knew anything about Google!"
After her internship, she was offered a full-time job. Mohanty initially resisted because she was in a Ph.D. program at the University of Massachusetts-Amherst. She took the position at Google but insisted to her advisors that she was going to come back and finish her doctorate.
"Letting go was an interesting journey," Mohanty said.
Both alums were involved with startup companies later in their careers.
"The early days of a startup are really, really fun," said Mohanty. Raising money and logistics aren't her favorite parts, but then, she said, "When people use your product, it's really fun at times and really brutal at times."
Sutphen also started a couple of different companies. Going from government work to startups felt like a rollercoaster ride, she said, that shifted "from regimented to flying by the seat of your pants!"
Sutphen said that when looking for the next step to take in their careers, "people need to think about who they are as people, not what they're good at."
Tatum asked the two alums what Mount Holyoke experience deepened their sense of authentic boldness.
Sutphen said, "The most important thing in this journey was something I didn't appreciate when I was here. Mount Holyoke helped me separate my gender identity from my self-identity. … I never felt constrained by how people perceived me, even though I was often the only woman of color in the room."
Mohanty said, "It's OK to have questions. It's OK not to be satisfied, to always want more. … Things don't have to be wrong to want something different. Pave your own path — that's what came from Mount Holyoke."
Both of the alums also stressed the importance of support.
"My early years were sustained by the relationships I made at Mount Holyoke," said Mohanty. "You need these people you can be absolutely real with." Sutphen agreed, saying, "I still have a group of people who are a safe space."
Having that support is especially important, they agreed, as one becomes a leader.
Being a leader is "very lonely", said Mohanty. "You have to take time to build relationships. You also have to be a lot more deliberate about what you say." Sutphen said, "Leaders are facing [many] similar challenges. It weighs on people so heavily. People are so lonely and carry all that weight on themselves."
Both the trustees also reflected on how often they changed their life plans.
Mohanty said, "I originally came to Mount Holyoke to be a major in astrophysics! A year in, plans changed."
"Today's graduates are under a lot more pressure — they get stuck in a cul-de-sac early on," Sutphen said. "It's really important to look at the boss's boss's boss and ask, 'Do I want to do this?' And also, every year, ask yourself, 'Have I learned everything I can at this job?'
You don't want to be stuck on a conveyor belt."
In the end, Mohanty said, it's important for students to embrace, and never fear, change.
"Successful people's paths are rarely linear."