Ajay J. Sinha
Julie '73 and Helene '49 Herzig Professor of Art History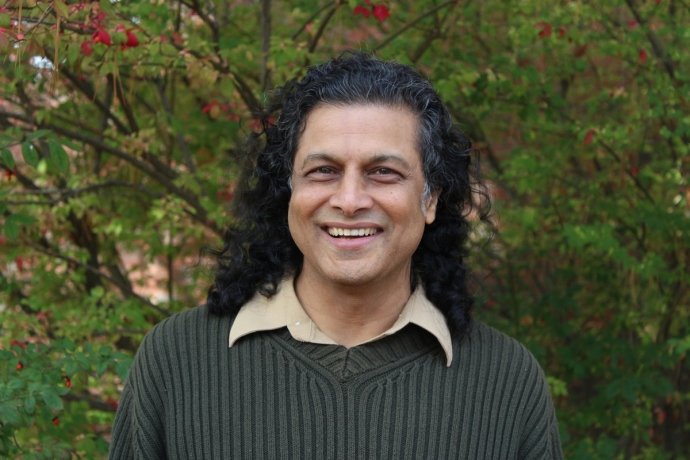 Ajay Sinha is a scholar and critic of the arts of India. He lectures on the history of Asian art at various levels and offers seminars on Indian photography and film. His courses deal with questions of diversity and interconnections across cultures that have historically shaped the worlds in which art is produced.
Students in Sinha's classes develop skills in visual observation and analysis to show how works of art reflect political and social formations, embody cultural values, and make visible the historical relations between local cultures in Asia and global networks, between religious beliefs and secular life, in both the present and the past. In a seminar titled Curating Global Contemporary Art, students work closely with the Mount Holyoke College Art Museum and develop exhibition concepts and designs in a hands-on workshop.
Sinha's scholarship has focused on India's ancient and modern visual culture. His articles on painting, architecture, film and photography have appeared in scholarly journals including The Art Bulletin, Art Journal, The Journal of the Society of Architectural Historians, Art India, Artibus Asiae, Religious Studies Review, the Journal of Asian Studies and Modern Asian Studies.
He has organized and chaired conferences on India's ancient temple art, modern and contemporary art, and Bollywood cinema, and presented papers and lectures at conferences in the United States and abroad. He has authored "Imagining Architects: Creativity in the Religious Monuments of India" (University of Delaware Press, 2000), and co-edited a volume titled "Bollyworld: Popular Indian Cinema through a Transnational Lens" (New Delhi, Thousand Oaks, London, Sage Publications, 2005).
Sinha co-curated an exhibition of contemporary Indian art at the Peabody Essex Museum and serves as a member of the advisory board for the Center for Art and Archaeology, American Institute of Indian Studies. His current research project focuses on global photography, including a book-length work in progress that builds a story of transcultural exchanges in a group of over 100 photographs of an Indian dancer taken in New York City by an American photographer in the early 20th century.
Areas of Expertise
Indian art; Asian art; Indian films, Indian photography; curating global contemporary art.
Education
Ph.D., University of Pennsylvania
M.A., B.A., Maharaja Sayajirao University of Baroda, India