150 years and counting for MHC's art history department
150 years and counting for MHC's art history department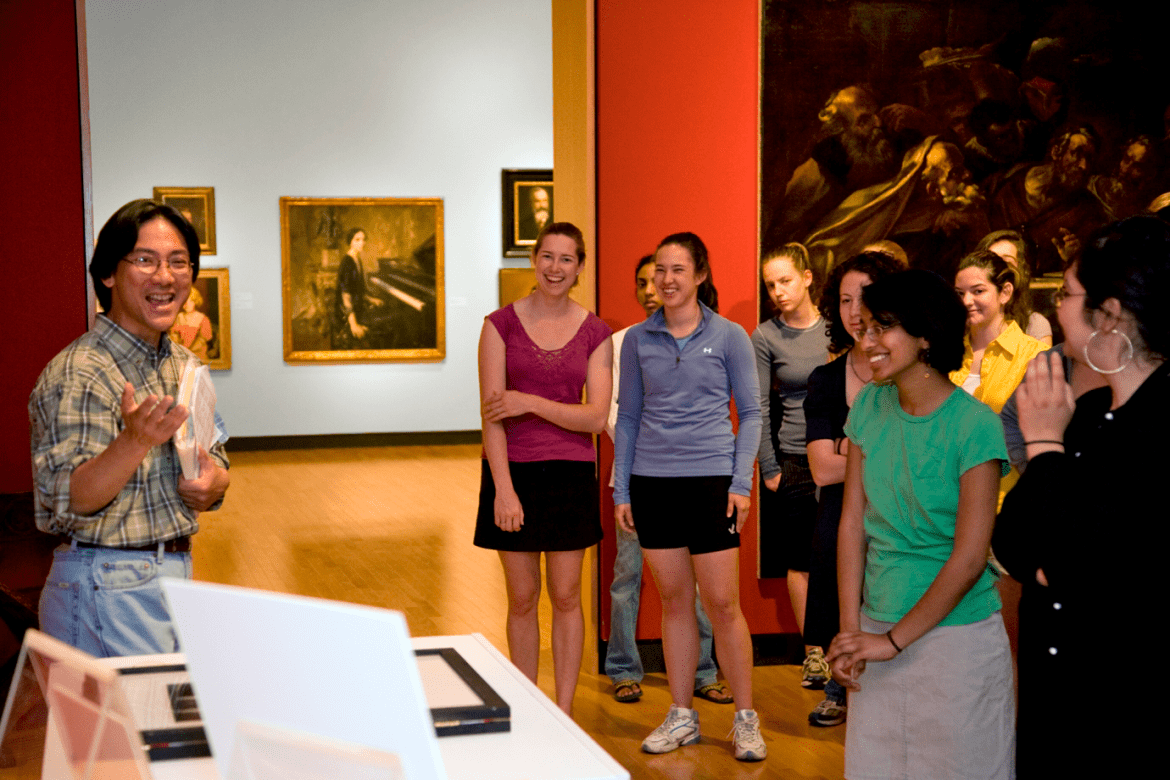 As Mount Holyoke marks the one hundred fiftieth year of the teaching of art history, its Department of Art History and Architectural Studies is celebrating its long history and is working to ensure it evolves to meet the changing nature of the field.
As Mount Holyoke marks the one hundred fiftieth year of the teaching of art history, its Department of Art History and Architectural Studies is not only celebrating its long history but also working to ensure that it evolves to meet the changing nature of the field.
In fact, as the academic year progresses, the department is looking back on its many firsts while reflecting on the present and looking ahead to the future. Mount Holyoke had one of the earliest art history departments in the country and was the first of the Seven Sisters to offer art history as a major. The College was a pioneer for offering an art history course as early as 1872, and it was among the first of all the liberal arts colleges in the country to hire a full-time art historian — William Henry Goodyear — in 1879. Over the past century and a half, Mount Holyoke's art history department has been a leader in the field, drawing eminent scholars and constantly reassessing the traditional curriculum.
For Associate Professor of Art History and current Department Chair Jessica Maier, the one hundred fiftieth anniversary of the first art history course at Mount Holyoke is more than a rite of passage. She noted, "It is also a chance to take stock of art history in general and of how it has changed over that time." 
The art history department at Mount Holyoke has changed radically since the late nineteenth century. "That first course way back in 1872 was on Greek and Gothic architecture," she said, "and for decades the courses offered were all about the Western canon. Nowadays, courses are all over the map, and no one tradition or culture gets priority. We want our students to walk away with a global understanding of art and visual culture." 
Anthony Lee, Idella Plimpton Kendall Professor of Art History, added, "We ask students to think about the diversity of visual expression in a variety of ways, not only across cultures but also across time, and to imagine other ways of seeing, making and belonging in the world."
The faculty who teach art history have also changed a great deal in the last century and a half. Early on, most instructors were women without advanced degrees, and they were almost all graduates of Mount Holyoke. Several were groundbreaking classical archaeologists who sought formal instruction at European universities before bringing their knowledge, passion and collections of photographs back to share with their students.
Now, Mount Holyoke's art history faculty use digital tools (not photographs and plaster casts) to teach the subject matter. They all hold Ph.D.s, and they are experts in fields ranging from the arts of India to modern photography, from European cartography to American revolutionary painting. They are active scholars, too, and at last count, they collectively have more than twenty books to their names.
A celebratory year
A recent symposium sponsored by the department delved deeply into the present challenges of art history as a discipline. The September 23 symposium and roundtable, "The Art History Survey: Past, Present, and Future," brought more than 100 scholars and students together in Gamble Auditorium to examine questions such as how art history departments should approach and teach this ever-widening subject, which artists and movements to focus on and which to exclude.
For the art history department, this was an opportunity to use its long history as a platform to "situate the teachings of art and its histories at Mount Holyoke, and beyond, as a window onto sea changes in teaching methods, definitions of art and even social justice." 
Among the panelists was Tim Barringer, Paul Mellon Professor in the History of Art at Yale University, who has written about how the issues touched upon at the symposium are central to art history's role in creating global citizens in an increasingly networked and visual world. 
Writing in "The Art Newspaper" in 2020 about his Yale department colleagues' expanding areas of expertise, for example, he observed, "I work with a group of brilliant art historians who are constantly rethinking what we teach and how to teach it — our vision is expansive rather than reductive, in terms both of coverage and of art-historical methodology. Art history is a global discipline. ... The diversity of the Department's faculty and of our intellectual interests finds an analogue in the diversity of today's student body." 
The significance of this anniversary for the history of the art history department, for Mount Holyoke and for the discipline as a whole, will be marked throughout this academic year. Following up on the symposium, the department is mounting an exhibition, "Art History at Mount Holyoke 1872–2022," to include vintage photographs and historical tidbits from the College archives. This fascinating material gives an overview of the professors and students, the classrooms and spaces, and the famous visitors and special events that have kept art history at Mount Holyoke vibrant and evolving for a century and a half — and counting.
History everywhere
Much of that history is also evident throughout the College, in places unexpected as well as obvious. For example, well outside the precincts of the current Art Building, the skylights in the third floor of Dwight Hall are a testament to that building's original use as a home for the art studios and galleries of the College's efforts in art history, art and architecture. Dwight Art Memorial, as it was formerly known, was completed in 1902. By the 1960s, the museum and art department (which, at that point, included studio as well as art history) had outgrown Dwight, and in 1971 they moved into the newly completed Art Building. 
In his "History of Art at Mount Holyoke College, 1872–1914," the late Robert Herbert, former Andrew W. Mellon Professor of Humanities at Mount Holyoke, noted that art and architectural history have been important components of the College's curriculum since its early days. In 1876, the ill-fated Williston Hall, long since destroyed by fire, opened with a mission to serve both art and science. The skylighted third-floor housed a gallery and studio spaces. This so-called Natural History and Art Building was graced with Albert Bierstadt's "Hetch Hetchy Canyon," given to the College to celebrate the new building and still a central piece in Mount Holyoke's collection. It was around this time, too, that Mount Holyoke began an art collection incorporating American and European pieces, as well as reproductions and photographs of important works of art. Among the replicas were the casts of classical statues which now grace the Art Building's stairwells and that, for decades, served as key teaching tools.
From these auspicious beginnings, the study of art history continued to flourish, far more so, Herbert notes, than at other women's institutions, including Vassar, Wellesley and Smith colleges.
"The history of art thrived at Mount Holyoke because, as it progressed from seminary to college, its students were still mostly from lower middle-class homes who sought a practical education," Herbert wrote. "Most students in the other women's colleges came from upper middle-class families. Students at Mount Holyoke were educated for useful work, not for 'good marriages,' and few could afford graduate school. For them the history and practice of art were indeed practical. The arts were part of a well-rounded preparation for teaching in public schools and missionary schools abroad."
Career opportunities for Mount Holyoke students have expanded dramatically since those days. Alums who graduate with B.A.s in art history from Mount Holyoke hold prestigious positions in some of the world's great cultural and educational institutions. Some examples: Amanda Prugh Venezia '95 is head registrar for collection and exhibitions at the Isabella Stewart Gardner Museum in Boston. Elizabeth Petcu '08 is senior lecturer in architectural history at the University of Edinburgh. Emily Lanciewicz '17 is lead digital designer at the Smithsonian. Alums also apply their stellar communication and visual literacy skills to careers in nonprofits, publishing, law, auction houses, galleries and countless other areas within and beyond the art world. 
The teaching of art history and architecture continues to occupy an important place in the College's curriculum, and the department has continued to evolve, continuing MHC's leadership in this vibrantly expanding discipline. Art history is now a joint department with architectural studies, an innovative program that combines the study of building design with the liberal arts. Meanwhile, subjects that have been taught since the very beginning, like Greek and Gothic art and architecture, continue to be offered, but they are now taught using cutting-edge tools like digital modeling and virtual reconstruction technology. 
Ajay Sinha, Julie '73 and Helene '49 Herzig Professor of Art History, exemplifies how faculty embrace state-of-the-art teaching methods. As part of his Architecture in Miniature class, he brings students into the Fimbel Maker & Innovation Lab so they can create miniatures themselves using specialized software and 3D printing to bring the art of past eras back to life. Course topics are always evolving. These days, faculty offer new, progressive courses like the Global Renaissance, Art of Cold War Modernity and Bollywood Cinema. 
"Cool ideas for courses and coursework are popping up all the time," says Lee. "I'd love to see what the next 150 years hold."