Suparna Roychoudhury
Associate Provost and Associate Dean of Faculty
Associate Professor of English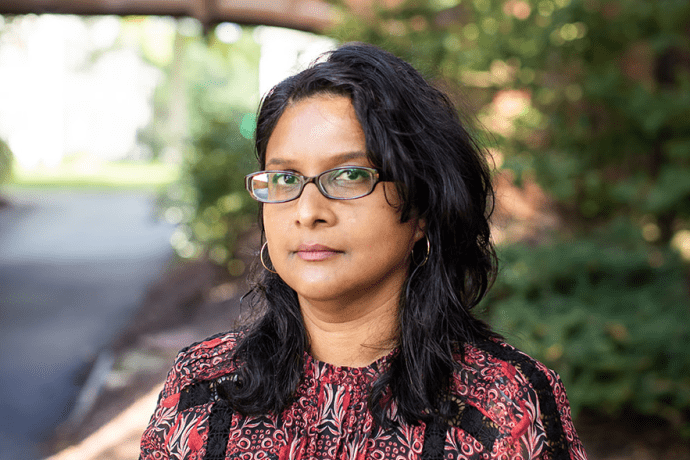 Suparna Roychoudhury specializes in English Renaissance literature, with an emphasis on Shakespeare. While her research and teaching areas include all aspects of the literature and culture of the sixteenth and seventeenth centuries, she is particularly interested in the relation between literature and the history of science, broadly defined. She has written on such topics as melancholy, anatomy, emotion, intelligence, and skill. In addition to her work in Renaissance studies, Roychoudhury teaches contemporary transnational literature written in English, with a special interest in literary cosmopolitanism.
Roychoudhury is the author of Phantasmatic Shakespeare: Imagination in the Age of Early Modern Science (Cornell University Press, 2018), which examines Shakespearean representations of the faculty of imagination in light of early modern scientific contexts and theories of cognition. Her essays and reviews can be found in ELH, English Literary Renaissance, The Journal for Early Modern Cultural Studies, Modern Philology, Philological Quarterly, SEL: Studies in English Literature 1500-1900, and The Spenser Review. She is a winner of the Meribeth E. Cameron Faculty Award for Scholarship. Her doctoral thesis was awarded an Honorable Mention for the J. Leeds Barroll Dissertation Prize by the Shakespeare Association of America. She is a recipient of the Bowdoin Prize awarded by Harvard University, and holds a University Medal from the Australian National University. She serves on the Editorial Board of English Literary Renaissance.
At Mount Holyoke, Roychoudhury teaches Shakespeare; Early Modern Drama; Literature and Science 1516-1674; The Cunning Renaissance; English Renaissance Poetry; Cognitive Theory and Literary Studies; Cosmopolitanism; Transnational Anglophone Literature; Self-Portraiture; Brave New Worlds; and Introduction to the Study of Literature.
Areas of Expertise
Shakespeare; early modern British literature and culture; literature and the history of science, medicine, and technology; literature and cognition; theater, drama, and performance studies; transnational Anglophone literature; cosmopolitanism
Education
Ph.D., M.A., Harvard University
B.A., Australian National University
B.E., B.A., University of Sydney