Faculty Awards 2020
Faculty Awards 2020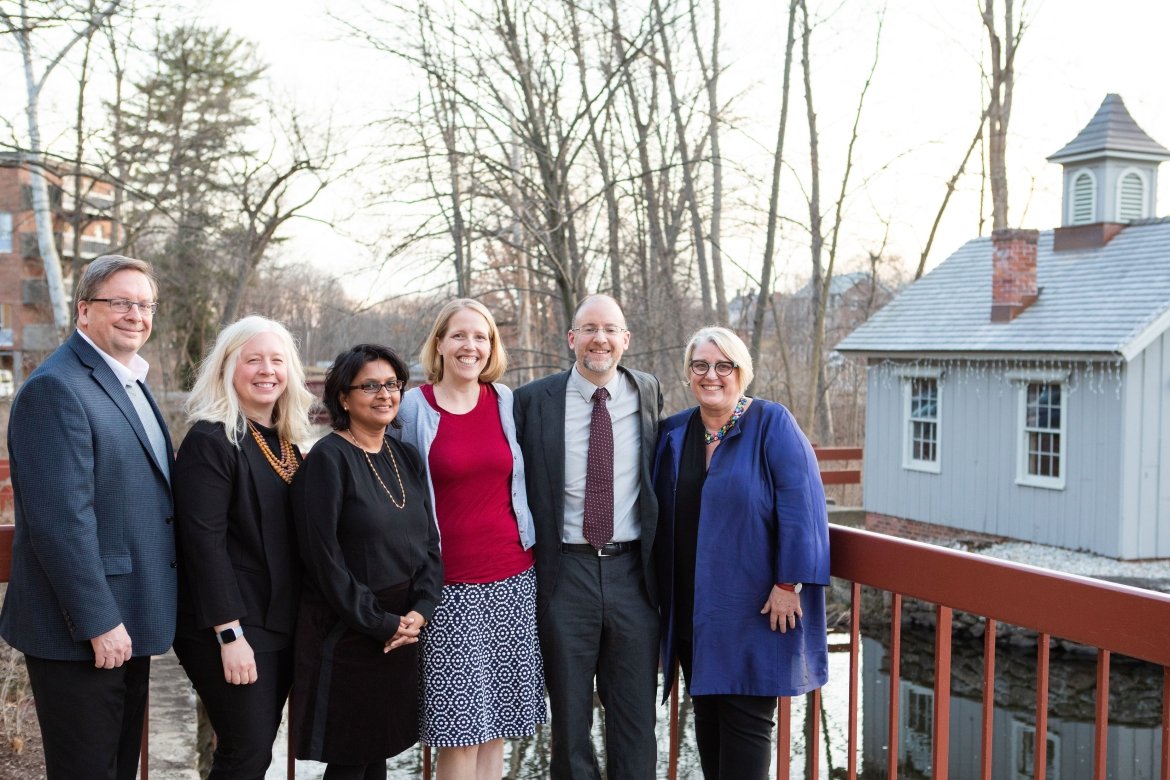 Mount Holyoke honored four professors for their scholarship and teaching at the annual Faculty Awards ceremony in early March, prior to the closing of campus.
Mount Holyoke College recognized four professors in its 2020 Faculty Awards ceremony this spring. The awards recognize excellence in scholarship and teaching and were celebrated on March 5, prior to the closing of campus and the establishment of physical distancing.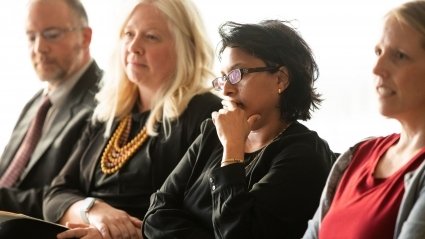 President Sonya Stephens presented the 2020 Meribeth E. Cameron Faculty Awards for Scholarship to Katherine C. (KC) Haydon '00, associate professor of psychology and education, and Suparna Roychoudhury, associate professor of English.
The Mount Holyoke College Faculty Awards for Teaching were presented by Jon Western, vice president for academic affairs and dean of faculty, to Sarah Adelman, associate professor of economics and chair of international relations, and James Harold, professor of philosophy and chair of the department.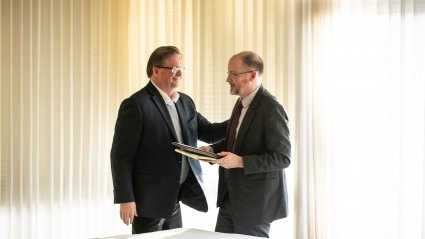 "The Faculty Awards ceremony is a wonderful opportunity for our community to celebrate our core teaching and scholarly mission," said Western. "It's an honor to recognize these four exceptional individuals among many. They represent the rigorous intellectual activity and transformative teaching that distinguishes a Mount Holyoke education, and I am proud to be their colleague."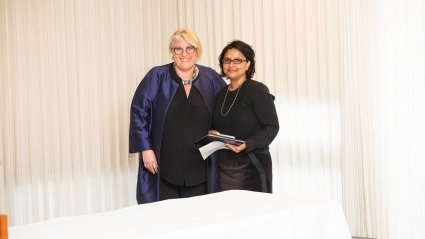 Roychoudhury echoed that theme in her remarks, recognizing her "dynamic, giving and brilliant friends" in the English department and her colleagues across campus. "It's always gratifying to be recognized in any way, of course, but the thoughts and esteem of my peers counts for a special kind of favor," she said.
Learning has to be involved in experience, she noted. "Scholarship has to be sociable, engage an audience, adapt to the moment."
Hearing that she had won the award for scholarship was a complete surprise, said Haydon, who is a graduate of Mount Holyoke and has spent most of her academic career here.
"I missed a call from the president," she said. "So she texted me, 'This is Sonya. I'm trying to reach you.' I love to attend the ceremony and I go every year. I learn a lot about the other faculty members and their work. I was a little bewildered this year because I have so many colleagues I admire."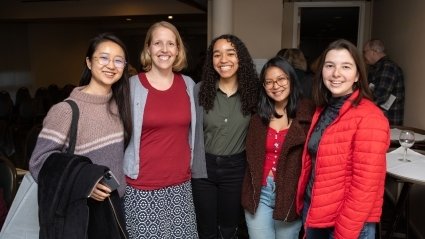 The scholarship awards were endowed by former trustee Janet Hickey Tague '66 in honor of Meribeth E. Cameron, a professor of history who also held several administrative positions. The teaching awards were funded by an anonymous donor.