"Funmilayo" — an opera for chorus, soloists and orchestra
"Funmilayo" — an opera for chorus, soloists and orchestra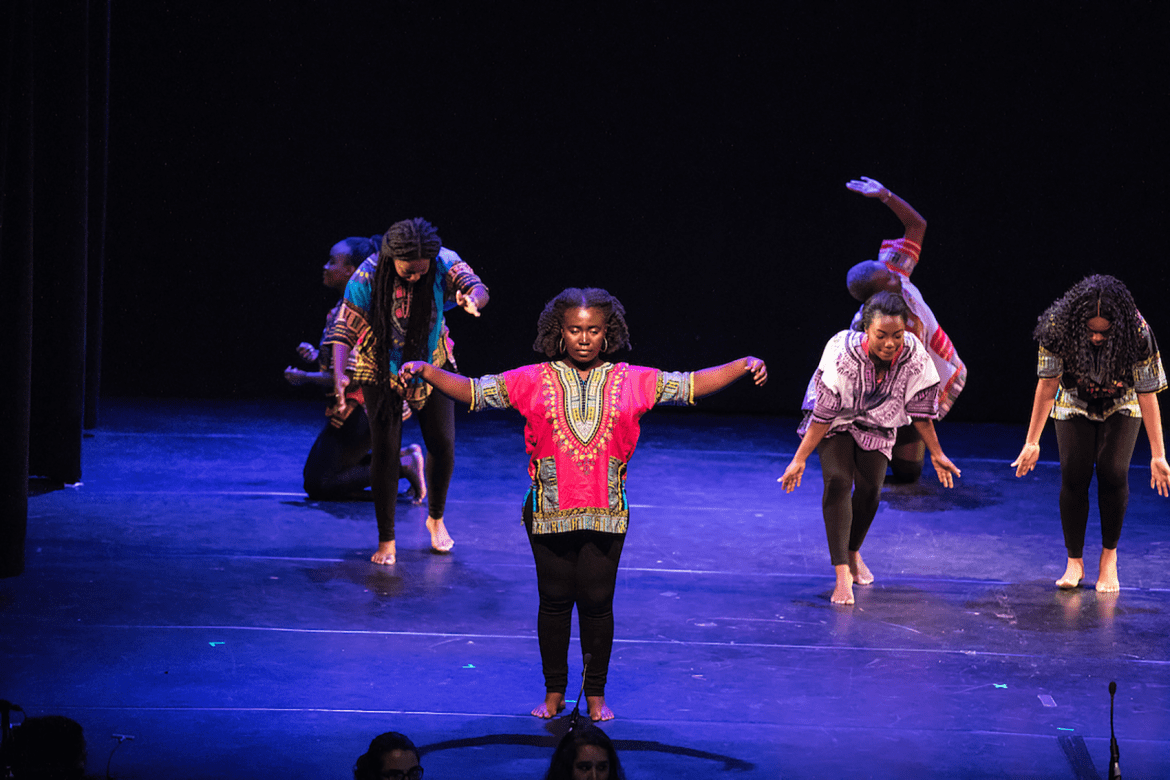 The latest production in Mount Holyoke's African opera series will debut on campus in April.
The African opera series at Mount Holyoke College has become one of the signature series of the music department, produced in collaboration with the Department of Film, Media, and Theater.
"Funmilayo," the latest opera in the series, focuses on the life of Funmilayo Ransome-Kuti (1900–1978), a Nigerian pioneer activist who campaigned against colonial rule and resisted the marginalization of women in local government administration. "Funmilayo" will be performed Saturday, April 8, at 8:00 pm and Sunday, April 9, at 3:00 pm in Mount Holyoke's Chapin Auditorium. It features a libretto and music by Hammond-Douglass Five College Professor of Music Olabode "Bode" Omojola.
"I'm super excited to be part of this evolving, living tradition for which Omojola is its principal exponent," said Tianhui Ng, associate professor of music at Mount Holyoke. "The sound of the orchestra, combined with the chorus and master drummers from Nigeria and Ghana, is a unique artistic experience that past students and audiences have been delighted to encounter!"
As the leader of the Abeokuta Women's Union, Funmilayo Ransome-Kuti led a successful political movement against the imposition of taxation on market women, an uprising that culminated in the abdication of the Alake (King) of Egbaland in 1948. Her political activism also provided a precedent for her son, Fela Anikulapo-Kuti (1938–1997), a political firebrand and the originator of Afrobeat, whose musical activism is generally considered to have been unparalleled in Africa.
The African opera series productions are performed by Mount Holyoke students and Five College students of Olabode "Bode" Omojola's African Opera in Performance and Practice class. These operas are noted for their use of African mythology and performance practices, featuring song, chant, dance and drumming while also utilizing resources from the Western theater.
Omojola, who also directs the series, explained that the operas provide a unique context for students to gain firsthand experience of African music through performance and by working with distinguished African professional musicians. He also explained that "Funmilayo" reflects both the current and the traditional in African music.
"The music of the opera is reflective of the emerging styles of new African operatic writing. It reinterprets indigenous Nigerian modal and polyrhythmic elements in symphonic terms, in addition to juxtaposing Yoruba chants with new registers of pitch and harmonic resources," said Omojola.
As a Five Colleges professor, Omojola teaches at Mount Holyoke College and the four other institutions in the Five College Consortium: Amherst, Hampshire;,and Smith colleges and the University of Massachusetts Amherst. He taught previously at the University of Ilorin in Nigeria and at Northeastern University in Boston.