2022 Commencement speakers announced
2022 Commencement speakers announced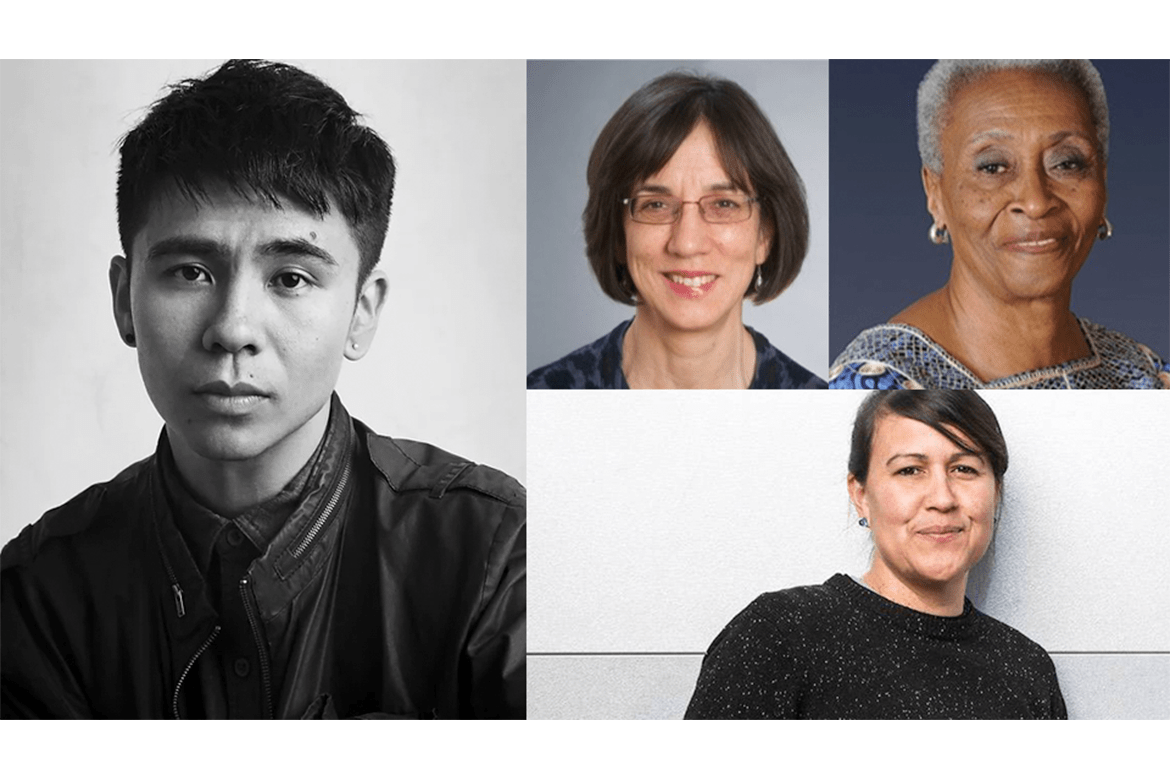 Poet Natalie Diaz, Katherine Butler Jones '57, Susannah Sirkin '76 and author Ocean Vuong will speak to Mount Holyoke's class of 2022 at its Commencement.
Mount Holyoke College has announced the four speakers and honorary degree recipients who will address the class of 2022 at its one hundred and eighty-fifth Commencement. The ceremony will be held in person on May 22 at 10:30 a.m. at the Field House in the College's Kendall Sports & Dance Complex.  
Poet Natalie Diaz, Katherine Butler Jones '57, Susannah Sirkin '76 and author Ocean Vuong will speak to Mount Holyoke's newest graduates. The College will also confer honorary doctorates on all four trailblazers who have committed their lives and talents to reshaping the world for the better. 
Mount Holyoke President Sonya Stephens will preside over the ceremony and confer the honorary degrees, then present over 600 bachelor's and master's degree candidates to graduates in front of the audience of family, friends, faculty and staff. 
Natalie Diaz is the author of "Postcolonial Love Poem," which won the Pulitzer Prize for Poetry, was a finalist for the National Book Award and was shortlisted for the Forward Prize in Poetry, and she has a collection of poems, "When My Brother Was an Aztec," which won the American Book Award. She has also been awarded the Holmes National Poetry Prize. 
Diaz is enrolled as a member of the Gila River Indian Community. She was born and raised in the Fort Mojave Indian Village in Needles, California. She has received fellowships from the MacArthur Foundation, the Lannan Literary Foundation, the Native Arts Council Foundation and Princeton University. She is a member of the board of trustees for the United States Artists, where she is an alum of the Ford Fellowship. 
A language activist, Diaz is director of the Center for Imagination in the Borderlands and is the Maxine and Jonathan Marshall Chair in Modern and Contemporary Poetry at Arizona State University where she teaches in the MFA program. She is also the director of the Fort Mojave Language Recovery Program. In 2021, Diaz was elected a Chancellor of the Academy of American Poets. She lives in Phoenix, Arizona.
Katherine Butler Jones '57 is an educator, writer, historian and civil rights activist. After graduating from Mount Holyoke, she worked as a teacher in Boston public schools. She and her husband bought a home in Newton, Massachusetts, in 1961, when only two local realtors would show houses to Black families. After this experience, she and her husband became active on the Newton Fair Housing Committee. 
Jones served as a founding director of the Roxbury/Newton Freedom School — an after-school program — in 1964. In 1966, she founded the Newton public schools' Metropolitan Council for Educational Opportunities (METCO) program, which still enrolls students of color from Boston in Newton schools. Jones served as the METCO director for Newton until 1976.
In 1967, Jones received her master's degree in urban education at Simmons University. She continued to promote integration in schools by working for Cambridge and Boston public schools during Boston's turbulent desegregation efforts in the late 1970s. She was elected to the Newton School Committee in 1978, making history as the first successful Black candidate. She maintained her role on the committee for four terms. In 1980, Jones earned her doctorate in education administration and social policy from Harvard University.
In 1989, Jones discovered that Black abolitionist Bishop Henry Highland Garnet had certified her great-great grandparents' 1843 marriage. Upon further investigation, she found that her great-grandfather, Edward Weeks, brought slaves to Canada through an Underground Railroad station in the Adirondacks, where he had purchased land for a dollar from abolitionist Gerrit Smith. She has shared this research in multiple museum exhibits and journal articles, which led to her receiving the PEN New England Discovery Author Award for her historical writing in 1996.
Jones has published several other works, including "The Civil Rights Movement in Newton, 1960–1980" in 2002 and her memoir, "Deeper Roots: An American Odyssey," in 2013. 
Susannah Sirkin '76 is an expert on human rights and a nationally recognized leader through her work as director of policy and senior advisor for Physicians for Human Rights (PHR). She is also the former director of membership at Amnesty International.
Sirkin joined PHR in 1987, where she served first as deputy director and then as director of policy and senior advisor. PHR is an independent organization that mobilizes the expertise of medicine and science to stop mass atrocities and severe human rights violations. 
Sirkin is responsible for PHR's policy engagement with organizations such as the United Nations, domestic and international justice systems and human rights coalitions. She has researched sexual violence in war zones and has edited numerous reports and articles on the medical consequences of human rights violations, physical evidence of human rights abuses and physician complicity in violations. PHR is one of the six original nongovernmental organizations that launched the International Campaign to Ban Landmines in 1992 and was a co-recipient of the 1997 Nobel Peace Prize. 
In her role, Sirkin was frequently the voice of PHR and recently briefed the Ted Lantos Human Rights Commission (October 2019) of the U.S. House of Representatives on the attacks on health care in the war in Syria. She also regularly briefed the UN Security Council on the state of health care in global conflicts. She retired from PHR in February 2022. 
Ocean Vuong is the author of the forthcoming poetry collection, "Time Is a Mother," out from Penguin Press (2022) and the New York Times bestselling novel, "On Earth We're Briefly Gorgeous" (2019), which has been translated into 36 languages. A recipient of a 2019 MacArthur "Genius" Grant, he is also the author of the critically acclaimed poetry collection "Night Sky with Exit Wounds" — a New York Times top 10 book of 2016, winner of the T.S. Eliot Prize, the Whiting Award, the Thom Gunn Award and the Forward Prize for Best First Collection. A Ruth Lilly fellow from the Poetry Foundation, he has honors that include fellowships from the Lannan Foundation, the Civitella Ranieri Foundation, the Elizabeth George Foundation, the Academy of American Poets and the Pushcart Prize.
Vuong's writings have been featured in Granta, Harpers, New Republic, the Atlantic, Nation, New Yorker, New York Times, Paris Review,  Village Voice and American Poetry Review, which awarded him the Stanley Kunitz Prize for Younger Poets. Vuong was selected by Foreign Policy magazine as one of 2016's "100 Leading Global Thinkers" and was also named one of the "32 Essential Asian American Writers" by BuzzFeed Books. He has been profiled both on NPR's "All Things Considered" and PBS NewsHour and in Teen Vogue, Interview, Poets & Writers and the New Yorker.
Born in Saigon, Vietnam, and raised in Hartford, Connecticut, in a working class family of nail salon and factory laborers, Vuong was educated at nearby Manchester Community College before transferring to Pace University to study international marketing, but he dropped out before completing his first term, enrolled at Brooklyn College and ultimately graduated with a bachelor's degree in 19th-century American literature. He subsequently received his MFA in poetry from New York University. 
He currently lives in Northampton, Massachusetts, where he serves as an associate professor in the MFA program for poets and writers at UMass-Amherst.