Becoming comfortable with being uncomfortable
Becoming comfortable with being uncomfortable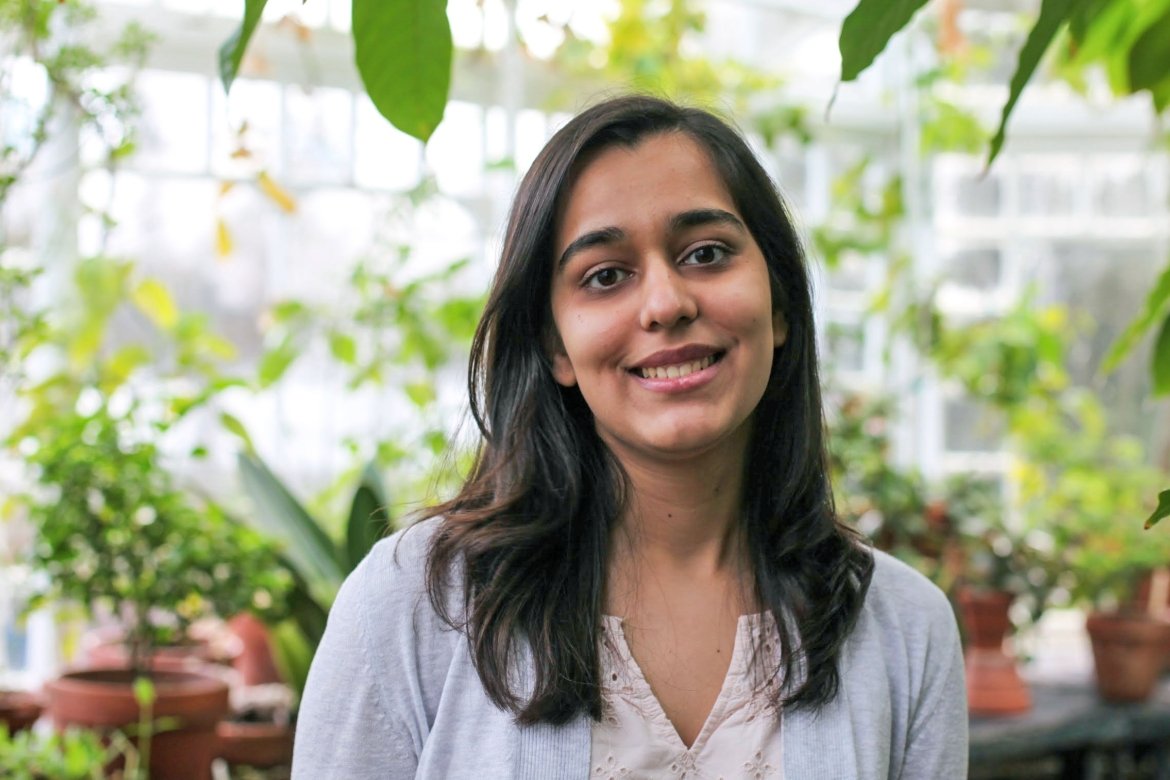 "Mount Holyoke has pushed me to be comfortable with being uncomfortable. I've gained understanding and appreciation for people who see things differently."
Hometown: Mumbai, India
Academics: psychology major; French minor; Nexus concentration in journalism, media and public discourse. 
Pronouns: she, her, hers
Coming to Mount Holyoke from halfway around the globe meant that everything was new for Miel Marwah, and that was why she chose it.   
"I think just coming to a different continent for college helped me gain a larger perspective," said Marwah, who grew up in Mumbai, India. "It allowed me to see multiple viewpoints." 
She found community her first semester when she joined SHRI, or Students of Hinduism Reaching Inward. "It's been a good way to stay rooted, connected, a way to meet people from similar backgrounds," she said. "We meet in Eliot House and it's been a great place to go after a busy day to relax and unwind. I've been a board member, the social chair and co-chair."  
With that as her footing, she was able to find herself intellectually and create a path for a future life. Her field, she found, is psychology. 
"I had no idea what I wanted to study or do with my life, what I was interested in," she said. "I've been on my own personal journey of exploration here. I'm proud that now, at the end of my last semester, I really know, down to the specific area, what I'm interested in and what I want to pursue. I went from not knowing anything about what I wanted to pursue to having a really specific concrete area of focus in psychology."
That area is consumer psychology, which is the topic of her thesis. 
"I'm looking at how social identity among emerging adults influences buying behavior," Marwah said. "That means, whether peer-group identity will influence an emerging adult to make purchasing decisions. I've been handing out surveys to everyone I know." 
Marwah has also worked as a research assistant for Katherine C (KC) Haydon, associate professor in the psychology and education department, and as a web designer in the department. Marwah's connections with Mount Holyoke alumnae helped her land internships, most notably working for Vogue magazine in Mumbai. 
Her internship at Mastercard in Purchase, New York, also turned out to be fruitful.
"Interns at Mastercard were entrusted with a lot of important duties," Marwah said. "It was meaningful work that they needed to get done. I was able to foster some amazing relationships with my manager and with other interns and people in the department. They were very, very good about exposing us to different aspects of the company." 
The experience was so positive, in fact, that she will be returning to Mastercard this summer to become an associate analyst as part of the company's Launch program. She plans to earn an MBA in the next few years. 
"Mount Holyoke has pushed me to be comfortable with being uncomfortable," Marwah said. "I've been exposed to things that I hadn't thought about before. It has helped me gain understanding and appreciation for people who see things differently."
Written By

Sasha Nyary
Published