"Braiding Sweetgrass" is 2022's Common Read
"Braiding Sweetgrass" is 2022's Common Read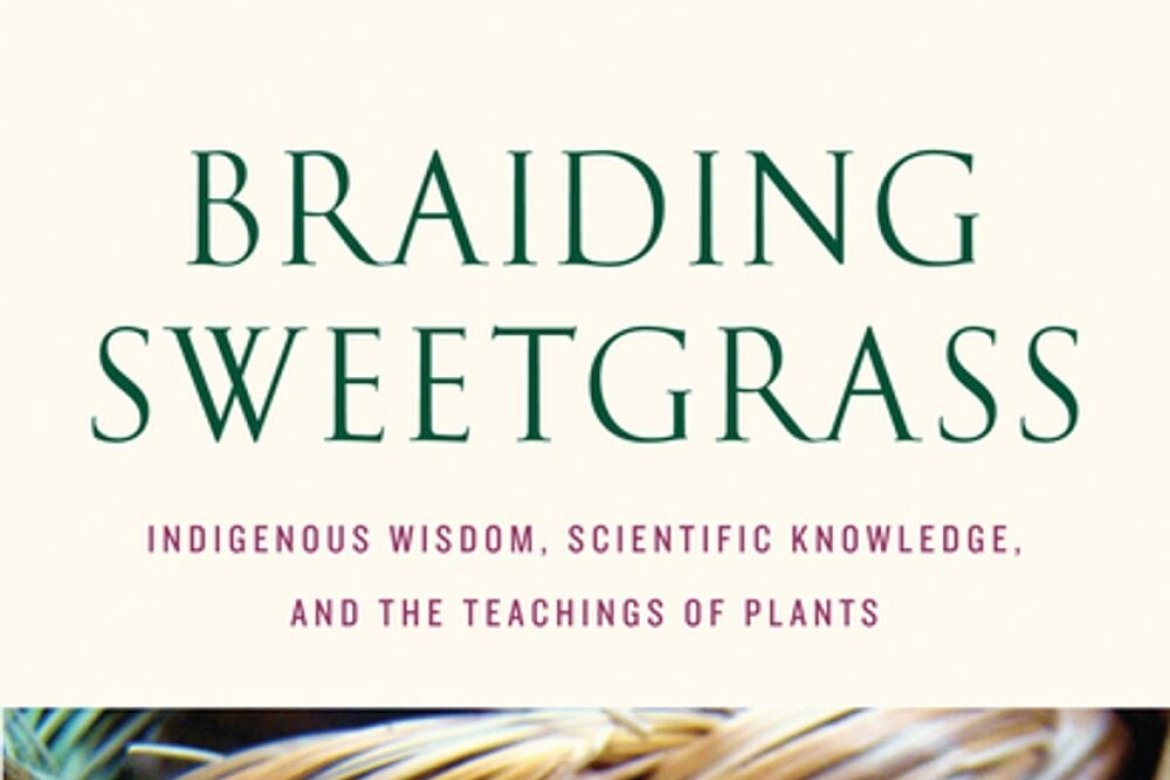 Mount Holyoke College's Common Read for fall of 2022 is "Braiding Sweetgrass." "Braiding Sweetgrass" centers Indigenous knowledge as an alternative or complementary approach to mainstream scientific methodologies.
Mount Holyoke College's Common Read for 2022 is "Braiding Sweetgrass: Indigenous Wisdom, Scientific Knowledge, and the Teachings of Plants," by Robin Wall Kimmerer. 
The book, published in 2013, centers Indigenous knowledge as an alternative or complementary approach to mainstream scientific methodologies. It is an award-winning bestseller that features "deep compassion and graceful prose," according to Publishers Weekly.   
As a botanist, Kimmerer has been trained to ask questions about nature with the tools of science. As a member of the Citizen Potawatomi Nation, she embraces the notion that plants and animals are our oldest teachers. In "Braiding Sweetgrass," Kimmerer brings these two facets of knowledge together. 
Jennifer Jacoby, associate professor of psychology and education, is thrilled by the book's connections with Mount Holyoke's interdisciplinary curriculum. Jacoby is the co-chair of the Common Read selection committee and is also director of First-Year Seminars — small, cross-disciplinary, discussion-based classes taken by first-year students during their first semester.
"I am really excited about our Common Read selection for this year. I know many members of our campus community have already had the chance to read and enjoy 'Braiding Sweetgrass,' including many of the First-Year Seminar faculty," she said. "This year we have a really broad range of course topics being covered by First-Year Seminar faculty from across all divisions of the College, and I know that my colleagues are already planning how to make meaningful connections between the Common Read and their disciplines. 
"Having a Common Read like 'Braiding Sweetgrass,' which has clear curricular tie-ins to courses in the sciences, the humanities and the social sciences, will provide our students with the chance to engage with the text from many important and diverse perspectives."
Common Read selections form the basis of the first intellectual engagements incoming students have as new members of the Mount Holyoke community. As students begin their liberal arts journey at the College, the Common Read gives them the opportunity to explore complex issues while building an intellectual and social community with each other. 
Desmond Fitz-Gibbon, associate professor of history and member of the selection committee, thinks "Braiding Sweetgrass" is perfect for this juncture in history. 
"I think there is a hopefulness to this book — of restoration and reciprocity — that will resonate at a time when we are trying to move forward from the pandemic and all of the trauma of the past few years," he said. "This is also a book about finding and learning new languages for our relationships with one another and the world, which speaks urgently to a time of conflict and environmental crisis. For all of these reasons, I look forward to engaging in its ideas with students and colleagues over the coming year."
"I am delighted that our committee chose 'Braiding Sweetgrass' for our Common Read this year because it is fundamentally about our interconnectedness to each other and the earth — the unique ways of knowing, coupled with a scientific lens and impactful personal stories," said Marcella Runell Hall, vice president of student life and dean of students. 
An event is currently being planned for the fall semester. Information will be shared with the Mount Holyoke community when it becomes available. 
Kimmerer is a mother, scientist, professor and enrolled member of the Citizen Potawatomi Nation. Her first book, "Gathering Moss: A Natural and Cultural History of Mosses," was awarded the John Burroughs Medal for outstanding nature writing. In 2015, she addressed the general assembly of the United Nations on the topic of "Healing Our Relationship with Nature." Kimmerer is a SUNY Distinguished Teaching Professor of Environmental Biology and the founder and director of the Center for Native Peoples and the Environment, whose mission is to create programs which draw on the wisdom of both Indigenous and scientific knowledge for our shared goals of sustainability. 
Kimmerer holds a B.S. in botany from SUNY ESF and an M.S. and Ph.D. in botany from the University of Wisconsin. She is the author of numerous scientific papers on plant ecology, bryophyte ecology, traditional knowledge and restoration ecology. As a writer and scientist, her interests in restoration include not only the restoration of ecological communities but also the restoration of our relationships to land. 
The Common Read began in 2000 as part of the College's annual Orientation for new students.