Celebrating the class of 2020 in person
Celebrating the class of 2020 in person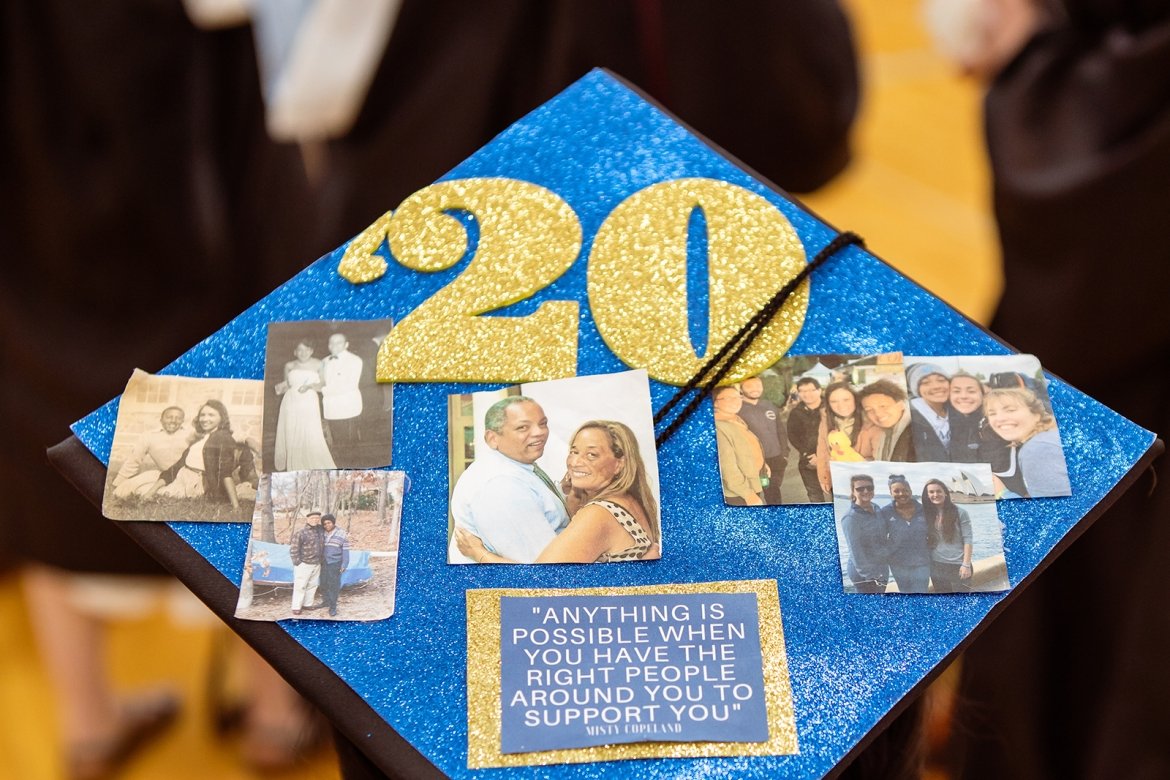 More than 300 recent alums filled the Kendall Field House for the delayed in-person 2020 Commencement.
In May 2020, when it became clear that the COVID-19 pandemic was going to last longer than a few weeks, President Sonya Stephens promised the class of 2020 would have an in-person Commencement as soon as it was feasible and safe. 
On May 29, 2022, that promise was fulfilled. After traditional Senior Week events during Reunion II — including a Laurel Chain parade, Canoe Sing, Lavender Ceremony, stoling for students of color and a cording event for first-generation and low-income students — the class of 2020 would finally get to cross the stage and be celebrated in person at the College's one hundred and eighty-third Commencement ceremony, coming just a week after its one hundred and eighty-fifth.  
More than 300 recent alums filled the Kendall Field House wearing caps and gowns; some had decorated their mortarboards, some sported their alum scarves, cords, stoles, sashes, corsages and other regalia.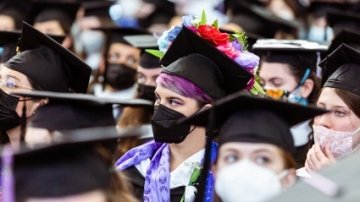 Yvaine Neyhard FP '20 wore a mortarboard resplendent with silk flowers. Each one, she said, represented a person in her life's journey so far. Purple tulips stood for other Frances Perkins scholars, and a large blue flower portrayed Mount Holyoke College. 
Neyhard has kept busy in the two years since her undergraduate degree — she  just finished her master's degree at the University of Illinois Urbana-Champaign. "I walked for my master's on May 14, and now I'm here!" she said.
She is currently working for the Center for Writing Studies at the University of Illinois Urbana-Champaign, and hopes to work with community college first-year students on writing and rhetoric. "I want to send more community college students to Mount Holyoke College," she said. 
Vice President for Equity and Inclusion Kijua Sanders McMurtry said to the class, "You are back to Mount Holyoke for your official Commencement, and this is a true gift to all of us. Your voices, your activism, your radical compassion for one another and the world led you to speak up for yourselves."
She asked for a moment of silence for the victims of recent shootings in Uvalde, Texas and Buffalo, New York. She then read a land acknowledgement, as is now custom at every event in the life of Mount Holyoke College. 
Katherine E. Collins '74, the vice-chair of the Board of Trustees, welcomed the class of 2020 back to campus. "To the best of the Archives' knowledge, this is the first time in the College's history that a delayed Commencement has been held," she said to thunderous applause. 
President Sonya Stephens then welcomed the "amazing, resilient — and patient — class of 2020" to its long-awaited, but extremely welcome, in-person Commencement ceremony. 
Stephens reflected on the long journey the class has taken from May 2020 to today. "You have brought to new communities and new contexts the individual attributes, critical capacities and knowledge that enable you to address questions big and small. You have brought courage, persistence and creativity to counter uncertainty, pain, loss and recovery. The education you received here at Mount Holyoke helped to shape the protagonists that you have become and will continue to become as, individually and collectively, you persevere in forging a path and finding your way. 
"You are protagonists not only because you are the lead character in crafting your own story, but because you also champion important causes, advocate for yourselves and for others, counter those who would be antagonists and, indeed, all that constitutes adversity and inequity."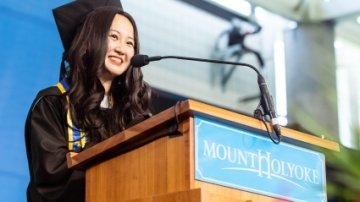 Yuke Wei '20, who is currently pursuing a doctor of dental surgery degree at Columbia University College of Dental Medicine, addressed her classmates. 
Wei joked that the delay happened because she walked through the College gates before her graduation, as tradition dictates.
"In 2016, when I first walked through the Field Gates, it never occurred to me that it would take me six years to make it to my own graduation ceremony!" she said, to laughter from the audience.
Wei talked about how, as a teenager, she had left her family and friends behind, packed everything into one suitcase and traveled to the U.S. to go to school in a completely different language. 
"When I received my admission offer from Mount Holyoke, I was struggling in an American public high school," she said. Mount Holyoke was welcoming and supportive even before she started at the College. "When I introduced myself to my fellow classmates on the class Facebook page, I apologized for my bad English." She was surprised and overwhelmed by the comments. "People who I never met before were offering their warmest support." Other students told her never to apologize for her English or for reaching out. 
Leaving the compassionate and caring campus to embark on post-Mount Holyoke life was hard, Wei said. "We didn't have to raise our voices to be heard [at Mount Holyoke]. But the world outside is nothing like this. At my first job after graduation, I was called: bossy, high-maintenance, difficult and booksmart who lacked social intelligence. … I was uncomfortable. I missed Mount Holyoke so much.
"I realized all those labels they put on me were actually describing a Mount Holyoke graduate," she said. "We are intelligent and ambitious, awkward and nerdy, idealistic and romantic, gentle and compassionate, opinionated and fierce! We are uncommon. We are phenomenal." 
Student poet Amelia Hazel Katherine Sigler '20 read her poem "The Wilder Ghosts" at the Commencement ceremony. Afterwards, interim Dean of Faculty and Vice President for Academic Affairs Dorothy E. Mosby introduced the honorary degree recipients: Helen Drinan '69, Anita Hill and Lynn Pasquarella '80.
Drinan, the eighth president of Simmons University, a women-focused undergraduate university and private co-educational graduate school in Boston, discussed being a Peace Corps volunteer in the Philippines with her husband and young family. 
While there, she learned of the United States Information Service (USIS), an agency dedicated to cultural exchange between the United States and countries around the world. "I became enthralled" by the chance to work with USIS, Drinan said.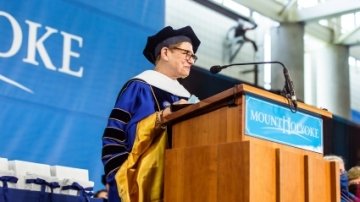 After returning to the United States, she took the foreign service exam. The first time, she failed. The exam was only held once a year. She waited. The second and third time, she passed, but failed the in-person interviews. "I believed I was going to take this exam, and fail this exam, for the rest of my working life," she said. She suspected, but could not prove, that she wasn't passing not because of her skills or lack thereof, but rather, her gender. 
Drinan put her dreams of working at the USIS aside and instead, was working at a rapidly growing econometrics research firm. The world of business, she said, was a totally new environment for her. She learned that Simmons University was launching an MBA program for women and she promptly enrolled.
"I reset my course," she said. "I wanted to prepare for, and compete, in an environment where the only thing that mattered was how hard I was willing to work to achieve success." The MBA opened up many new paths and opportunities for her to grow. 
Her career was successful and she rose to executive leadership. Then, one day, she saw a lengthy public notice in the Boston Globe: a call for participants in a class-action lawsuit for those who had taken the foreign service exam in the years she herself had taken it and been rejected.
"It turned out that I was not alone in the experience that I had had," she said. The lawsuit turned into the largest civil rights settlement to date from the United States government.  
"Failure is never fatal, unless you let it be so," she concluded to the class of 2020. "Defeat is an occasion for another try."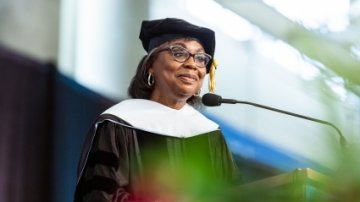 Anita Hill, world-renowned legal scholar, known for her global activism around women's rights, is a University Professor of Social Policy, Law, and Women's, Gender and Sexuality Studies at Brandeis University. She talked about the audacity of dreams, telling graduates not only to dream, but dream harder. "Double down on your dreams for yourself and the world," she said. 
Hill talked about her mother, Erma Hill, who was born in 1911, a time of unchecked misogyny and racism. Her mother left school at age 12 and started laboring on a farm. She married at 16 and at 17, had her first of 13 children. "The future for Black women did not look much brighter than it did on the day she was born," Hill said. "But my mother had the audacity to dream." 
Hill's mother insisted that all of her children complete their education and pursue college degrees. She celebrated all of their high school and college graduations, and when Hill got her law degree in 1980, Hill's mother was there to celebrate with her daughter. 
When Hill testified in 1991 about the sexual harassment inflicted by Clarence Thomas, she said, "When people told me that I was wrong to speak out about my experience with sexual harassment, that I would lose my job and never recover, I remembered that my mother taught me to dream.
"I wanted to do as my mother did, to re-imagine what the world could be. To think about how I could do more. I am here today because I dared to dream. I had the same audacity my mother had."
Hill said she is not done dreaming, and she exhorted the class of 2020 to also make their dreams reality. "I am more determined than ever that the laws of this country live up to its promise to equality for all of us," she said. "Don't ever stop dreaming. Dream bolder dreams, even bolder than you had when you first came here. I want you to imagine a better future for everyone."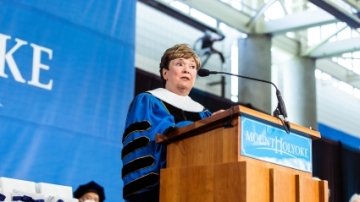 The final guest speaker was Mount Holyoke College's eighteenth president, Lynn Pasquarella '80. 
"The first time I stepped onto Mount Holyoke's campus, I felt as if I was coming home," she said, her voice cracking. 
Fellow alum Emily Dickinson had been on her mind quite a bit lately, Pasquarella said. Dickinson wrote during the Civil War: 
"We grow accustomed to the Dark—
When Light is put away—
As when the Neighbor holds the Lamp
To witness her Goodbye—
A Moment—We Uncertain step
For newness of the night—
Then fit our Vision to the Dark—
And meet the Road—erect—
And so of larger—Darknesses—
Those Evenings of the Brain—
When not a Moon disclose a sign—
Or Star—come out—within—
The Bravest— grope a little—
And sometimes hit a Tree
Directly in the Forehead—
But as they learn to see—
Either the Darkness alters—
Or something in the sight
Adjusts itself to Midnight—
And Life steps almost straight."
"During our own times of 'larger darknesses,' when women's reproductive right are being threatened, legislative gag orders have been enacted prohibiting colleges and universities from discussing Critical Race Theory and other so-called divisive concepts, books are being banned in public schools and libraries, and trans and gay rights are being systematically eroded," she said, "I have every confidence that your Mount Holyoke education has provided you with the habits of heart and mind necessary to find your way forward even on the darkest of nights.
"Now, more than ever, we need Mount Holyoke graduates to not only adjust to the darkness but to light up the danger, with courage and conviction, knowing that you will have generations of those who have walked the same paths across our beloved campus cheering you on and lifting you up if you stumble when life is not yet straight."